What is an SUV?
SUVs - they're everywhere in all forms, shapes and sizes. Given India's fascination with tough SUVs, it was inevitable that more manufacturers would get into the game. As a result though, the meaning of the word SUV seems to have gotten a little vague over time. This got us thinking, what really makes an SUV?
Let's consider the abbreviation -  Sport Utility Vehicle. Break that up and you get a get a tough, capable utility vehicle that is supposed to be sporty in nature. The concept of sportiness here is that it should be engaging, enjoyable and used for recreation. To make the difference more relatable, it's essentially the difference between a UV like a Tata Sumo and an SUV like a Tata Safari. The Sumo is as tough, if not tougher than the Safari, but there's little doubt as to which is the enthusiast's choice - the more pleasurable and engaging off road experience.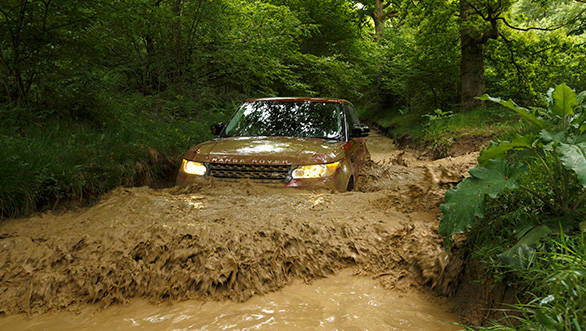 The capability to go off-road is the primary prerequisite
Let's take another approach. It's safe to assume that an SUV is a vehicle that should be capable of going off-road, while keeping its passengers in comfort. So what do you need to go off road? The ten points below more or less answer that question:
1) Good ground clearance
2) Short overhangs
3) A stiff chassis
4) Long travel suspension for better wheel articulation
5) 4WD
6) 4WD with a transfer case to lower gear ratios is even better
7) Better still if you have locking differentials.
8) A high water wading depth
9) All terrain tyres
10) Underbody protection is a plus.
Now let's consider how many of these points feature on the current list of sub-15 lakh SUVs available today. I can't see more than three or four (at most) being a regular feature. It's why our contributing editor, Bob Rupani says that having a SUV type vehicle without 4WD is like having a gun without ammo. Kanwar Shiv Pratap Singh of Bhenswara who has a collection of old off-roaders says, "some of the best moments of my life have been behind the wheel of a four-wheel drive vehicle. They have given me the wings to explore my desert land, most of which can only be traversed in a capable off-road vehicle. Unfortunately many modern SUV type vehicles do not have real off-road capabilities anymore".
What makes for a real SUV?
This begs the questions: why are we suddenly getting a barrage of what are essentially road going vehicles branded as SUVs? Most of these are based on regular hatchback or sedan monocoque chassis and offer high ground clearance, a tall seating position, and flat bonnet that allow better vision of the edges and butch bodywork. I see this as a natural progression of our market. Wind the clock back by 15-odd years when we had low slung cars like the Esteem, Honda City, Baleno etc. These were some of the best cars of their time to the average buyer and were lovely in their own right. But they weren't developed with our market and our atrocious road conditions in mind, and customers naturally started to dream about owning an SUV. The cheapest SUVs available roughly 10 years ago were machines like the Toyota Fortuner and the Ford Endeavour - great vehicles and real SUV's but far too expensive for most budgets.
Features like wide door pockets, powerful aircons and high ground clearance are what India needs
Then came the great shift - India became a seriously big market, big enough for manufacturers to start taking us seriously and sell cars designed with our market in mind. India-relevant features started to appear - more powerful aircons, larger boots, door pockets that could hold a 1-litre water bottle and of course, higher ground clearance.   
As a natural progression of this trend, manufacturers started offering more of what the customer wanted. Customer's craved SUVs for their space, presence and ability to handle our roads. Precious few want to take their vehicles into deep jungle trails and winch themselves out of sticky situations. They just wanted a machine that can confidently handle the everyday Indian condition. Style and presence were also desired, but simply as feel good factors, not an indication of off-road ability. Most importantly, the vehicle had to be affordable and couldn't be priced significantly higher than a sedan. That, in a nutshell, is why machines like the Maruti Suzuki Vitara Brezza, Ford EcoSport and Hyundai Creta are so popular. They perfectly match what the average Indian customer wants.
At one point, even the Maruti Suzuki SX4 was considered an SUV!
Should the manufacturers call such vehicles SUVs? Ideally, no. But where do we draw the line? To me, the EcoSport is not an SUV but the Duster, especially in all-wheel drive guise comes close. There isn't any clear-cut government rule telling the manufacturers what they can call an SUV and should be characterized as a crossover. Just a couple of years back, the Maruti Suzuki SX4 was considered an SUV by the government because of its high ground clearance and 1.6-litre petrol engine! Buying a real SUV these days will require a bit of reading between the lines.
At the end of the day, this is a trend that is going to stick around for quite a while. I personally have no problem with it - let the people have what they want. But remember, that front-wheel drive hatchback/crossover thing the manufacturer claims is an SUV isn't really one.
Price (Ex-Delhi)
Starts Rs 7.99 Lakhs
Price (Ex-Delhi)
Starts Rs 32.75 Lakhs
Price (Ex-Delhi)
Starts Rs 10.9 Lakhs
Price (Ex-Delhi)
Starts Rs 9.99 Lakhs
Price (Ex-Delhi)
Starts Rs 7.34 Lakhs
Price (Ex-Delhi)
Starts Rs 14.99 Lakhs
Price (Ex-Delhi)
Starts Rs 29.98 Lakhs