What features should my motorcycle pants have?
Welcome back to OVERDRIVE's no stone left unturned guide to motorcycle pants. This is one of the sections of the comprehensive guide - you will find links to the other sections as they come online at the bottom of this page. And now let's get on with the guide. This time we're discussing how motorcycle pants should fit and the features to watch out for.
Fit
All motorcycle gear should fit tightly but not restrict movement. The simple reason for this is that a tight fit allows the gear to position armour in the best place possible for protecting you and to maintain that position while crash forces are eating away at the gear and trying to find your skin. Tight fits also reduce flapping - which is annoying and energy sapping on long rides and creases - which when you're sitting on one feel like pure malevolent torture on long rides. So for motorcycle pants, look for snug fits that leave the armour over your knees naturally and the armour snuggles up nicely when you bend your legs as if in the saddle. The rest is all about style and if you've bought even one pair of trousers in your life, you can figure out the look for yourself.
Armour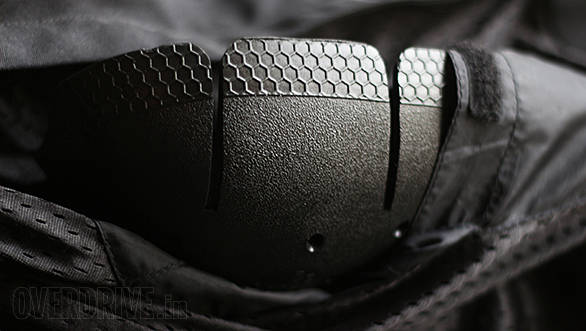 Armour comes in various shapes, materials and sizes. Look for a CE certification (which is usually stamped, moulded or tagged) on the armour. Good knee armour should cover the knee completely and extend downwards enough to cover a significant part of the shin. Check that the knee armour stays in the right place when you're sitting on the bike - that's what it is supposed to do. Good pants will also have hip armour. Decent pants will at least have a pocket to allow you to add hip armour
There's usually some armour at the knees and ideally look for some on the sides of the hip as well. Motorcycle armour is of bewildering form and shape now but look for a CE rating so that the performance is tested and certified. Since human beings don't roll off assembly lines like the gear does, having a way to adjust the positioning of the armour is a big bonus.
This is a pocket for knee armour. Note the multiple strips of velcro seen as stitching - that is how you adjust the height of the armour so it sits correctly on the knee
Boot zippers
Boot zippers run down the bottom of the legs and allow you to create a wider opening so you can put on tall boots easily. Note how the zippers are covered and how far up they go. Overpants will run the zips to the thighs.Waterproof pants should have an expansion gusset behind the zip
These are a convenience feature allowing you to finish closing off the complicated motorcycle boot and then zipping the pant leg closed over its shin plate without fuss. Overpants will usually have zips that run to the thigh, but all pants should have a short zipper at the bottom. If the design has additional straps (usually velcro) that allow you to cinch up the entire calf section of the pants, that's a great feature to have - it means your armour shouldn't move at all in a crash allowing the boot and pant to do its job.
Waist adjustments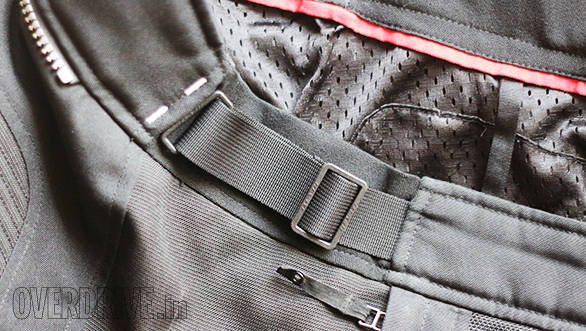 Most motorcycle pants accommodate a range of waist sizes to allow for good eating as well as layering in bad or cold weather. On this pair (Rev'it Airwave), the buckle slides to create more or less space. The black panel behind the webbing and buckle stretches
There are a number of ways in which this is done but this is a good feature to have. Hard wearing materials like textile pants do not stretch and break in, so manufacturers will usually allow a couple of inches or more of adjustability in the waist. Sometimes, you'll find that while you're naturally, say, a large size by the sizing chart, an M adjusted to your waist might actually fit and feel better.
Reflectives
The Rev'it pants use a large reflective stripe on the side and other pants use different configurations. In the pic, the darker image is in normal daylight and the brighter one is shot with flash to show the reflective lighting up. Note the placement of the reflective when buying - it should be in a place where it's visible
Staying visible is the ultimate protection and pants have a role in this. Look for reflective patches, logos and piping. Notice where they are located and give a thought to whether a driver in a bus or a car (two different eye heights) will be able to see the reflection or not. (See our buying guide for motorcycle jackets, to learn more about making yourself visible in the dark).
Pockets
Rule one of pants or motorcycle pants is they should have a positive closure mechanism - ideally a waterproof zipper. Take the time to note how easy it is to get stuff into and out of the pocket, especially with gloves on - not all pockets are born equal
I prefer not to carry anything in my pockets on rides but if you're human, you'll need pockets. Look for securely closed pockets so that your stuff stays with you and cannot fall out. Remember you'll be wearing gloves so the pockets should have extra-large openings for your hands to go in. Thigh-top pockets are excellent for long rides but look weird when walking about around town.
Connection zipper
This is the connection zipper which usually comes in 8- or 10-inch versions at the back of the pants. The other half is included so you can sew it on to your favorite jacket. Better pants will have two zippers, this one and another one that goes all the way around for a 360 degree connection
Most pants will offer at least an 8-inch connection zipper at the back so you can zip it to your riding jacket. Better designs will also have a full circumference zipper so you can zip the pants to the jacket all the way around. This is a good feature to have and use because it stops the jacket and pants from separating under stress in a crash and exposing your soft belly to the road. We had one student fall off his bike at the school where his jacket rode up and exposed his tummy. Road rash isn't fun but not being able to lie down because your torso is covered in it sucks much more.
More from OVERDRIVE on motorcycling gear: -
Cheapest motorcycle boots in India
Top five cheapest motorcycle jackets in India
Top four cheapest motorcycle gloves in India
Materials used to make motorcycle pants
Motorcycle pants – normal trousers or overpants?
Should my motorcycle pants be waterproof or not?
Buying guides: -
The motorcycle boot buying guide
Motorcycle jacket buying guide