VW Tiguan in 'Tiger Territory'
'Driving Holidays' are the best way to get to know a vehicle and the country. And the 'SUV Special Slugfest' story that is featured in our 20th anniversary issue (and of which you will also see a lot here) gave me the opportunity to hit the road in the Volkswagen Tiguan, a highly underrated SUV that has virtually slipped under the radar of most in India.
Going off the beaten track with the Volkswagen Tiguan
The destination was Chikmagalur, the coffee capital of India where OVERDRIVE created its own 'Special Stage' to drive and evaluate 25 SUVs. The easiest and most straight forward route from Mumbai is to get onto the wide and well surfaced Bangalore highway, and head south. But I decided to make our 'Southern Odyssey' more stimulating.
We encountered fog on many of the hilly sections
On a lazy Sunday morning, I hit the road along with my dear friend Kaushlendra Singh from Rajasthan, who had joined me especially for this journey to see and witness the magic of the Western Ghats in the monsoons, when they are at their prettiest. Until Belgaum, we were on the National Highway and despite the heavy weekend traffic, we made good time. The VW Tiguan cruised along effortlessly and on a slightly deserted stretch where we had a picturesque view of the green Ghats covered with forest and mist, we stopped for lunch that consisted largely of homemade Kokis (a typical Sindhi flatbread) and pickle followed by fresh fruits we had purchased from a highway side stall near Satara.
Farm fresh pineapples
Road to Heaven
Large monitor lizard walking ahead of us
Picturesque sunrise in Bhadra
At Belgaum we left the highway and headed to Chorla Ghat. The real fun began now with the road snaking past charming fields and rustic villages. Soon we were in the hills and the flowing curves gave the Tiguan an opportunity to show-off its well tuned driving dynamics. The AC was switched off and windows rolled down to allow us city folk to inhale and relish the pollution free country air. Just a little over twelve hours after we had embarked on our journey, we reached Wildernest Resort and the VW Tiguan encountered its first off-road challenge. The resort is located on top of a hillock deep in the forest and you are required to park your vehicle at the base and are driven up in their four-wheel drive Mahindras as the last 1.5 kms is a rocky and rutted uphill path.
We refused to leave our vehicle at the base and switched the all-wheel drive Tiguan's driving mode selector to off-road and set-off. Though it was raining heavily and the trail was slushy and slippery, the Tiguan climbed up most easily. At the resort, we had another ascent up to our log cottage but this time on foot and I felt way less assured on the steep and fungus covered laterite stone steps. The location and setting amongst the clouds was amazing, but sadly the entire resort was taken over by a group of spoilt urban revelers whose only source of entertainment appeared to be drinking and singing at the top of their terrible voices. A place of immense beauty and tranquility was turned into a 'mela ground'.
Next morning we left before the unruly group could spoil the birdsong and took some seldom used interior roads to drive to Dandeli Tiger Reserve. A quick halt for some local khabar or information on forest roads bearing south, towards Bhadra Tiger Reserve, had us motoring on a thin and lovely stretch of tarmac skirting the boundary of this amazingly rich protected forest area. The road was empty and flanked on both sides by thick green jungles and it was a drive to remember and cherish. Fortunately, a lot of forest still survives in this part of the Western Ghats, with several unmarked roads crisscrossing them.
After driving on several scenic roads, late in the afternoon we joined a highway and turned towards Jog Falls, which we had been informed was in its full glory thanks to the heavy rains in the region. At Jog Falls, the Sharavati River plunges from a height of 829 feet in four magnificent cascades namely Raja, Rani, Roarer and Rocket. The falls were truly voluminous offering a spectacular sight of the power of flowing water and the majesty of Mother Nature. Being from the perpetually rain starved and parched state of Rajasthan; Kaushi was completely spellbound by the beauty of the falls and kept clicking away on his phone.
The Jog Falls drop 830 feet and are the second biggest falls in India
Afterwards we got on to a busy highway and made our way to Bhadra Tiger Reserve where we were welcomed warmly by the manager Pampapathi and his team. The River Tern Lodge, where we stayed, is operated by Jungle Lodges and Resorts, the wildlife tourism experts who have made getting up close with nature so much more convenient and comfortable. In fact the good folk at Jungle Lodges are known for promoting ecotourism and they do a great job of looking after their guests.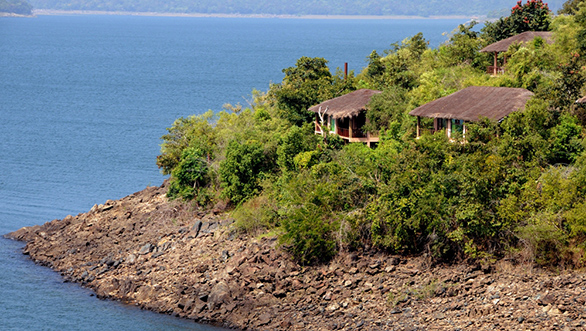 Spectacularly situated Jungle Lodge - River Tern Lodge
Huge sambar stag, Bhadra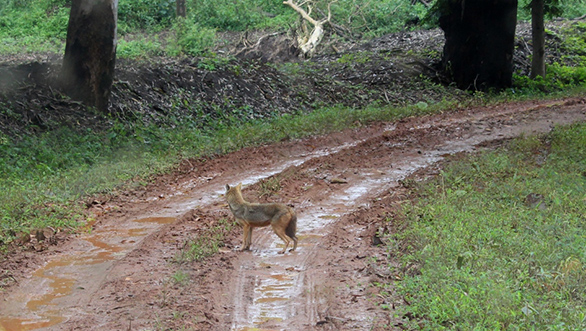 Jackal in Bhadra
Large herd of cheetal or spotted deer in Bhadra
The River Tern Lodge offers a perfect blend of nature and wildlife and they gave us a cottage facing the Bhadra Reservoir and ensured we were comfortable. They also organised a Jungle Safari for us the following morning into the Bhadra Tiger Reserve, which is an ideal tiger habitat although it is rare to see one! Wild dog tracks are also found often and elephants roam all over.
Embarking on a jungle safari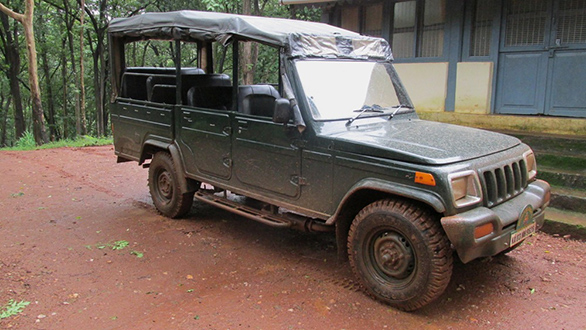 Our modified Mahindra jungle safari vehicle
The MRF superlugs on our Jungle Safari Mahindra were very grippy, even in slush
Tracking the tyre
Dholes or wild dogs are ferocious hunters and difficult to sight
Barking deers are generally shy and difficult to photograph
Other animals found in the area are common palm civet, stripe-necked mongoose, sloth bear, leopard, gaur, large brown flying squirrel, sambar, spotted deer and the wild boar. Since it was raining sightings were limited, but we still saw some cheetal, sambar, jackals and even a wild dog. The highlight was a sloth bear running across the path right in front of us, but it was so quick that we could not capture it in our cameras. We also came across many birds and I was informed that more than 250 species, many of which are endemic to the Western Ghats are spotted here.
The osprey mainly feeds on fish and is found in good numbers in Bhadra
Birds of many feathers can be seen in Bhadra
We took a break at a British era forest rest house and soon after we had a monitor lizard walk ahead of our vehicle for a while! The River Tern Lodge and the Bhadra Tiger Reserve are genuinely pleasurable places to get familiar with nature and its serene beauty.
At a British era FRH (Forest Rest House)
Elephant trench to keep pachyderms out of the rest house complex
Jungle water-pool, Bhadra
Boat safaris are also available at River Tern Lodge
Apart from wildlife viewing, you can also enjoy a boat ride on the backwaters of the Bhadra reservoir, but being on a tight schedule we skipped this and headed straight to Chikmagalur, where over two dozen SUVs and almost the entire team of OVERDRIVE was waiting for us.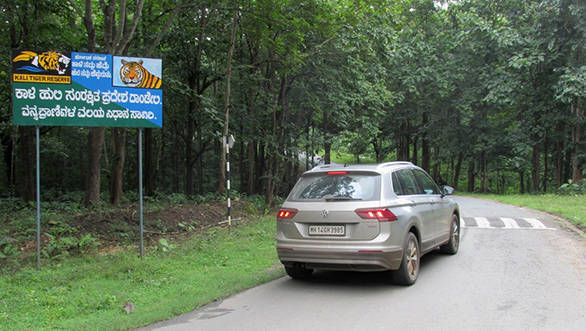 The VW Tiguan proved to be a great touring partner
Photos: Bob Rupani and Dinesh Shukla
Price (Ex-Delhi)
Starts Rs 7.98 Lakhs
Price (Ex-Delhi)
Starts Rs 31.99 Lakhs