VW Motorsport's RWD Polo: What it's actually like
If a car ever broke the internet, it would have to be this. And we got a chance to get up close and personal with India's first (mid) rear-engined, rear-wheel drive Volkswagen Polo. It's got the 1.8-litre TSI turbo from the Ameo Cup car, rated at 205PS and 320Nm torque at the wheels, and a six-speed sequential gearbox from 3MO. But what makes it extreme is that it carries its engine in a place usually reserved for the most exotic of supercars. It wasn't built by some boutique in Europe either, it was built by the VW Motorsport India team in Pune!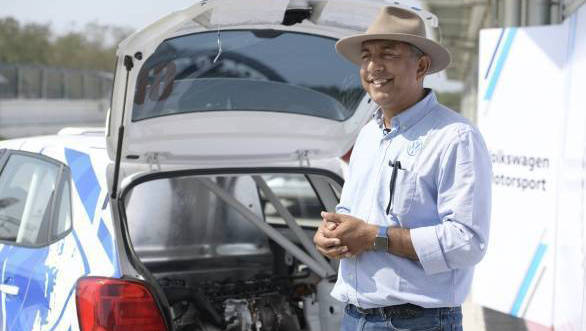 Sirish Vissa, head of VW Motorsport, says, "We're looking at the Customer Sport track cars as an alternative for customers running their supercars at the track. The costs can quickly spiral, what with the supercars needing service, brake, tyres etc every few track days. With something like the Polo RX, you get all the fun you want at a fraction of the price."
This 'winter project', as they're calling it, was built in the scraps of spare time between the close of last year's season, and preparing for the next. "I've built this car in my head about 15 times before we got down to building it for real," Sirish remarks, and that without the meticulous planning, engineering and measuring done before even touching the metal, the build would've taken far, far longer than the astonishing 10 days that it did. Turning a front-engined, front-wheel drive hatchback into this isn't as easy as taking the engine and plonking it into the back.
Except… that's exactly what they've done!
Starting with an Ameo Cup car, essentially the entire engine was cut out from under the hood, apron, sub-frame and all. And then welded neatly into the space that would've been taken up by the rear seats. To be able to do that, the team had to modify pretty much everything from the B-pillar back. The entire floorpan at the rear was cut out, and the suspension mounting points had to be moved further back, to be able to fit the 1.8-litre turbocharged engine and sequential gearbox as is, even the driveshafts didn't need any modification. The fuel tank was removed, and replaced by a fuel cell, sitting under the hood just ahead of the front axle. The intercooler is placed low, almost below floor level and is fed air from the underside of the car, thanks to a little plate that helps direct some air flow to it. To top things off, literally, the Polo's shell was added.
Calling the Polo RX rear-engined isn't entirely correct, though. The engine actually sits just forward of the rear axle, making this Polo even more desirable, since it's mid-engined. Desirable because, while the Polo Cup car had a front-to-rear weight balance of 65:35, this monster is far closer to neutral, with a 45:55 balance. Luckily, the fuel cell only holds around 25-30 litres of fuel, so the weight balance doesn't change too drastically towards the end of a track day session.
We were positively itching to get behind the wheel of the Polo RX when we first walked up to it in the pit lane at MMRT. Then, we got to experience it from the passenger seat… And watching VW Motorsport's resident test driver Karthik Tharani wrestle the little Polo around, quickly helped us realise the Polo RX isn't for amateurs. It's a serious little racecar, despite the wide grins we had when we climbed out of it. It may just be the most serious VW Motorsport has ever created. It's hotter and louder in there than any of the others, because all that sits between you and the engine is a slice of metal and a foot-and-a-half of air. It's also inherently snappier, needing sharp reflexes to catch. With more weight at the rear, it wants to swap ends if you carry too much speed into a corner. And with all that torque going to the rear wheels, it wants to do it again if you get too much on the throttle getting out of a corner. As it stands, it's like a really pissed off go-kart. But the good news is that on just the second day of testing and with minor setup changes, we're told it was getting easier and more rewarding to walk that tight rope.
And that's the mark of a great car. One that scares you, but also brings the widest grin to your face. VW Motorsport estimates it'll cost about Rs 60 lakh to own one, in this spec. They can even build you one with a two-litre engine with up to 350PS, or one with a stick-shift gearbox, if you're masochistic enough. Lucky for VW Motorsport, a mid-engine, rear-wheel drive Polo is definitely more exotic, and quicker than anything else in that price range. Now, if only we could drive one home.
Price (Ex-Delhi)
Starts Rs 6.17 Lakhs