Vehicle Scrappage Policy - Views of Dr. Anjan Chatterjee, Secretary CIVAA
The soon to be introduced scrappage policy has put a question mark on the future of historic and classic vehicles in India. Overdrive's Consulting Editor Bob Rupani spoke with Dr. Anjan Chatterjee, Secretary CIVAA (Central India Vintage Automotive Association) and High Court advocate, to try and understand the possible future scenario and solutions.
Dr. Anjan Chatterjee is Secretary, CIVAA (Central India Vintage Automotive Association)
Bob Rupani - The government of India will soon be introducing a 'Scrappage Policy'. Do you think it will actually help reduce pollution and improve our overall air quality?
Anjan Chatterjee - It first surfaced as the Voluntary - Vehicle Fleet Modernisation Programme (V-VFMP) vide a notification dated 26-5-2016 and it is utopian to think that it will reduce pollution and improve the AQI (air quality index). Judicial decisions have banned 10 (diesel) and 15 (petrol) year old private cars in the Delhi – NCR region. But after this ban the smog and AQI for the winters of 2019-20 and 2020-21 were the worst ever in history. The real causative factors causing the life threatening menace were never identified through any accredited laboratory studies, whatsoever. It's easiest to target private vehicles, which are the softest targets due to multiple factors and pressures that emerge while the deteriorating AQI is under discussion. The reality is that older cars are rarely daily drivers and at any traffic signal or parking lot, hardly any such vehicles can be sighted in a motley congregation of thousands.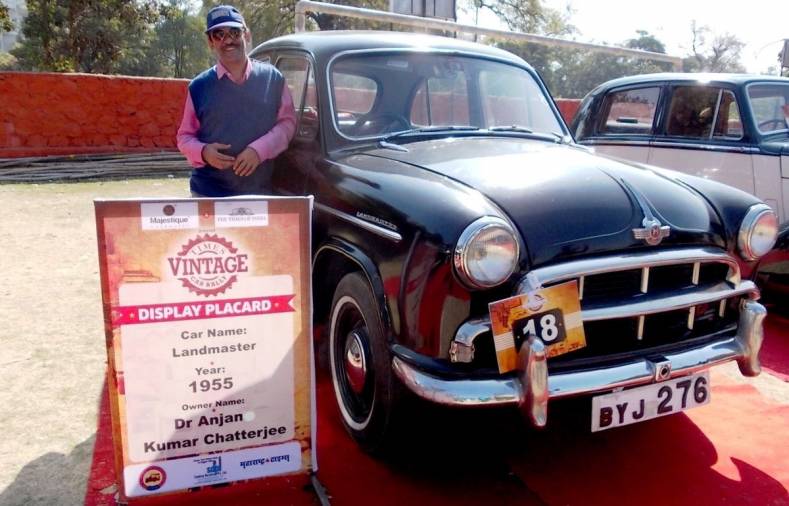 Chatterjee with his 1955 Landmaster
BR - From what we know historical cars that are over 50 years old, maybe exempted from being scrapped. What are your views on this?
AC - The 50 year or older cars will soon be under the ambit of amended Central Motor Vehicles Rules, 1989. The draft notifications by the Ministry of Road Transport and Highways, proposes to introduce a slew of measures to treasure our vintage wealth though with some angularities that need to be sorted out. It is praiseworthy as it is the first ever such step ever taken in India. As an individual, I have been calling for such measures since 2008. Since 2012, after CIVAA was formed, we have been pursuing the matter regularly with the Transport Ministry and after 2014, personally with Nitin Gadkari, the Minister of Road Transport and Highways.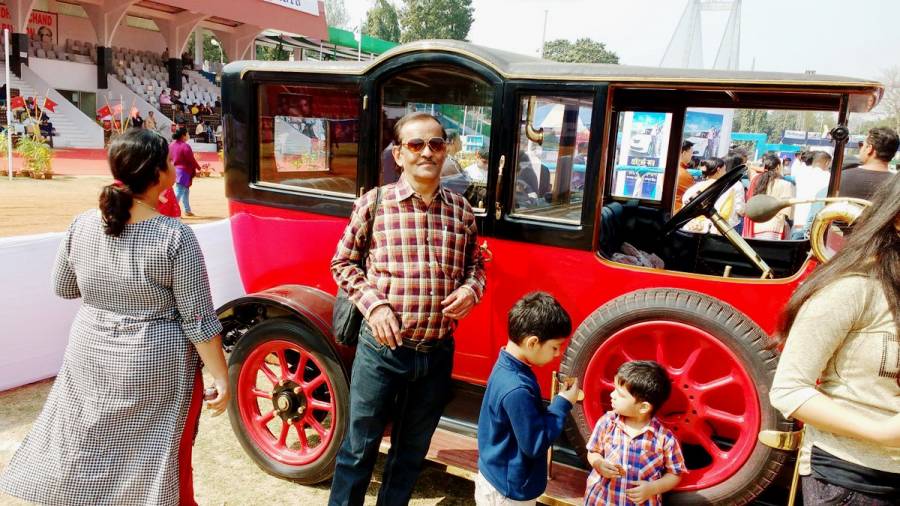 He has been working to promote the classic car movement in Nagpur, and other parts of Central India
BR - The famed Cartier Concourse D' Elegance event introduced a special 'Indian Heritage Class', which increased the popularity of made in India classic cars. And now we have many Fiat, Ambassador and even Contessa Club's, and so on.  In case the limit is set to 50 years, what happens to these historic cars that are not so old? It will obviously also mean the scrapping of the iconic Maruti Suzuki SS 80, which started the auto revolution in India? Your views on this?
AC - Such vehicles can be mechanically improved upon for fitness compliance by interested enthusiasts, as the scrapping policy overtly appears to be voluntary.
The automobiles depicting our real automobile and industrial history are the post-late 1960's ones, when nearly 90 to 100 percent components were Indian made. Not only the Hindustan Ambassador and Rajdoot but also Bajaj, Premier, Vijay, Luna, Yezdi, Lambretta, Kinetic, Allwyn, Tata, Mahindra, Maruti, TVS and more, which have dotted our roadscape, are all truly historic. By some ill-conceived and merciless guillotining measures, we cannot afford to lose our history that is becoming scarce and is much valuable for posterity.
It's great to see more people participating in the historic car movement
BR - Are you aware how the government will decide if a car is historic and does not need to be scrapped?
AC - The government has put the cut-off at 50 years, but we are batting for 30 years to introduce a "New Classics" category (30 - 49 years). Visionary policies require identification of "New Classics" at a tender age so that these soon graduate into the "Vintage Category" seamlessly. The definition of historic by FIVA (Fédération Internationale des Véhicules Anciens) is "a mechanically propelled road vehicle, which is at least 30 years old, which is preserved and maintained in a historically correct condition, which is not used as a means of daily transport, and which is therefore a part of our technical and cultural heritage." We are suggesting that the authorities adapt the international best practices and we from CIVAA, will be sincerely involved if called upon, in such decision making.
Dr. Chatterjee uses his Landmaster on weekends
BR - Let's take an example. What if someone gets a car as a wedding gift, or wins it as a prize in a contest. Such a car may have a huge emotional value for the family and they may never want to part with it, or scrap it. Will there be a way for them to retain it?
AC - Fully agree that such a loved car is a family member. It includes cars as described above and also those from the family heirloom, including the ones owned or travelled in by grandparents, parents, siblings, family and other near and dear ones, some of whom could be no more. The best way for enthusiasts to retain a prized possession is to make the car fully fit and roadworthy to comply with the proposed automated fitness tests. Since the scrapping policy is "voluntary" as of now, there should be no way a fully complying car is declared unfit. The automated fitness test needs to be transparent and affordable and unsuccessful cars need to be accorded two more chances.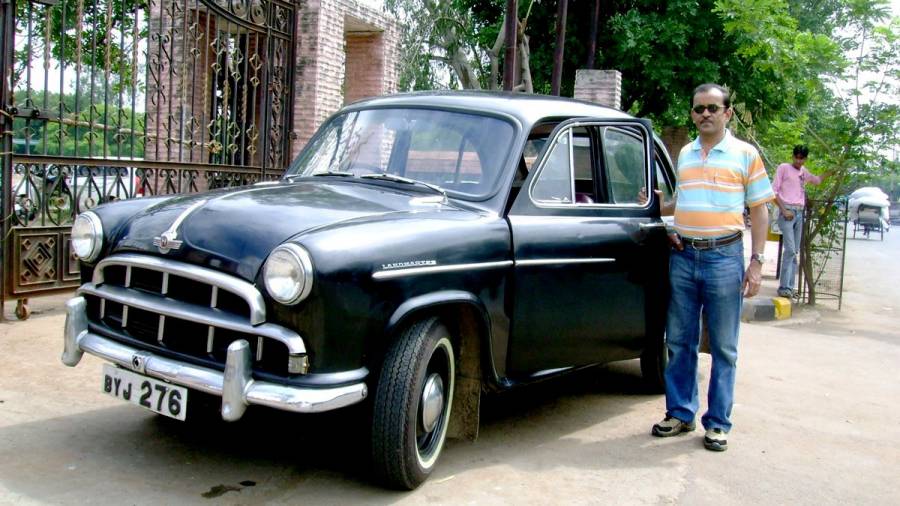 BR - What in your view is an appropriate scrapping policy for India that will also cater to the interest of car collectors and classic car enthusiasts?
AC - The scrapping policy should be neither invasive nor coercive, compelling the owner under duress, to part with his prized possession. The draconian, proposed "Green Tax" and hike in fitness test fees needs to be rethought and status quo ante restored. The hikes will compound woes of 20-49 year old car owners. Spain in June 2020 has introduced a 3.75 billion Euro aid package, while France has a similar 8 billion Euro package to aid car scrappage. Germany has rejected the latest moves by automakers to launch such state funded schemes. Incentivizing scrappage with such multi-billion projects is yet to show concrete results, the world over. The natural rate of attrition for cars is quite high these days in India and most buyers discard their cars after about 10 years of use. For popularising EV's (electrical vehicles) there is a need for very good, ultra-fast recharging points and also an eco-safe battery disposal infrastructure. Electric cars with a range of at least 500 kms per charge and having an affordable price tag will surely facilitate a seamless switchover to EV's for daily transport.
Also see:
Vehicle Scrappage Policy - is it as good as it sounds?
Vehicle Scrappage Policy - Views of Dr. Ravi Prakash, President, FHVI
Vehicle Scrappage Policy - Views of Diljeet Titus, General Secretary HMCI
Vehicle Scrappage Policy - Views of Gautam Sen, Vice President - FIVA
Vehicle Scrappage Policy - Views of auto historian Manvendra Singh Barwani
Vehicle Scrappage Policy - Views of T.Thakral, Heritage Transport Museum
Vehicle Scrappage Policy - Views of Ranjit Pratap, President HCAI
Vehicle Scrappage Policy - Views of T. R. Raghunandan, Ex-IAS officer
Vehicle Scrappage Policy - the complete picture - all you need to know