Two-wheeler monsoon riding and maintenance tips
For many of us, the monsoon isn't a time to hide away our riding gear, because it's a uniquely brilliant season to get out there and ride. A little water can't dampen our spirits, right? Well, as true as that may be, we have to be safe in our ways of going about it. Not only for ourselves but for our trusty mechanical companions as well. Here are some tips for those who are unfamiliar with riding two-wheelers in the rainy season and some pointers to ponder over with regard to vehicle maintenance.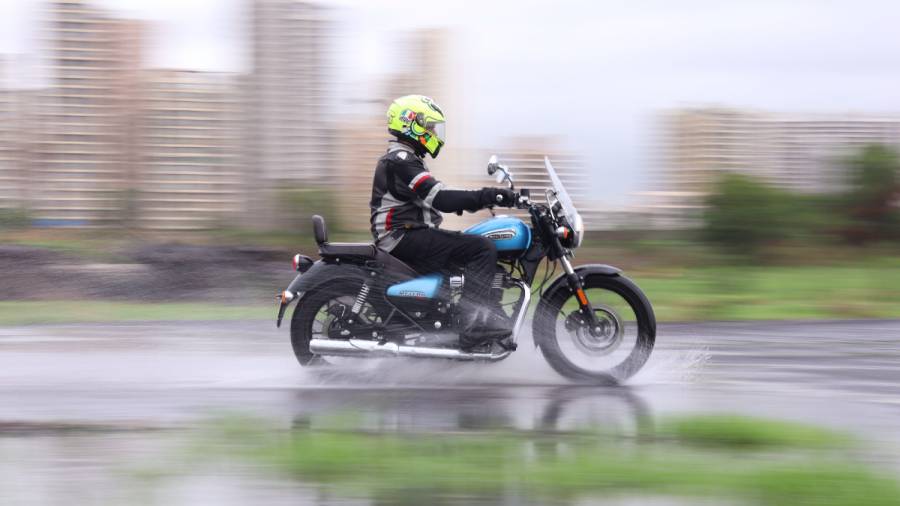 In the monsoon, getting there quickly shouldn't be your main concern. Getting there safely, should
When astride:
Maintain speed and distance
Always keep at a safe distance from the vehicles ahead of you. In case the vehicle brakes suddenly, the space you've maintained will give you more time to react and slow down/ stop in time. It's also advisable to ride slower and in a lower gear than you would under normal (dry) circumstances as it engine braking gives you more control and helps you decelerate safely.
Smooth inputs
Don't make any jerky or sudden inputs like whacking open the throttle completely, or making sharp changes in direction like you would in dry conditions. These jerky actions may cause you to lose traction. In case you are in a situation which demands you to brake hard all of a sudden and your bike isn't equipped with ABS, don't tense up and grab the front brake. Keep calm and employ both the front and rear brake progressively. Any abrupt braking can cause a sudden shift of weight on the motorcycle and you could lose traction. Progressive braking doesn't mean you squeeze the lever slowly either.
Stay visible and use indicators
The road is no place to play guessing games especially when it's raining. Keep your lights on if they aren't already, so that other motorists know you're there. Use your turn indicators to ensure that other road users are aware of your intended change in general direction.
Flooded streets can disguise huge potholes, so exercise much caution in these conditions
Avoid puddles and standing water
Always treat puddles of standing water as a mystery - mysteries that you don't require answers to. If you're unfamiliar with the road and surface, it's best that you stay away from them. It could turn out to be a deep rut that could throw you off balance if you're not careful enough.
Steer clear of certain areas
It is best that you keep away from waterlogged roads as water can severely damage your engine. Also, waterlogged roads could be hiding open drains, manholes or potholes, so you'll want to hold back if you're not familiar with the area. If you have no option but to pass through a waterlogged area, maintain your throttle actions so that there is no water entering the vehicles exhaust pipe. Do not stop. If your ride stalls, get down and push it out of the water. Do not crank it up when it's still in the waterlogged stretch.
In the monsoon, muck gets in everywhere. But a good pressure wash is sure to get all the gunk out
When parked:
Brake and Tyre Check
If you're bike has a disc brake, ensure that the disc is clean. Sometimes there's a thin layer of rust forms on the disc make sure that this is taken off. Check the brake pads. Check the drum is clean and functioning at the mechanic if you're not used to doing it yourself.
Keep a eye for rust on your disc brake
Check your tyre treading. Pop a coin into the tyre grooves to check the depth of the tread.  The minimum depth of the tread should be more than two millimetres to get a decent grip on a wet road. Check tyre pressure levels. Usually it is recommended that you keep your tyres a couple of PSI lower than what is required to increase the contact patch between the tyre and road. But depending on the tread of the tyre, this could also decrease the way the tyre moves water out of the way while it makes contact with the road. If you are going to reduce pressure, make sure it's not more than one-two PSI at the most. Allow the tyre to function as it was originally designed.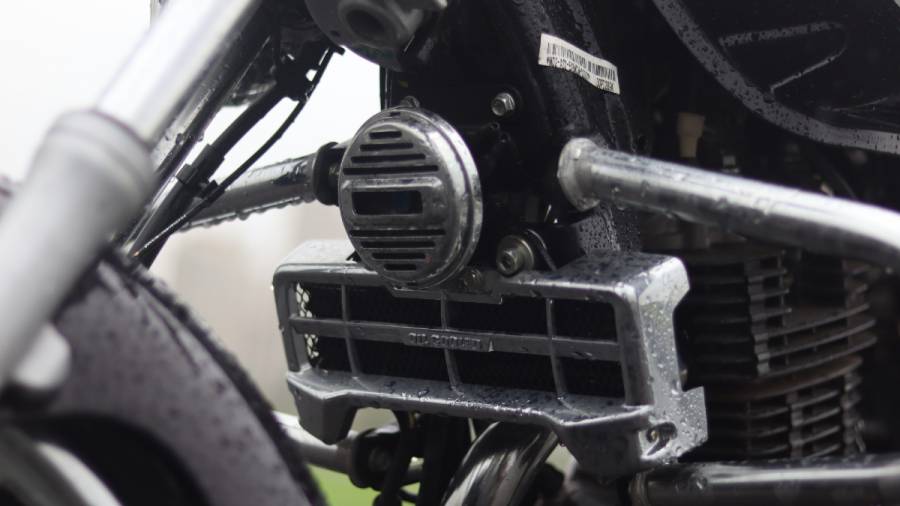 Ensure that your ride is clean at all times
Keep it clean
Everyone likes to keep their ride clean, but in the monsoon season, you simply have to, at all times. It's not only the top of the bike that should be clean, but the engine bay and under side as well. When muck gets onto these parts, it can damage components by causing wear and tear and even cause them to corrode quickly over the course of time. A good pressure wash will take care of this as water cleans out the gunk from all the nooks and crannies that your regular washer guy wouldn't be able to clean out. Check on your bike's air filter as well, if it's choked your bike will not run as effectively as it should.
Antirust and Lubrication
Most new bikes and scooters come with Teflon coated parts. However, chains, levers, sprockets and even battery terminals, and any metal parts that are exposed to the elements should be coated carefully with antirust to avoid their degradation. Chain lubrication is often overlooked. Be sure to lubricate your chain when dry to ensure its longevity.
Related Stories