Turning trucks: What is the Tata Prima T1 Truck Racing championship all about?
There's a big hairy paw that beckons. The being the paw is attached to goes around the side of a truck. On any other day I might not be quite so agreeable as to follow a strange man behind a truck. But this one time I decide to make an exception. I peer intently at what is being pointed out to me on the side of the truck - essentially lots of damage. I look up at a rather sullen face and can swear I nearly see his lip quiver in dismay. "Got hit. Got punted into the gravel," I'm told. Then Ben Horne lopes away rather dejectedly. Horne, as I've come to notice, is a man of few words. Add to that the fact that he was considerably aggrieved due to the aforementioned hitting and punting and his vocabulary, it would appear, has shrunk even further. As I look at the retreating and decidedly forlorn figure that is Ben Horne's, and catch a glimpse of some other truckers (those who were evidently having a better weekend than the hapless Horne who'd been shoved from pole into the gravel on the sprint race) laughing, slapping each other's backs and generally engaging in trucker-like bonhomie, it slowly sinks in. There's actually been a truck race at the Buddh International Circuit.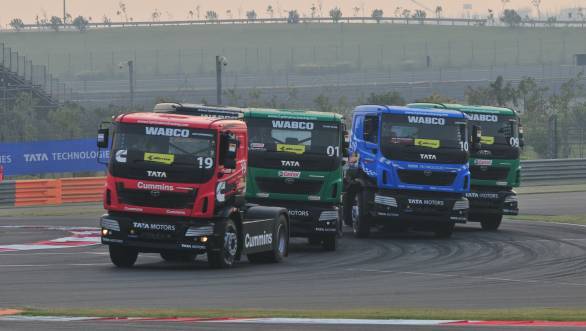 Isn't that quite a sight - close racing this was!
Let's back the truck up a little, shall we? Back in 2009 Tata Motors launched the Prima, that truck they refer to as their 'world truck' as a step up for the Indian trucker. A truck that I'm told is meant to be aspirational - a truck that caters to owner-drivers as opposed to your average Indian Horn-Okay-Please trucker who is employed by a fleet owner. If they had plans of Primas aplenty dotting the Indian highway-scape over the next few years, though, things didn't quite pan out like that. How then were they to transform the Prima into the Holy Grail of Indian trucking? Well, this, evidently, is what they have in mind. A pack of twelve Primas, modified for racing according to the FIA's stringent standards, barreling down the BIC. It's a full-fledged championship that consists of, err, one round. And it's meant to change the face of Indian trucking. Oh and it features an all-British grid of professional truck racers.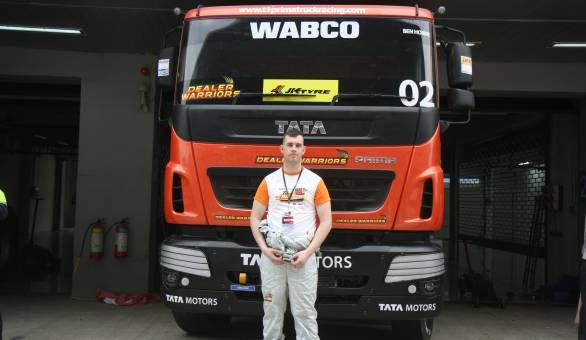 There's young Ben Horne, none too pleased at having to start the main race at the back of the pack
Speaking of the truckers, though, the who's who of the British Truck Racing Association has made it down to the BIC. Mat Summerfield, the reigning BTRA Division 1 Champion, who tells a fellow motorsport scribe that he's had 'grown men weep' when they've gone out on track for a lap with him is trackside. David Jenkins, 2011 BTRA Division 1 Champion is there too, as is the spectacular Stuart Oliver who has rather neatly tucked away 10 Division 1 feathers in his trucking cap. The entire grid of truckers has been well thought, with Steve Horne (young Ben's highly experienced truck racing progenitor), the organiser from the BTRA, handpicking the grid to include pro drivers from the Eighties, Nineties and the latest generation of truckers as well. The drivers here compete for the sheer love of turning the steering wheel in anger and heaving their steeds, all two tonnes of them, towards victory. Paul McCumisky who has been racing since 1986 tells me that he went down to the track once, saw the trucks going at it and told his fleet owner that he could do that. One year later, he was doing exactly that and he's not given up since. Summerfield is a qualified engineer who builds his own race truck - like the one he drove to victory in the championship in 2013. Dave Ball started out in karting, did some oval racing and then moved to trucks. While Steve Rothery has won his class in the Renault Clio Cup in 2013! It's a varied grid. And it's a grid that is so far removed from the Indian trucker, as, er, racing a Clio Cup is different from racing trucks.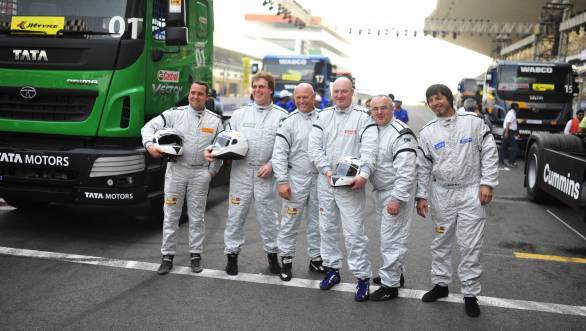 A merry bunch this lot - but it gets competitive out on track, off-track bonhomie aside
One thing's clear though, whatever they might do off track doesn't count. And the camaraderie, well, that disappears too once the engines are on. The battle for the win during the main race boils down to a fight between Summerfield, Oliver and David Jenkins, with Oliver winning ahead of Summerfield and Jenkins. The crowd is on its feet, cheering and yelling as the three of them cross the finish line. Oliver completely outdoes Seb Vettel's donuts by doing some of his own on the start finish straight at the BIC. The crowd really loves it - but let's face facts, they aren't here to watch the truck races. They're really there for the concert, fashion show and the hoopla that surrounds the races. But it probably isn't a bad way to rope them in.
So, has the Prima T1 Truck Racing Championship changed Indian motorsport? Well, they've given us an interesting event - there's no doubt about that. An event that we'd like to see back at the BIC again simply because we like trucks and we like racing and when you combine the two it's one of those automotive marriages made in pistonhead heaven. But Tata Motors says that they will only have the championship as either an annual event, or biannual event. Nothing more. They also say that the next grid will feature Indian truckers turned racers. If it happens, it will be terrific, but we're really far too afraid to risk holding our breath. And has the Prima T1 Truck Racing Championship changed the way people view truckers and truck racing as a profession. Unlikely.
Paul McCumisky, veteran truck racer, has been racing since 1986, and is more than game to come back to the BIC
Would you do it again? I ask McCumisky and Graham Powell of the inaugural truck racing championship in India. "We'd all do it again!" McCumisky says cheerily. While Powell throws his hands up in the air and shouts - "I'm not going back!" That's the spirit right there. Now, perhaps, for some implementation.