Triumph Street Triple long term review: After six months and 10,000km
Ferine, my Triumph Street Triple, has just hit 10,000km. Its second service marks the end of its run as a member of the OD Garage. Time flies right? So does the Street Triple. I think the thing I've loved most about it is its temperament. It seems to be able to trundle along effortlessly at moderate, even lazy speeds when I cannot be bothered to ride faster. And you can also flip a switch and turn it into a hooligan. Just yesterday, I felt the bars go light and then the revs shot to the redline as the rear spun up simultaneously. Wow, how can you not love a motorcycle that can do both, eh?
The Triumph has run the gauntlet of Mumbai's traffic and broken roads in the wet and the dry. It also logged thousands of highway miles as well as track miles. Here is what stood out, good, bad and ugly.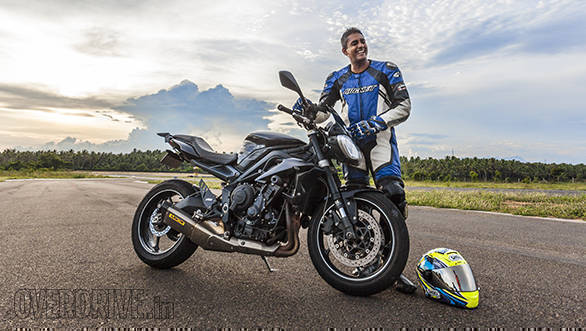 The tyres
I was told the stock Pirelli Diablo Rossi Corsas are too soft for our roads. My experience differs. First, they're excellent tyres with immense grip both in the dry as well as the wet. I love them (to bits, literally) for it. The tyres lasted 8,500km with just one puncture in our hard use cycle and that is respectable. Especially considering that I'm not above following smaller bikes into the soft shoulder to get around Mumbai's traffic jams. A replacement set is Rs 39,000 (approx, Mumbai) but I hand-carried a set from the US – Rs 21,000 from Revzilla.com. From what I can tell, that's a completely legal private (non-commercial) import.
Ground clearance
The Street Triple isn't idiotically low on clearance but I have ground it over speed breakers at least 10 or 15 times in the 10,000km. Ordinarily, this wouldn't trouble me. But the lowest thing on the bike is its deep sump and you really don't want to be touching down things like that. I explored bash plates but all significantly reduce clearance. The only way is to be extra careful over speed breakers.
Service
I've asked around - including other bike brands - and Indian big bike service remains a variable experience. Mechanics are usually well-trained, but their diagnostic capabilities are limited. If a problem is not in the service manual, solutions can be hard to find. Usually, the service in-charge is responsible for more complicated matters and there simply isn't enough talent across all the CBU brand dealers. Solution? I have two non-affiliated mechanics in Mumbai who I trust. I go to them first with complex problems and to the manufacturer second. I empirically understand that I am not alone in this modus operandi. It's served me well.
Parts prices
I have to give Triumph credit for clever pricing of bike parts. They appear to have low prices for consumables and mechanical parts and much higher prices for cosmetic bits. This keeps living costs at a reasonable level. In that sense, the only unscheduled cost I've incurred in 10,000km is a set of replacement front brake pads that cost just over Rs 5,000. This was at about 6,000km. The worn ones still have 2,000km left in them, I think, but I was headed out for a 3,500km ride including track time.
Finish and paint quality
I'm a little disappointed by Triumph's finish and paint quality. Despite taking great care, I can see dull spots where no scuffing can actually occur on a regular basis. Indeed, the new Bonnies show that Triumph has leveled up in this department. Similarly, the braided front brake line has worn out a spot on the right fork tube. The line only touches the fork when the handlebar is turned fully to the right so the anodisation must be comically thin.
The 85PS model
I can honestly say 10,000km further down that road that the 106PS model is a vastly better motorcycle. I would tell everyone who has an un-exhausted Street Triple to bite the bullet and get the Arrow. It's lamentable that we get the 85PS version. I asked a senior Triumph UK official why the 106 still hasn't shown up and I was given to understand that it's just a matter of time. When the all-new Street Triple arrives – probably early 2017 – this detuned model aberration will become a thing of the past.
On the other hand, the Arrow-equipped Street Triple is a very expensive purchase, but a very excellent motorcycle. The extra power makes life easier, the chassis feels more responsive and of course, it makes highway cruising more peaceful.
What Ferine taught me about big bikes
First, not all work well in our conditions. Sportsbikes can be hard work and adventure tourers will do everything but are slightly too gangly for the racetrack (which is an important part of my use cycle). Sport nakeds are near-perfect and it doesn't take much to turn a basic sport naked into a tourer, or a more focussed track bike.
Second, be aware of the costs of owning one. Be prepared to spend on insurance annually. If you're riding a lot of miles, tyres are another substantial expense. Select a brand after you understand their service costs. Sometimes a cheap tag can hide an expensive aftersales experience.
Third, don't be afraid to ride your bike. They're not as simple to ride as smaller bikes. Especially when it comes to parking them in a crowded place. But if you plan ahead, you can ride a lot more than you think.
Finally, bigger, faster machines are huge fun. Don't miss out.
Mods to Ferine
Performance
Arrow exhaust (Rs 37,005)
Didn't think it was critical when I bought the bike. Now can't imagine life without it. Not very loud at low revs, just the way I like it.
Speed Triple throttle tube (Rs 690)
Shorter throttle travel makes engine response feel vastly crisper and WOT operation (at the track) much easier on the hands.
Daytona 15T front sprocket (Rs 2,487)
Reduces gearing by about 8 per cent. Top speed falls to 204kmph but so quick and no first gear stalling
Battery tender cables (Rs 400)
Triumph sells a very reasonably priced Optimate branded trickle charger. The cables ensure I'm ready to be plugged in if needed.
Protective 
JCMoto fork, frame, swingarm and bar slider set (Rs 14,800)
Better safe than sorry eh?
JCMoto chain guard (Rs 1,200)
So my boot never meets sprocket in a crash
Touring mods
JCMoto luggage rack (Rs 6,500)
I carry my leathers in a bag to the racetrack. Need I say more? JCMoto's rack is very strong - far more than the usual 10kg rating.
Triumph power outlet (Rs 1,500 approx)
The waterproof DIN-spec power outlet is OE on the Tiger. Installed underseat using the heated grips circuit so it's both switched and fused.
Ram bar clamp mount (Rs 650)
I only need the phone to run navigation on the bike. Add a Ram X-Grip, wonderful!
Puig screen (Rs 11,000)
For regular rides to the track lasting days, the screen perfectly takes care of windblast.
Kriega Fork Seal (Rs 1,700)
Coated neoprene held by Velcro and zip ties, shrouds part of the USD forks' travel from bugs and grit and extends fork seal life.
Osram NightBreaker Unlimited (Rs 3,388)
Twice the illumination, same wattage and half the bulb life. Very bright, slightly more white.
JCMoto Mirror extensions (Rs 1,500)
The mirrors aren't as adjustable as I'd like. Short extensions solve this problem.
Other mods
JCMoto tail tidy (Rs 3,500)
On my KTM, the extended tail looks good, on the Triumph not so much. JCMoto's simple one-piece metal is light, short and looks right.
KTM Duke indicators (Rs 1,600)
The StTriple gets really fuddy-duddy indicators. The sleek LED replacements look great. Internal resistors means blink rates are faster than stock but eminently usable.
Price (Ex-Delhi)
Starts Rs 8,84,000