Travelogue: Raging rivers with the Hyundai Xcent
As we approached 'Big Daddy', a grade three rapid, the water looked flat and only the speed at which the raft was being pulled along and the crinkled 'speed' lines on the surface betrayed the true force of the current. There is not much that can match the adrenaline rush you experience as you head into a giant rapid sitting on the edge of a rubber raft, barely hanging on by just the tips of your toes. Ahead of the narrow, seemingly calm channel or 'chute' in rafting terms, is a mass of insidious white water that threatened to upset the boat and throw us over. It's then that I felt something building up inside of me. It's the anticipation of what's about to come that gives you that hit of adrenaline, prepping muscles and nerves for the danger that your eyes tell your body is about to come.
As John Pollard, our guide, manoeuvered the raft into the centre of the channel we headed into the thick of the white water, all keenly listening for the calls that we knew were going to come. The first call was an urgent "forward" and then a much louder "HARDER!" as John commanded us to paddle for our lives. Then our training, imparted just before we set out, took over and we followed the calls that came fast and loud, "Left, left, left, now forward." After a flash of frenetic paddling, it was time to relax as the river calmed down for a bit before heading on to the next rapid.
River rafting gives you a rush that's ever so addictive and I just can't get enough of it. I was first bitten by the bug almost a decade ago when I was lucky enough to head down the Ganges for two whole days of splendid river fun. This was just after I finished college and I had a lot of time on my hands. Since then time has not been so gracious and I haven't been able to make a proper trip to North India but what I found out over the last few days, is that you don't necessarily have to head northwards for a bout with a raging river. There are equally exciting river rafting experiences waiting for you in the hills around Kolad and Karjat and even a little further away in Goa. It's easy to guess which destination we chose to head to for a weekend of fun.
The Hyundai Xcent may be a sedan but it was still perfect for darting through the quaint little streets and bylanes in the hinterland of Goa. Four people were perfectly comfortable in the spacious interiors while the generous 407 litres of boot space easily managed to swallow the helmets and life jackets that kept us safe on the river. It was also a great car on the highway and the 600 odd kilometres to Goa were covered with ease.
Our guide, John Pollard briefs us on the equipment we'd be using
We kit up for the adventure ahead
The Xcent was a great companion, helping us carry the rafting gear down to the river
A rainy vacation
The white water rafting scene in Goa may not be as well known compared to what's possible in northern India but it's just as much fun and brings with it a chance to explore a whole new dimension of this beach paradise. We found that there's a world of possibilities if, instead of turning west off the NH17 and towards familiar ground, you simply head east off the national highway. After passing the turn off for Mapusa, we took the next left and headed past the quiet village of Aldona and into the hinterland of Goa. The roads get narrower, the people friendlier and soon we are back into the foothills of the Western Ghats. This area has a nicer unexplored feel to it and you won't see the regular touristy crowd here. Instead you'll find small hamlets with small local eateries and a few home stays. Olaulim Backyards offer you a comfortable stay in one of their three cottages with river kayaking and nature walks to keep you busy. It's right on the banks of the backwaters and bordered by acres of green fields.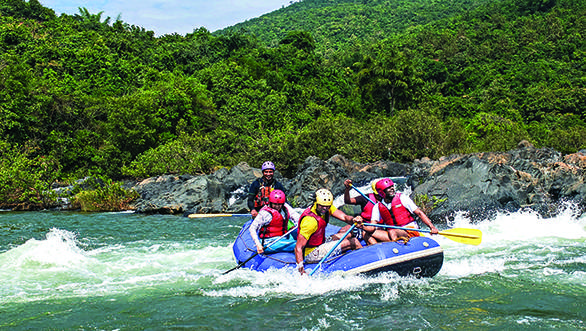 The Mhadei and Tilari rivers offer challenging and exciting rafting experiences for both amateurs and professionals with grade three and four rapids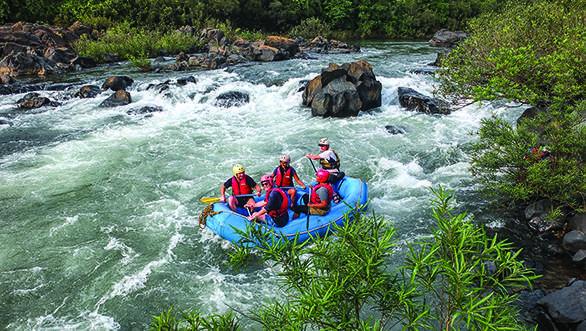 White water rafting in Goa takes place during the monsoons so come prepared to get wet
The Basics
John Pollard aside from being our guide for the day is also the founder of Southern River Adventures (goarafting.com) and they run rafting expeditions on the Mhadei and Tilari rivers. He's a jolly Brit and he made our day brilliant fun with his quick wit and good humour. The rivers offer challenging and exciting rafting for both amateurs and professionals with grade three and four rapids (one is the easiest grade and six is considered impossible) on offer. The Mhadei is the river for beginners while the Tilari is for experts only. White water rafting in Goa takes place during the monsoons so come prepared to get wet. T-shirts and shorts or tights are the preferred clothing while you need some good lace-up shoes that will stay on when you're in the water and protect your feet from cuts and bruises from rocks. Everyone with a reasonable level of fitness can go river rafting but it's not a joy ride. You will need to paddle hard and you'll probably feel sore from the effort afterwards but the sheer joy of battling with a force of nature will leave you with a big smile on your face. It is a dangerous sport and there are certain risks involved so speak with your rafting guide about this or look it up on the web. That said, Southern River Adventures is very professionally run and has had 50,000 participants that have gone rafting, accident free. Season time is mainly between July to December for both rivers but it depends largely on rainfall. Prices start at Rs 1000 for a 10 kilometer day trip.
Only the speed at which the raft was being pulled along and the crinkled 'speed' lines on the surface betrayed the true force of the current
St Thomas' church is one of the many beautiful churches around Goa
There is a regularly run ferry network that links the many islands of the backwaters
You'll probably feel sore from your river rafting experience afterwards, but the sheer joy of battling with a force of nature will leave you with a big smile on your face
Price (Ex-Delhi)
Starts Rs 5.73 Lakhs