To Thar or not to Thar
Been thinking of buying the new Mahindra Thar? We at OVERDRIVE are experts at thinking up pros and cons for everything under the sun. Agreed, on most days our analyses are limited to the pros and cons of eating at the office canteen or those of wearing boxers. But then, there are some days that we actually think of more productive stuff. Recently we were debating why the Thar would be the perfect car to drive around in and this little list is the result. Go ahead, have a look…
Why you should...
1. Road presence
Get a Thar and there are very few cars that would mess with you on the road. This is from experience. Buses never try to run you off the road and hardly anyone ever tries to squeeze you in traffic. A lot of this has to do with the reputation that these Mahindras have of costing as much as a bar of chocolate to fix. Oh let's not forget that in the battle of any car versus the Thar, there are very few scenarios where the Thar comes out hurt. In fact, the Thar is so good that combined with a set of good off-road tyres, the stock car will tower over much larger SUVs (read Fortuners). Really! While we were out testing the Thar, there was more than one occasion when we corrected typos on the phones of Fortuner drivers. True story!
2. Incredible off-road capabilities
Whether you take the Thar off-road or not, there is no denying that the Mahindra is one of the most capable off-roaders that you can buy in India today. The new Thar does get a locking differential now, but it doesn't really add a lot to the package. But that's okay because the Thar really can go as far as most owners will take them without any modifications other than tyres.
3. All new interiors
One of the main reasons why Rishaad used to hate the Thar was that the interiors were absolute rubbish. The previous generation Thar had interiors that seemed like they took a Bolero and used a hack-saw to cut it up so that it fit in the Thar. We kid you not! There hasn't been a single time when Rishaad climbed into the Thar without drawing blood. Go ahead, ask him. The new Thar though, is an entirely different story. The cabin has suddenly become a place that you can spend time in. The dashboard is all new and the steering wheel isn't off a tractor. There are cup-holders and even a power socket. Not to mention a glove box that can be locked. The overall materials quality too has improved by miles. In short, the Thar no longer feels like a hack-job from 300 years ago.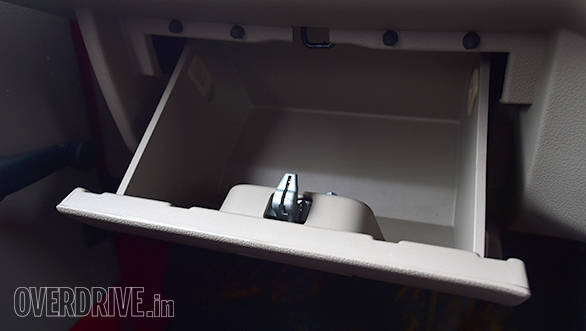 4. Compact dimensions
For all its massive-ness, the Thar is actually a pretty compact SUV when it comes to finding a parking spot. It fits in most spots that you can fit a hatchback in. Think about it. The Thar has an overall length of 3,920mm. And we all know that thanks to our excellent Government regulations, that makes the Thar… not an SUV! The fact that you will need a spotter to guide you in is another matter altogether, but fit in that little spot, it definitely will.
5. Customisability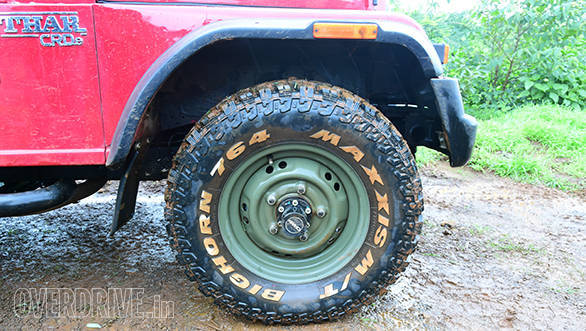 We don't need to tell you that the Thar is actually based on the design of the CJ series Jeeps. What that means is that the list of aftermarket parts that you can get for the Thar is quite ridiculous. Everything from off-road bumpers to high lift suspension to manually locking differentials can be bought from the hundreds of aftermarket accessory manufacturers all over the world. And you don't even have to search that far. Thanks to the Thar becoming a favourite among the off-road enthusiasts, a lot of home-grown accessories can be bought from India itself.
Why you shouldn't…
1. Safety concerns
As wonderful as the Thar is, my primary problem has always been that the Mahindra is as safe as a box of cereal. And just like said box, it does not get ABS, ESP or airbags. The only thing stopping you from certain death is that body and chassis that is built like a tank, I'm sure. It isn't really safe out on the highways either. It feels really hairy at high speeds and the steering doesn't correct itself too fast, which means you have to manually assist to straighten the car out of tight turns.
2. Rubbish seats
The Thar might have gotten a great new interior, but those seats are as bad as T Rajendar's dancing. There is absolutely no lumbar support and in less than an hour, your back will start to cry. There is also that other problem. With that bench at the back, the taller people have a problem fitting into the driver's seat. The bench comes in the way of the front seats and doesn't let you slide it back all the way.
3. No creature comforts
There are certain things that you have become accustomed to in modern cars. Things like a music system and electronically adjustable ORVMs have become a standard fitment on most cars that we drive today. The Thar, though, is like a reality check. Step inside the Mahindra from any other car (even another Mahindra) and you suddenly realise how devoid of these little bits and pieces the Thar is. Might sound like a first world problem to you, but let me assure you that the situation is a lot like the three point harness. "Who needs a three point harness…? Oh wait!"
4. Ride quality
The Thar still uses a double wishbone setup up front with a set of leaf springs at the back. What does this mean? The people who are fortunate enough to sit up front will have a great time, but those at the back will get tossed around till their breakfast ends up on the floor. As great as leaf springs are for driving off-road, their primary disadvantage is that without weight to compress them, the ride quality is pretty bad (ever notice an empty truck bouncing off speed-breakers?). Just ask Rishaad (again) how he got thrown into the roof of the Thar when Halley decided to not slow down over a speed-breaker. The point is, if you plan on using the Thar as a means of shuttling your family around, well, don't. It's a sure fire way to the single life.
5. Lack of excitement
There is only one scenario where the Thar is incredibly exciting to drive – off-road. Everywhere else, it is just a means to get from A to B. Of course, you'll look incredibly cool while at it, but that's about it. The Thar doesn't accelerate that fast. It doesn't corner that well. It doesn't even go that fast on the highway. It is sort of a one trick pony if you discount all the hooliganism on the road and the random climbing of dividers and footpaths, just because you can.
So there you have it. Our incredible list that might or might not help you make up your mind. All I can say is, at Rs 8.03 lakh (ex-Mumbai), the Thar isn't an incredibly expensive car to buy. In fact, you'll spend more on a diesel hatchback. What does this mean? Even if, ten months down the line from having bought one, you realise that the Thar isn't the car for you, you wouldn't have wasted too much money. Besides, there are always idiots like us looking to get a good enough deal on a used Thar. We mean it!
More from OVERDRIVE on the new Mahindra Thar:
2015 Mahindra Thar CRDe facelift first drive review
Price (Ex-Delhi)
Starts Rs 9.8 Lakhs