The stress test: Is commuting in a big Indian city driving you over the edge?
When our cover said that stress induced by driving was killing you, we weren't kidding. Stress-related disorders due to driving are a serious health concern, except in India there isn't any focused study that monitors motoring-related stress and studies its effects on an individual's physiology. Globally, there are several studies that address this issue. It's a deathly concern, and more and more people are succumbing to stress brought on by staying in their cars in traffic. It leads to all sorts of trouble, depression, anxiety, rage, diabetes, fatigue and even heart disease! So don't take your commute to work and home lightly.
I've been giving this plenty of thought as I'm stuck in a terrible traffic for close to half an hour now. But for the first time I don't feel like killing someone. Why? Because for once, I'm in the passenger seat! Allow me to explain how I got here.
If you're like me, or like anyone else at OVERDRIVE, you'd probably agree that driving is your ultimate therapy – a way to escape and open up your mind. However, like all of us, you're probably imagining carving through the beautiful winding roads of the Swiss Alps in the perfect driving machine. But reality provides a harsh slap in the face.
The sad truth for most of us in the big city is that the urban jungle is a chaotic land bereft of courtesy, patience and law. Driving to and from work is often the least productive and most stressful part of folk's day, especially in India.
That's putting it lightly. The truth is it drives most people crazy. This is especially true in cases where the commute consumes four hours a day and five days a week. In a lot of these cases, the stress of fighting traffic pushes road users beyond rationality, leading to unfortunate and extreme incidents of road rage.
Thankfully, most of us usually are more tolerant to stress and know how keep it under control... or so we think. The simple truth is that we big city dwellers are all exposed to unhealthy levels of stress every time we get behind the wheel.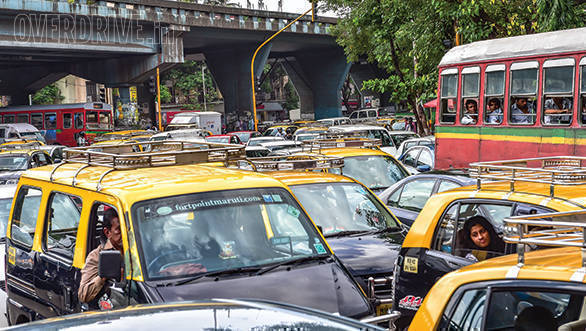 On a particular rainy day, when the entire city of Mumbai slowed down to a grind, the entire team came into work clouded in anger. We decided to do some research on stress to thoroughly understand what exactly went through our heads in traffic. We found quite a few papers on stress that point out contributing factors like the everyday traffic on your commute to work, erratic drivers, unpredictability and loss of control.
However, there weren't many that took into consideration factors like age, sex or the even the type of car driven. So we set about to do just that – find out how much these factors contribute to stress while driving. By 'we', I mean there were three people from outside the core team who were talked into doing all the hard work while the rest of us stood by and observed.
And that's how I found myself sniggering at the situation much to the annoyance of my driver, Sohini Dutt. "Do it for science!" I said in my most convincing manner.
The parameters
While planning the test, we decided to cover four factors that most of the other research papers on driving-related stress didn't consider – age, sex, the different sizes of cars, and manual and automatic gearboxes. With respect to age, we have Donald D'souza, who is 35 at one end of the spectrum and Sanjay Yalavatti, 47, at the other. Sohini Dutt meanwhile represented the ladies.
We partnered up with the Asian Heart Institute in Mumbai, which provided us with the necessary Holter and ambulatory devices for the test. A Holter monitor is a portable device that records your heart's activity (ECG), while the ambulatory device tracks your blood pressure over regular intervals. The only catch, which none of the volunteers enjoyed, was that these devices had to be strapped onto them for the entire day. This was necessary for scientific correctness and also a good laugh at the office!
Sohini Dutt, age 30
Donald D'souza, age 35
Sanjay Yalavatti, age 47
The test was held over the course of two days, with the three volunteers driving from pre-determined Point A to Point B only during peak traffic hours. In the morning, we would leave from the hospital by 10.30am, just in time to catch the entire traffic heading into the city for work. In the evening, we would leave by 7.00pm, again just in time for the evening rush hour where everyone's trying to get home as fast as possible.
Planning the route was fairly simple – open up Google Maps, find the road with the most traffic and drive right into it for a period of at least one hour.
Every driver got the chance to drive each type of car – a hatchback, sedan and SUV – once during the course of the test. For example, if Sanjay drove the sedan the first morning, he'd drive the hatchback the same evening and the SUV the next morning. For the final run of the test, each of them drove an automatic sedan to see if that helped reduce stress levels.
So let the stress begin!
The hatchback
Most people assume that the best way to deal with everyday traffic is to drive a hatchback. The logic behind this is that a hatchback is compact and easy to manoeuvre around tight spaces, making it less of a hassle in traffic. Additionally, hatchbacks usually have a thinner tyre profile than sedans and SUVs, which makes them a lot easier to steer. However, there are several drivers who feel they're often bullied in a hatchback and they don't enjoy being intimidated.
Sanjay drove the hatchback through morning rush hour from 10:15am to 11:20am. His heart rate went from 60bpm to 100bpm while driving
Sanjay, the oldest member in the test, thought the hatchback was the least stressful car in traffic. To him, the smaller size, lighter steering and easy manoeuvrability made negotiating horrid traffic very easy. Despite all of that, however, his heart rate had gone up to 100bpm (beats per minute) from his resting heart rate of 60bpm (refer graph).
Sohini drove through the evening traffic, which was worser than the morning rush hour. Her heart rate climbed to 90bpm from 70bpm
Sohini too felt very comfortable driving the hatchback especially because she drives one every day. Again, she was very happy with the size of the car and its overall manoeuvrability. However, her heart rate did see a significant increase as it went up to 90bpm from 70bpm.
Although Donald drove the hatchback in the morning, his heart rate went up to 90bpm from his resting heart rate of 60bpm
On the other hand, Donald felt that he was bullied a lot in the hatchback. According to him, many people push you around and cut you off because you're in a smaller car, and that really gets on his nerves. During his run in the hatchback, his heart rate too rose significantly from 60bpm to 90bpm.
The sedan
We recently conducted a poll on Twitter asking readers which type of car they'd prefer to drive in the maddening traffic – a hatchback, a sedan or an SUV. Unsurprisingly, the sedan scored the least votes. With its length and lower ground clearance, the sedan loses out on the benefits of a hatchback and an SUV. The only advantage it offers over a hatchback is probably a more powerful engine (which technically shouldn't matter in traffic) and a few more features.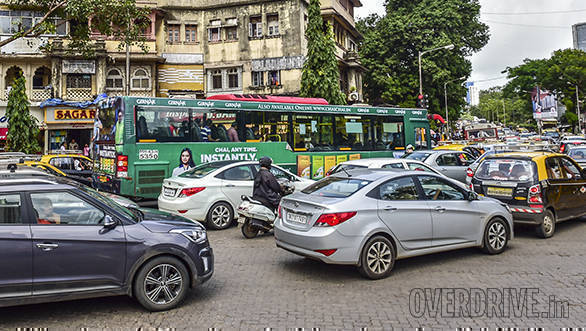 Donald drove the sedan in the evening rush hour, which got his heart rate up to 96bpm from 60bpm
For Donald, the length of the car proved to be his biggest issue. He says that he had to exert his mind a lot more while driving to ensure that none of the other drivers on the road damaged the vehicle. Owing to this, his heart rate reading indicated a higher stress level at 96bpm from his resting heart rate of 60bpm. However, what he did like about the sedan was the overall comfort level it had to offer.
While driving the sedan, Sanjay's heart rate increased marginally to 68bpm from his resting heart rate of 60bpm
While Sanjay had a similar opinion on the sedan's comfort, he too initially had a problem with the car's length. Despite this, the Holter test indicated that his heart rate had only gone up to 68bpm from 60bpm, which is significantly lower than in the other manual cars.
When Sohini drove the sedan in the morning, her heart rate rose to 76bpm from 70bpm, which is lower than it did in the other cars
Sohini too seemed to experience the least stress in the sedan with the heart rate going just up to 76bpm from 70bpm. In fact, the sedan was her pick of the lot. Once she got used to the car's length, she felt that its comfort along with a more responsive engine and lighter steering made manoeuvring the car through traffic very easy.
The SUV
SUVs have started to become a popular choice for many drivers in the city. While some might think that an SUV's large size makes it very impractical to drive in town, many others actually prefer it for that very reason. They believe that the size and presence of an SUV allows them to muscle their way through traffic. Additionally, SUVs offer a high seating position which gives you a better view of the road. In India, where a lot of the roads are in tatters, road visibility is an important factor.
Donald seemed to thoroughly enjoy his time in the SUV and found that he could intimidate other drivers out of his way, thanks to the car's size. So unlike in the hatchback, Donald says he felt the least stress while driving around in the SUV.
However, his results state otherwise. According to the Holter test, his heart rate had gone up to 90bpm from 68bpm, which is the same as in the hatchback. What was rather alarming, even to him, was his blood pressure reading. The test showed us that his blood pressure had risen all the way up to 145/110mm Hg, from the normal 120/70mm Hg. According to the doctor at Asian Heart, this level of blood pressure indicates hypertension.
Despite feeling better while driving the SUV, Donald's heart rate went up to 90bpm from 60bpm, which is the same as in the hatchback
Sohini's test report after driving the SUV had similar results. While she didn't experience hypertension, her blood pressure had also increased significantly to 135/107mm Hg from 118/78mm Hg. Her heart rate meanwhile had gone up to 84bpm from 70bpm while driving the SUV. Sohini had initially thought that everyone would make way for the SUV because of its size, but was soon proved wrong. According to her, no matter which car you drive, nobody gives you way.
While driving the SUV through morning traffic, Sohini's heart rate went up to 84bpm from 70bpm
Sanjay's heart rate had risen a significant amount to 104bpm from 60bpm. This elevated heart rate is little over what's considered normal (60-100bpm)
On the other hand, Sanjay said he felt pretty comfortable in the SUV once he was accustomed to its size. However, what he thought elevated his stress was the constant need to use the clutch. Since he suffers from a permanent injury on his left knee, the long clutch travel of the SUV was quite inconvenient for him, both mentally and physically. This showed in his heart rate which had risen up to 104bpm, which is just above what is considered a normal heart rate (60-100bpm).
The automatic
The general notion of an automatic car is that it's a lot more convenient to drive on crowded roads, thanks the elimination of constant clutch work. However, as we found out in this test, the amount of convenience offered by the automatic didn't necessarily do much to reduce stress.
Sohini seemed to have the biggest issue here because the car she drove was a bit too large for comfort. She also admits that after driving a manual all these years, it took her a while to get used to the automatic transmission. Her discomfort was evident in the results which indicated that her heart rate climbed all the way up to 100bpm while driving the automatic.
Sohini experienced a higher increase in heart rate while driving the automatic. It went all the way up to 100bpm from 70bpm
Donald too was quick to pick the stick shift over the automatic. While he admits that the automatic was more convenient in traffic, he felt more in control of the car while in the manual. Despite the comfort of not having to constantly engage and disengage the clutch, his heart rate climbed up to 90bpm while his blood pressure had risen all the way up to 140/94mm HG. Again, with this level of blood pressure Donald was experiencing borderline hypertension.
Although Donald said he felt more comfortable in the automatic, his heart rate went up to 90bpm from 62bpm
Although Sanjay felt most comfortable in the automatic, his heart rate had again risen significantly to 104bpm from 60bpm
On the other hand, Sanjay was the happiest to drive around in an automatic car. In addition to the general convenience that it offered, the automatic also eliminated clutch work, which went a long way in relieving him of pain from his injured knee. Despite all of this, though, the Holter test showed us that his heart rate was still at a very high level at 104bpm.
The types of stress, its causes and effects
Dr Nilesh Gautam is a senior interventional cardiologist and the HOD of preventive cardiology and rehabilitation at the Asian Heart Institute, Mumbai
What are the stress-related disorders you typically see?
Dr Nilesh Gautam: There are a lot of stress-related disorders. In fact, they are on the increase these days, and blood pressure is one of them. Then there's acid peptic disease which increases acidity, tremors, sweating and palpitation; unease with which a patient gets upset or angry.
What are the most extreme implications of stress from driving?
NG: Extreme anger, anxiety, irritability, rise in blood pressure and a rise in the heart rate are all the extreme results we see as far as stress and driving is concerned.
What are the different kinds of stress, and which kind does stress from driving fall under?
NG: There are three major categories by which stress is divided – episodic stress, acute stress and chronic stress. Driving is typically associated with episodic stress. It usually begins when the person starts driving through traffic and goes on for up to 35-45 minutes post reaching the destination.
In that category of stress, how much does driving contribute?
NG: With respect to multiple levels of stress that a person undergoes, driving is one of the top most factors. Traffic and all the conditions related to traffic form one of the major causes of episodic stress.
Does the medical community recognise stress from driving as a health issue?
NG: We are not well aware of this issue. This especially becomes very difficult because incidents of a patient suffering a heart attack or a brain stroke while driving and making it in time to the hospital are few and far. As it is, the number of instances of blood pressure is on the rise. But to correlate or corroborate, this increase in blood pressure with driving is very difficult, and we would require a large study to substantiate these findings.
What are the long-term health issues which arise from driving-related stress?
NG: If a person is driving for an hour or two from home to work and back every day, and he already has blood pressure, sugar or a heart issue, then chances of him having problems related to these definitely go up. This is because spikes in blood pressure, increase in the heart rate are all seen because of the stress from driving.
What are the less obvious side effects of stress from driving?
NG: If you have silent or underlying blood pressure, or borderline blood pressure issues, which is not detected because you are asymptomatic, your blood pressure may episodically shoot up while driving. So silent ischemia, which is the lack of blood supply to the heart or brain, may be developing. And this may come up as a sudden event maybe months or years later. The actual background for this is daily stress which you are being exposed to for one or two hours while driving.
What effect does driving-related stress have on a person every day?
NG: Some of the symptoms of stress are that the person is easily irritable. There's a lack of concentration, anxiety, sweating and tremors.
What would you recommend that people do to stay calm behind the wheel?
NG: This is easier said than done. But yoga, meditation and deep breathing definitely help. There are some things we can do behind the wheel to alleviate stress build-up within us. For example, you shouldn't react aggressively to a situation.
Are stress-related disorders on the rise, given that the volume of traffic is increasing exponentially?
NG: Yes, definitely. With the traffic congestion increasing, the state of the roads worsening and the population growing, stress-related disorders caused by driving are definitely on the rise.
Are there any differentiators for stress-related disorders? For instance, does gender or the size of a car make a difference?
NG: Again, I think that, as of now, there is insufficient data to determine whether there is a gender difference or not. But on a personal note, I feel that women are much calmer and react to stress rather differently. So I presume driving-related stress disorders are lesser in women. But of course, large studies are required to substantiate this data. As far as vehicles are concerned, I think a better serviced vehicle would cause less stress. However, I don't think that the vehicle's size matters.
Editor's note
Factors that cause stress while driving
1. In traffic, progress is restricted severely due to the density of vehicles on our roads. You're constantly blocked, and there is no place to move – neither forward nor to the lane next to you. In our traffic conditions, this can also be claustrophobic. You look around and see vehicles inches away from your own in every direction. At junctions, drivers inch closer and closer to one another because of an abject lack of lane discipline. The most common occurrence of this is on flyovers, where six to eight lanes of traffic try to merge into three lanes. Right of way plays no role here in India – it's everyone for themselves and this builds anxiety and even rage.
2. Traffic policemen and traffic lights regulate traffic. However, when traffic is already dense, human control especially at busy junctions increase waiting times. This leads to anxiousness. You cannot explain why traffic isn't moving when the lights turn green – you honk, creep ever closer to the vehicle ahead, flash your lights, you curse and even shake a fist at the traffic policeman. In traffic, you may be sitting in a powerful car, which is quicker than the other car, rickshaw or the bus ahead of you, and yet you seem to be going nowhere. This sort of regulation is also constricting and builds anxiety.
3. Psychological stress in the form of fear, rage, urgency and feebleness are aroused when you feel your vehicle is in danger. Someone is creeping up too close to your precious set of wheels. The body could get nicked, scratched or worse, dented. Your car is your castle, and the immediate space around it is your territory. You feel invaded whenever someone gets too close. You honk aggressively warning the other person to get off your space, your territory. Then you charge through into less intimidating surroundings, breathe easy for a second and prepare yourself for the next onslaught. The chemicals in your body and your pulse rate rise and fall over and over again. It's a never-ending cycle.
4. Other drivers' behaviour on the road can often be another trigger for stress. You know it's against the law to speak on the phone, and the minute you see someone else doing it, your blood pressure rises. How dare he, right? You've heard so much about people driving and speaking on a cell phone and being a threat to others that it infuriates you when you encounter such a person breaking the widely accepted regulation. The same goes for those driving faster than most others (speeding), drivers playing loud music with their windows open, drivers allowing others to stick their heads out of the sunroof. All stressful sights!
5. Traffic at all times is unpredictable. Is someone going to cut in ahead of you? Is the lane I'm driving in going to slow down? Should I shift lanes? Is that auto-rickshaw going to veer into my path? Are those guys standing on the median going to try and cross when the traffic is flowing? Is the green light going to turn red any second now? Traffic has just too many variables for your mind to process simultaneously or as rapidly as needed.
6. Multi-tasking is another aggravating factor. You have to deal with the number of controls on your dashboard, where each fit, how they operate and what needs to be operated – Bluetooth or aux, air conditioning, fresh air or recirculate, radio or streaming. The complexities within a car itself can sometimes be harrowing. Things get worse with touchscreen systems where the lack of textures reduces your ability to recognise features. Their functions raise anxiety, especially if you're also trying to navigate through traffic.
7. Denial of our own wrongdoings or not understanding that we, as drivers, committed an error. It is human nature to overlook our ownerrors and see others as wrongdoers. This attitude of self-righteousness is what raises anxiety in us as we often see the others as offenders. Seldom do we recognise that we may also be in the wrong.
8. Sometimes, an anomaly in traffic starts off far from where we may be at that moment. There is no way for us to control that situation. In a traffic jam, the cause of the jam may be kilometres ahead of you. However, the tailback extends several kilometres beyond that incident. Over and above that, everybody near that point that's trying to make their way past that incident is disrupting the normal flow of traffic, and this cascades into further delays in the tailback. As a result, the further behind you are, the less you feel in control of the situation, not knowing the reason or a solution to the delay. Anxiety increases!
9. Cultural influences and the way we learn to behave from the time we are children are further causes of stress. We watch our parents shake a fist, abuse and curse at other motorists. As adults we do the same, not realising our kids in the car are picking up on the same things. It's a vicious cycle that leads to stress and anxiety.
10. We vent our anger, rage, frustration and aggression in various ways. We either abuse or try and get past the guy who got ahead or cut you off, or we block the path of someone trying to rush past you. There are several ways of venting out our emotions, and over time this plays unconsciously. And then sometimes we don't vent and instead choose to keep it bottled up within us. This is far worse because when it erupts, the repercussions could be far more damaging than the milder venting.
11. Anxiety could also arise out of future events that you know will take place because someone or something is delaying you. Because you're stuck in a traffic, you're late for a meeting, the movie will start off, your girlfriend will get pissed off for leaving her alone at the restaurant, or you will lose your favourite parking spot. There are a number of eventualities in the future that could be affected by you getting delayed due to traffic. But there is only a few eventualities in the present that are guaranteed to happen, and that is your blood pressure rising, your anxiety increasing and your stress levels hitting the roof!
This is what your commute does to you
1. It can lead to heart disease, either by increasing your blood pressure or raising cholesterol. If your commute is longer and you tend to spend more time in traffic building stress, chances are your blood pressure will also increase over time. We are no longer talking about a temporary spike but a one way ticket to a stroke!
2. You can also lose your fitness levels, especially your cardiovascular fitness. This means you will no longer have the energy to carry out certain physical tasks. If you find yourself getting increasingly exhausted at the gym, your commute could probably be one of the leading causes. The exhaustion will also affect your work and personal life, you may start feeling sleepier at the workplace and even at home, you might just want to lie down and sleep after a particularly long commute! This reduces your productivity, and in the long run who's to say it does not also affects your chances at that promotion.
3. Then there are the social issues as well. Long commutes drain not just the energy out of you but also the will to spend time with friends and family. Weekend outings are despised because, let's face it, you don't want to be driving again on the weekend, not after the horrendous week stuck in one jam or the other. Oh and let us not forget, your stressful commute also depletes your sex drive.
4. Longer commutes also result in increased cost to the exchequer. The government is trying to reduce the nation's fuel bill, but there is no point to all the policies and suggestions if you spend hours idling in traffic burning precious fuel. So not only are you using more money, and that should in itself encourage us to make a change, but harmful pollutants are constantly released into the atmosphere. So the longer you sit in a traffic, the more you pollute.
5. And last but not the least, stress due to driving is also the biggest cause of anxiety and rage. The latter is harmful not just to you but also to those around you. Several incidents have been recorded in India, where rage has led to irreparable consequences for both the victim and assailant.
How to reduce stress while driving
1. Carpool! The more people you have in your car, the more you are engaged in conversation. Communicating with other people has proved to alleviate stress levels while driving, as it allows you to vent your stress to others. When you're alone in a car, there is no way to communicate what you feel with anyone, and this increases stress. Anger, angst and rage build up when you're alone, and eventually you vent it in an unpleasant manner.
2. Listen to music that lifts your mood. Avoid music that raises your adrenaline, as you don't want to be feeling any more aggressive than you already are. So avoid Iron Maiden, AC/DC and their ilk unless that's what calms you down!
3. Change your route. If you think you're stuck in traffic for longer than expected, take a different route. Chances are traffic may not be as dense or unruly, and this will help alleviate stress. Use Google Maps or any other map application to figure out a new route.
4. Carry something to snack on. Hunger can also increase stress levels.
5. Experiment with leaving for work or home at different hours of the day. Try leaving for work earlier, thus even departing from work earlier. Or, you could get to work later and leave later. You may find less traffic at these hours.
6. Get someone else to drive. Employ a driver or use the train or a bus. One, it allows you to catch up on sleep which we all need more of. Two, it allows you to network and use the phone freely. Three, it allows you to watch the video you've been meaning to watch for a while. Four, it allows you to catch up on some reading. See, how much more you can get done if there's someone else behind the wheel. A relative in the family suffered a stroke due to stress compounded by his long commute and other work-related issues. He gave up and now does the regular commute to work in an air-conditioned public bus. His health has improved dramatically; he manages to catch up on sleep, read a book or even listen to his classic music collection on his iPod.
7. Use a restroom before you depart on your commute. A loaded bladder will urge you to try and reach your destination faster, which you won't be able to because it's rush hour. Obviously, you're still going to try and push your luck. There goes your calm and composed drive.
8. Consciously avoid trying to honk or get ahead of the jerk who just cuts in ahead of you. Keep a safe distance even if it means losing a space to someone else. The difference in time you'd lose is just a few minutes, usually no more than 10 minutes in total.
9. Catch up on audiobooks, podcasts and anything that allows you to listen to something. Sample the new album you were meaning to buy or the new track that's just been released. Smartphones today allow for a lot of these options. It's best to try these out and see what you've been missing.
10. Ask yourself why that driver is aggravating you. It could be that he is in a genuine hurry to get somewhere – probably late for a meeting or a flight or an even graver emergency. The instant you begin to change your thought pattern from judging to accepting, your stress level drops and you become much calmer.
11. Figure out what triggers get your heart rate or blood pressure rising. Once you identify those triggers, it is easier to start working on either ignoring them or not letting them affect you.
12. Be aware that you are in control of yourself, your car and your passengers. Once this realisation dawns on you, you will immediately begin to feel a little less worked up. All of your actions are responsible for stress. At the same time, be aware that you cannot and will not be in control of someone else's action on the road. Since you control yourself and cannot control others, avoid trying to block someone else's way or brake hard for tailgaters.
13. Call someone. While this isn't highly advisable, you should do it only in a situation where you feel an extreme build-up of stress, and if you have a Bluetooth set-up in your car. I know this may sound like I've lost my marbles going against conventional wisdom, but sometimes a conversation with your loved ones, close friends, girlfriend or basically anyone who takes your mind off crawling in traffic can reduce stress levels significantly. Don't hold a phone to your ear as that's just bad form. Hook it up through Bluetooth and make a quick call, at least till you feel the rage subside. Chances are whoever is on the other end of the call will be able to take your mind off your impending anxiety attack.
14. Let it go! Sometimes letting others' mistakes go could be the safest thing you did on the road. Suppress your ego and anxiety. If a driver is creeping up too close to your tail, move over and let him go past. If you see someone faster than you dipping his car's nose into your lane to cut you off, allow him. It's sometimes just not worth the effort of complicating an already complicated and chaotic situation.
15. Take a slow, deep breath. This is the last and often advised tip to practise this while driving. I've seen it mentioned several times in several forums, but I haven't tried it out myself. I probably will now. It may work, and if it does, let us and more people know about it, so they too can be happier drivers.
Automotive design
The way a car is designed plays a significant role in reducing or increasing stress. Even the tiniest of details make the biggest difference. In the Maruti Alto 800, for example, the 12V port is awkwardly placed right behind the steering wheel. As a result, the phone's charging cable hangs right over the gear lever. In an already stressful situation, a cable getting in your way of shifting gears only adds to the frustration. At the same time, features like an auto-dimming rear-view mirror, steering-mounted infotainment controls, and automatic headlamps and wipers go a long way in helping you keep your cool.
A simple user interface for the infotainment system is another important element that manufacturers should consider. Apps like Android Auto and Apple CarPlay give the infotainment system a familiar interface that users can understand almost immediately.
According to Mercedes-Benz, every detail, no matter how insignificant it seems, is crucial in stressful situations. For example, the brand says that all its cars are designed with a clear instrument cluster, easily accessible switches and numerous storage spaces. Apparently, the cars also feature ORVM casings which are aerodynamically designed to reduce the grime accumulation on the mirrors.
Additionally, knowing that your car's computer is constantly calculating and judging its surroundings is a major comforting factor. The Mercedes E-Class, for instance, gets a feature called Active Brake Assist which warns the driver of an imminent crash and even applies the brakes automatically when necessary. The car also gets a pedestrian-detection system which is complimented by a feature called Evasive Steering Assist. When a driver executes an evasive manoeuvre, the system automatically provides accurate steering weight to ensure that the driver is still in control of the car.
The conclusion
The harsh truth that the stress test revealed is that driving in the city is slowly but surely causing significant harm right under our nose. This is especially true if the person already has a pre-existing health issue. As the test pointed out, drivers are completely oblivious to the amount of stress they were subject to on a daily basis.
What's worse, we have no idea how bad the side effects are until a major health issue pops up. For example, the test showed that two drivers' heart rate touched or crossed 100bpm which is equivalent to a fairly brisk walk. It's quite alarming considering this comes from sheer stress while sitting nearly still.
Another important point that we discovered from this test is that the stress levels are worryingly high regardless of the shape of the car, the age of a person or gender. When you're in a gridlock at the end of a long and probably already stressful day, you're only amplifying the issue. Essentially, you are stuck inside a box and fighting – fighting against the unruly traffic and trying to protect yourself and your car.
The test also goes to show that even the convenience of an automatic transmission can't save you from stress. An automatic makes your work less, but this doesn't really reduce how stressful you are feeling being in that situation. Of course, the exact level of stress experienced in various situations differs from person to person, depending on their mental and physical capacity to handle a stressful situation.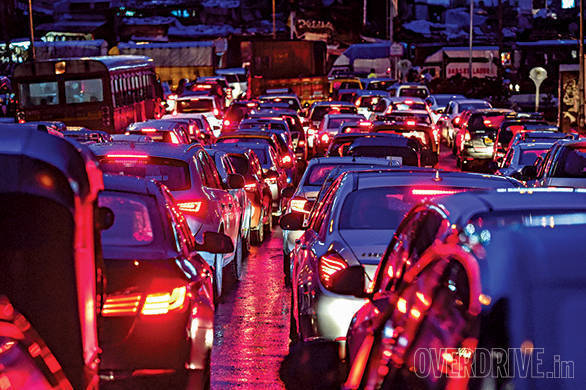 Essentially, the biggest factor that contributes to stress is the maddeningly lawless traffic with an every-man-for-himself attitude. This remains the same whether you're in a small hatchback or a big SUV. If there was more law and order on our roads, the stress factor would be significantly less.
All three of our subjects mentioned at some point how they were worried about damaging the vehicles. After all, getting stuck in traffic is pretty much an unavoidable phenomenon worldwide. The only difference is that you aren't in a battle with your fellow road users in most developed countries.
There are several ways to help manage stress behind the wheel, one of which is acceptance and self-discipline. Of course, this is certainly easier said than done. But once you make a conscious effort to understand and change your driving behaviour, you're on a road to a healthier life.
Images by Suresh Narayanan
Related Stories