Omologato: Watches with a motorsport twist
A watch with a face that's tilted 45 degrees - an homage to the famous Corkscrew at Laguna Seca. Another with bricks etched onto its metal back, a nod to the Indianapolis' heritage as the Old Brickyard. A third with a blue stripe down the dial and the hour and minutes hands in orange, at once conjuring up images of Gulf Racing cars screaming down Mulsanne straight at Le Mans, making you think of the legendary Derek Bell who won there five times. And finally, one with a teddy bear on the face, and the colours of the Union Jack on the dial, a tribute to Lord Hesketh's Formula 1 team, and F1's most famous bad boy - James Hunt. Motorsport memorabilia at its finest, and all thought up by one man.
Shami Kalra - the man behind Omologato
Shami Kalra is the owner of Omologato, who one evening, following an argument with his wife about why he was stuck in a rut, marched off into his study, shut the door behind him and began working on an idea. He sat there for four days (we assume he popped out on occasion for food and water) and when he came back out, he was sure that he had an idea that would work. You see Shami might be a designer by profession, but first and foremost he is a motorsport enthusiast. A proper motorsport enthusiast. The sort of motorsport enthusiast who hasn't missed a single grand prix since 1994! But the connect with motorsport goes much further back. When he was 15 years old, his father took him to Donington Park where he saw V8 GT cars racing. "I fell in love with the smell and the sound of it," he says. And that, quite simply was it.
So what transpired in his study over the course of those four days? Well, Omologato Watches was born. Kalra came up with the name (by his own admission he's always been fascinated by the term Gran Turismo Omologato), designed the first two models and put them up for sale on the newly designed Omologato website. His idea was simple - if he did manage to get orders, then he'd go ahead and manufacture the watches. Two days later, a notification popped up on his phone, informing him that he'd sold two watches. Those notifications just kept on coming over the next two weeks. By the end of four weeks, Omologato had already made a profit.
The Ecurie Ecosse Chronograph that pays tribute to the marque's illustrious motorsport heritage
But what really made Omologato tick (rather obvious pun entirely intended!)? The first reason is that it boils down to Kalra's passion for motorsport. He recalls how years ago, when he was just 25, like so many other motorsport enthusiasts, he'd dreamt of owning a motorsport watch - memorabilia that was more than just a cap or a T-shirt. But even back then, all motorsport watches were out of the budget of your average motorsport fan. "I remember what it was like to be 25-year-old me. Two kids. A mortgage to pay. Very little income. I am never going to lose the feeling of me not being able to afford a motorsport watch." Which is why when he began designing the watches, he asked himself two questions. The first - can I afford it? The second - as a motorsport fan, would I wear it? "If I can't answer both those questions with a yes, then I simply don't make the watch," Kalra says.
The second is the sheer attention to detail that goes into each of those motorsport timepieces. Details that are evident to the motorsport fan, without screaming and shouting too much. Kalra says that he made sure that Omologato never put statements on their watches. Instead, a concerted effort was made to throw in design elements that would be immediately obvious to a motorsport fan. Whether it's the Can-Am watch, with the numbers in papaya orange, because of the orange McLarens that dominated that racing series. Or the 722 that celebrates Stirling Moss and Denis Jenkinson's victory in the Mille Miglia in their Mercedes-Benz 300 SLR, that has the number 7 and the 22-minute mark both in red, subtly indicating that now revered number in motorsport. Or even their halo product - the recently launched Maranello - that celebrates the 1961 season of F1, when Ferrari finally won the constructor's championship. Of the eight races that year, Ferrari won five. And the names of these five races are highlighted in red. The face itself is in Ferrari's Grigio Medio - the brand's characteristic shade of grey. All pieces of racing history that Kalra is personally interested in and excited about.
Omologato's most recent offering - the Maranello
But before a watch goes on sale, there's a fairly long, and sometimes nerve-racking, process that precedes it. There's the design itself, which sometimes Kalra gets right in a flash. Or, as was the case with the Maranello, a period of six months. Six months during which time he threw away five designs before he was satisfied with the watch. And there are those watches that still elude him. "People keep asking me for a Senna watch. But even now 18 months later, I haven't managed to get it right. I keep thinking I'll do it now, but it isn't something I've managed. One day I'll get it right, but not yet," he says.
Omologato is now approaching the 2-year mark. And Kalra's got plenty of interesting designs up his sleeve. But he's circumspect in his approach, asking us to be patient. On the one hand, he says he doesn't want to flood the market with everything at once. But there's another aspect - Omologato is entirely run and funded by Kalra. Which means he invests money in the brand, without loans, or involvement from outside. "I want to be 1970s F1, not early 2000s F1," he laughs. And in a bid to be 1970s F1, where things were a little more casual, and everything and everyone seemed accessible, Kalra makes sure that he separates Omologato from two words he hates - 'exclusive' and 'VIP'. Omologato believes in inclusion. Which is why their Chronos and Cars events are proving to be so successful. Drive up to the event in your car, with a timepiece and a story to tell, and interact with other interesting motorsport and car enthusiasts. You'll also get to talk to one of the Omologato brand ambassadors. Like Sir Richard Attwood, the brand ambassador for the Salzburg, which is a tribute to Porsche's first Le Mans win in the 917K back in 1970. Or Derek Bell, the brand ambassador for the Derek Bell 500.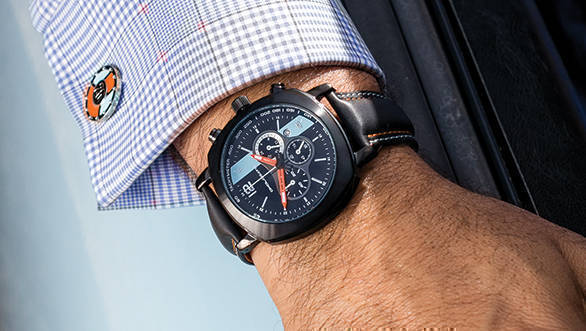 The Derek Bell 500 stays true to Kalra's belief that everyone must own a watch that tells a story. The orange and blue colour-scheme on this watch certainly is an instant conversation starter amongst motorsport fans
So what can we expect from Omologato in the next few months? Kalra says there are some very interesting projects lined up. More watches in the pipeline, he's not saying no to the possibility of launching tribute watches that are dedicated to two-wheeled motorsport legends, and someday perhaps rallying. He's also not ruling out the possibility of a series of watches with smaller dials for people with narrower wrists. And he's got an eye on the Indian market too. "There are some very cool conversations happening with some very cool people" is all he'll say for now.
Meanwhile, Kalra's busy putting together sponsorship deals, signing on brand ambassadors, and tying up with motorsport legends (John Surtees is even co-designing a watch that will be auctioned to raise money for the Henry Surtees Foundation). And there are those many tasks he still has to tick off his motorsport bucket list. Like watching the Daytona 500, heading to Fuji to watch the Japanese Grand Prix, and doing some ice driving up in Scandinavia. Well, tick-tock, Mr Kalra. But we imagine that's a sound you're fairly familiar with.