The Heritage Transport Museum
Tarun Thakral, founder and managing trustee of the Heritage Transportation Trust, is a unique kind of Indian car collector. Like many others he started off collecting cars in 1994 and soon had his private car collection. Then he decided to build a museum and show his cars to the public. But a museum showing just his cars would have been too vain.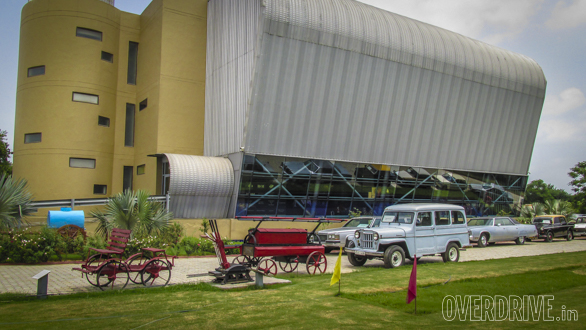 So Tarun conceived and created the exceptional Heritage Transport Museum in Taoru, Haryana, just two hours from New Delhi.
The museum opened its doors to the public in December 2013, and it's already had over 200,000 visitors. It gets around 350-400 visitors on weekends and during the week it has groups of school children and international tourists with the group sizes varying between 50 and 300. Tarun says, "The museum was conceived to document, exhibit, educate and disseminate information about transportation. It showcases the evolution of transportation in India and sets a benchmark in interpretation, exhibition and communication. As the first private museum of its scale in India, it is conceived as a didactic space that engages visitor participation in learning while remaining a family experience."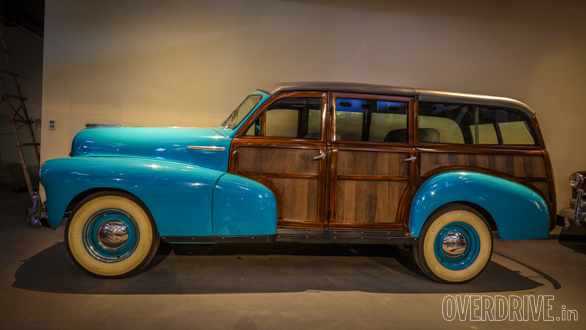 The Heritage Transport Museum is situated on a three-acre plot. A built-up area of over 90,000 square feet of air-conditioned space spread over four floors houses the exhibition galleries, library, conference rooms, mini auditorium etc. The Ministry of Culture, Government of India, gave a grant of Rs 6 crore to offset the cost of construction of the museum building. The remaining investment is the fruit of corporate and individual donations and sponsorships.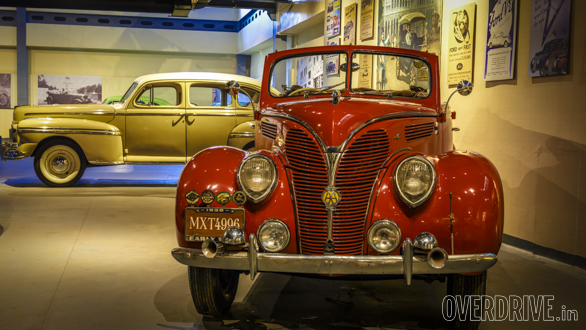 This very impressive museum has just won the National Tourism Award 2014 - 15 for the Most Unique and Innovative Tourism Project in India. Many car experts and celebrities have visited the museum and all have been suitably impressed. Dr Martin Bellamy, research and major projects manager, Glasgow Museums, has rated the Heritage Transport Museum as one of the world's best transport museums. The museum is divided into various segments and almost like several mini museums in one.
Automobile Gallery
This gallery showcases the evolution of the Indian car industry, as well as cars that have been used in India since the advent of motoring. On display are over 75 vintage and classic cars. Interestingly, some are parked alongside a recreated Indian street scene from yesteryears, sporting vintage ephemera which include written or printed matter like advertising trade cards, catalogues, pamphlets, postcards, posters, tickets, etc. that are not meant to be retained or preserved. A vintage petrol pump with spare parts memorabilia has also been recreated, while a special section showcases the role of cars in Bollywood movies. Films on transportation are screened in a mini auditorium on this floor.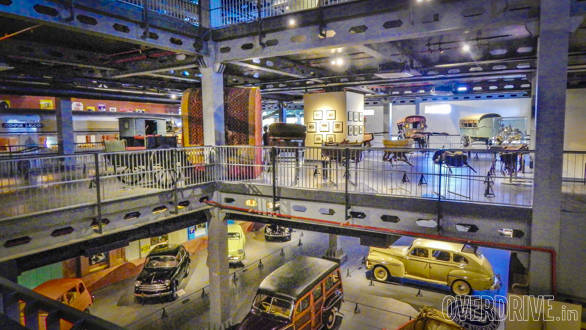 Manufacturers like Hindustan Motors, General Motors, Chrysler Corporation and Ford have been given their own display zone with the walls adorned with their old advertisements, catalogues, posters and photographs. Each zone has several cars from these manufacturers, and the other cars on display include a 1946 Nash 600 sedan, 1948 Hudson Commodore, 1949 Hindustan, 1949 Studebaker Champion, 1951 Willys CJ 3-A Jeep, 1954 Desoto Diplomat Convertible, 1954 Hindustan Landmaster, 1954 Fiat 1100 Sedan, 1957 Land Rover Series I (Short Wheel Base), 1958 Willys Station Wagon, 1961 Renault, 1962 Standard Herald Convertible, 1963 Volkswagen Beetle, 1964 Peugeot 404, 1968 Volkswagen Kombi Van T2, 1970 Hindustan Ambassador Mark 2, 1972 Premier President, 1980 Badal, 1983 Maruti 800, 1985 Citroen BX Sedan, 1994 Contessa Classic, 1996 Premier NE etc.
The automobile gallery section is dominated by American cars, and Tarun says, "It's because of my personal fascination for American cars, and my wife and kids are American too! Also the American cars were comparatively cheaper than the European and British ones when I was on my acquisition spree. My collection mainly has cars that had an affordable sticker price, and that is the reason you don't see any Rolls-Royces, Bentleys or Mercedes- Benzs here."
The museum also has over 1,800 old enamel advertising signs, and the really rare items on display include a toy bird cart on wheels from the Indus Valley Civilization, the only Indian Flag that has gone to the moon and original aquatints on how people of India travelled from the early 18th century. Over 95 per cent of the exhibits have been donated by Tarun to the museum, and while all are his favourites, he is particularly fond of his first car a 1932 Chevrolet and also the 1955 Chevrolet Bel Air convertible, 1935 Buick limousine, 1957 Ford Fairlane retractable hard top, Badal, Standard Herald and the 1951 International bus.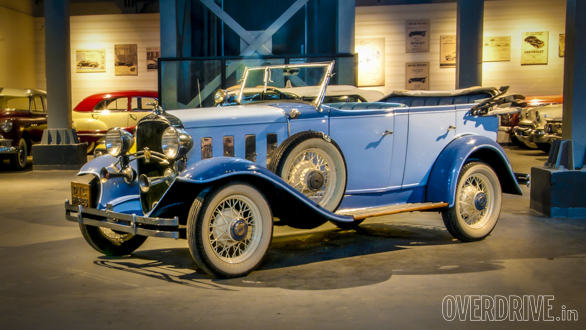 Quiz Tarun about any interesting experiences while building his collection and he says, "I have had memorable escapades almost every weekend to small remote villages of Rajasthan. I learnt the art of negotiating, art of convincing to sell and of course I have had some disappointments along the way too. To me the quickest way to acquire was when I gifted cheap digital cameras (before mobile phone cameras came to the market and much before WhatsApp existed) to the network of scrap dealers I knew with my email id pasted on these cameras. The instruction to them was simple - click what all you find and go to the nearest cyber café and tell the staff there to email me the pictures. Communication because of this became quicker and I was able to strike deals much faster."
Pre-mechanised Transportation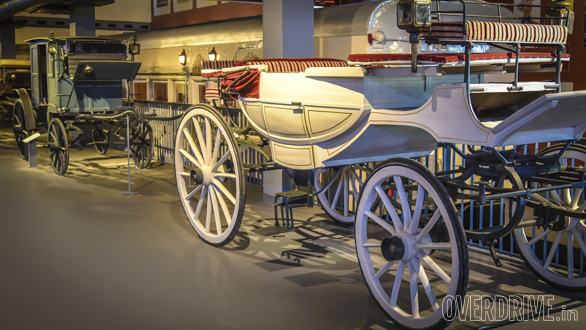 In this section the displays show the timeline of transportation in India, beginning with the story of the wheel. On display are palanquins, elephant howdahs, bullock carts, open bodied and closed bodied horse carriages, and camel carts. There are hand-pulled rickshaws and cycle rickshaws, a bullock cart from 1800 and a very nice palanquin from 1870. There is also a very interesting and rare goat drawn cart which I saw for the first time and some carts used in bullock cart racing. Alongside these are displayed decorative objects, such as carriage lamps, carbide lamps and palanquin finials.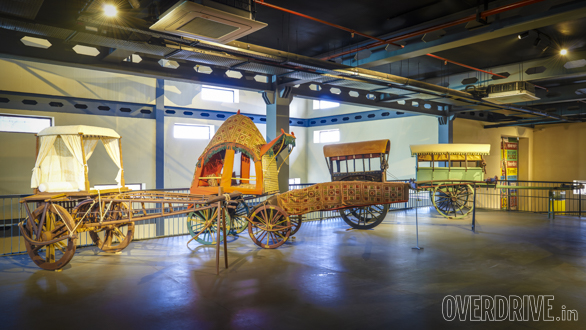 Heavy Mechanised Transportation
Designed like a bus depot, this section showcases the romance of bus journeys with a display of restored buses. Also on display are vans and information about tramways. The gallery shutters boast the creative expression of the working class in the form of 'Truck Art', in bright floral patterns, using a range of decorative media.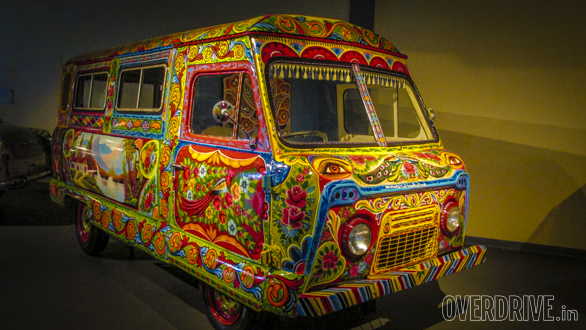 Amongst the exhibits are a couple of minibuses very colourfully painted by Pakistani truck artists. Yes, the museum tied up with Ms Anjum Rana from Pakistan (www.tribaltruckart.net) who got the truck artists from Lahore and adjoining areas to come to the Heritage Transport Museum and do the paintings.
Railways
This section explores the grandeur of travel by rail through a historically inspired railway platform and a 1930's restored Maharaja of Jodhpur Royal Railway saloon. Also on display are models of popular locomotives and memorabilia, including original posters, train tickets, lamps and railway maps.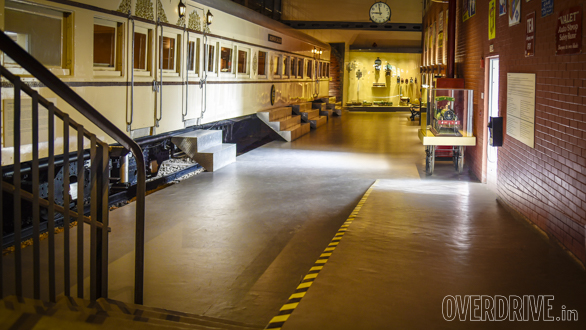 The museum has a recreated railway platform with a royal saloon and also an old fuel-filling station
Aviation
Here is detailed the history and evolution of the Indian aviation industry, including early trials and experiments and growth of Air India. It pays tribute to J.R.D Tata, the father of Indian aviation, and also on display are early models of aircraft used in our country, supported by original posters, timetables, tickets and advertisements. Suspended in mid-air in the gallery is a restored 1940's Piper J3C Cub aircraft, in its signature chrome yellow.
Two-Wheelers
This gallery showcases the evolution of early two-wheelers in India, including bicycles, scooters, motorcycles, and mopeds. Indigenous systems of transport such as chakhda and jugaad are also on display, and both show the ingenuity of Indians. The chakda is a motorcycle converted to a three-wheeler for carrying passengers while a jugaad is generally a small pick-up van kind of vehicle made from discarded car parts and powered by a water pump. Yes, on the road it powers the vehicle, and in the farm the very same engine (water pump in this case) helps irrigate the fields. The two-wheelers on display include a 1946 Salsbury, 1950 Phat Phat (4 Seater), 1951 Lambretta, 1961 Victoria Moped, 1964 Lambretta, 1974 Rajdoot Bobby etc.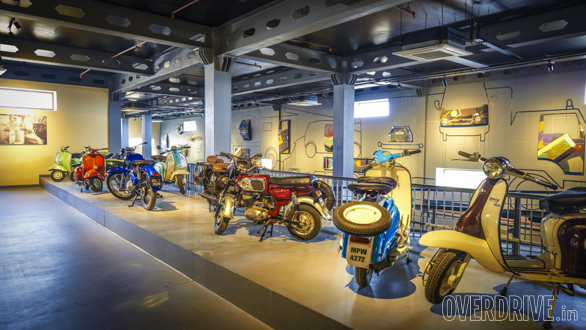 Collectible Indian Toys on Transport
This section is all about nostalgia and has original Indian toys made in wood and tin, and die-cast ones too. Bringing back rich memories of childhood are a collection of vintage pedal cars and cycles all as lavishly detailed as their real counterparts.
Transportation in India -  a historical collection
This comprises material collected over the last two decades. There are over 10,000 objects, and this vast collection has relevance well beyond transport history. The objects are an important intellectual resource for the study of the social and economic history of India.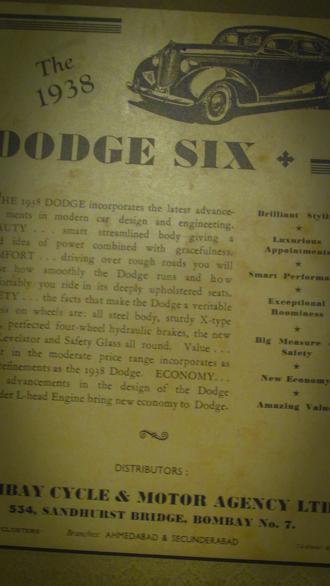 They include old lithographs and engravings, original photographs including rare albumen prints, old post cards on modes of transportation in India, philatelic collection of stamps and first-day covers issued in various countries, rare books on India's transport history, vintage road and touring maps of India, vehicle advertisements from old Indian dailies and magazines, old bills, receipts, license copies, share certificates, old automobile spare parts in original boxes, old automobile memorabilia including carriage lamps, decanters, ashtrays, mementoes, lobby cards etc.
Maritime Gallery
Here is depicted the history of India's inland waterways, their evolution and decline, and the story of the Ganges alongside models of boats, navigational maps, etchings, and aquatints.
Contemporary Art Gallery
The museum also has works by contemporary artists inspired by modes of transportation. These exhibits have been created by renowned artists like Baptist Coelho, Pooja Iranna, Ranbir Kaleka, Hanif Kureshi and Nataraj Sharma. The eminent artist Atul Bhalla has created a site-specific work especially for the museum inspired by transportation traditionally used on inland waterways.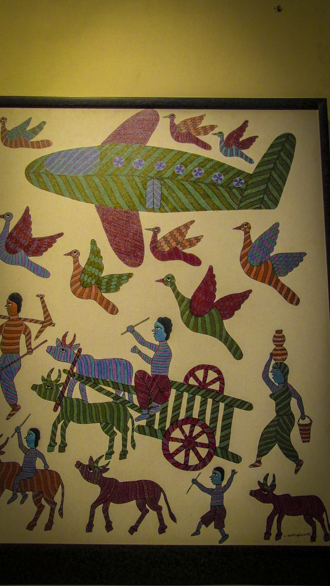 Tribal Art
The museum is also decorated with works of Gond and Warli tribal artists. Tarun says, "These artists have a unique way of expressing themselves which I found very interesting. So we commissioned them to depict what transportation means to them. Their paintings give a very different artistic representation to visitors."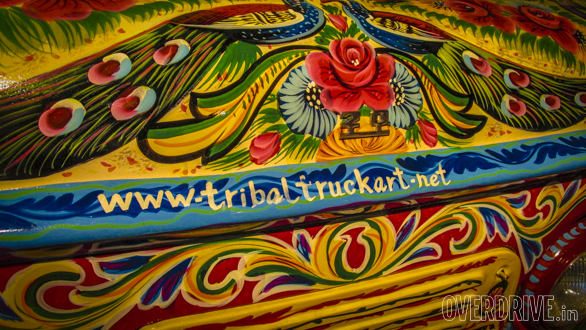 Library
The library holds over 2,000 books related not only to transportation and its history but also on art, design and technology, street art, enamel signs and so on. There are several rare books in the collection that were printed in the early 20th century.
The museum also has a cafeteria and souvenir shop which has a sofa made from the rear end of an Ambassador. You actually sit inside the now upholstered boot. Tarun has plans to expand the museum and maybe also build a unique transport-themed hotel. On the making of the present museum, Tarun says, "The basic idea of the museum was conceived by me, but we created a team of out-of-the-box thinkers who actually helped execute it. The architect Jyoti Rath, chief curator Vikas Harish, contemporary arts curator Priya Pall, execution and coordination Vivek Seth, visualiser Daljeet Singh and Ragini Bhat, and Suneel Kumar also made vital contributions."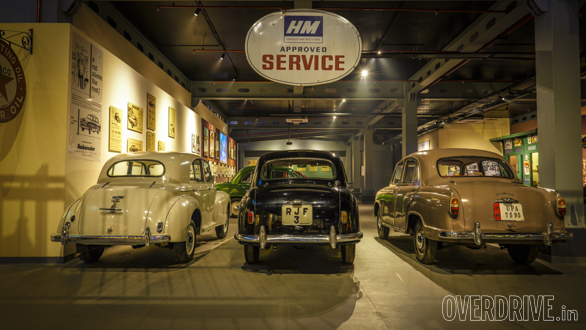 Tarun Thakral has created a very impressive museum with several distinct segments
Tarun and his team need to be complimented for creating such a fine museum that vividly showcases the history of transport in India. What is truly remarkable is the rich variety and number of displays. You really get to travel back in time and experience the evolution of transport in India. What I found particularly impressive are the old advertisements from newspapers and magazines and the 1,800-plus old enamel advertising signs. The truck art from Pakistan is also very interesting as is the old bazaar street scene. Automobile enthusiasts will of course find the museum to be most enthralling, but even regular folk are sure to be charmed.
Related Stories