The finish line: KP Aravind on the Herculean task of completing the 2019 Dakar Rally
There's an expression of mild disbelief on KP Aravind's face, even as he smiles and holds both thumbs up for the television camera. That very image is being streamed live across thousands of laptops and cellphones around the world, by eager motorsport fans bent over their screens watching the heroic finishers of the 2019 Dakar Rally collecting their medals and trophies. The three Sherco TVS RTR 450s have been ridden onto the podium at Lima, Peru, and riders Adrien Metge, Michael Metge, and Aravind, complete with the Indian tricolour draped over his shoulders, are celebrating the end of 10 very long days in the dunes. Maybe the expression on Aravind's face has something to do with the fact that this particular finish line has eluded him for a long while. In his third attempt at the Dakar Rally, he's finally managed to get to the end, finishing 37th overall.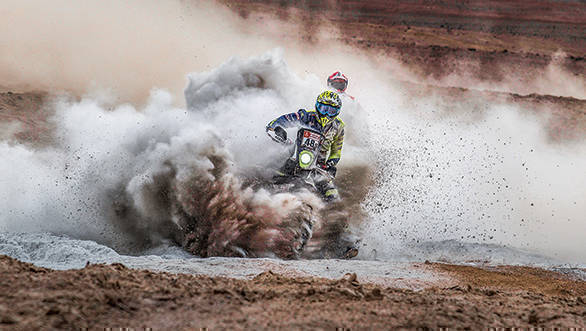 Aravind KP astride the No.48 Sherco TVS RTR 450 tackles Stage 4 of the 2019 Dakar Rally
"It was definitely an overwhelming feeling - a lot of mixed emotions because I've been trying to do this for the past three years," Aravind says to me approximately three weeks after becoming a classified finisher at the Dakar. In 2017, he'd bowed out of the rally after a crash 40km into the third stage left him with a broken shoulder (in addition to the wrist he'd broken when he crashed on the second stage). In 2018, a relatively low speed fall on the fifth stage of the Dakar would leave him with a broken ankle, which would in turn cause him to miss out on nearly the entire year of rallying. When he finally managed to get back on the motorcycle for the Pan Afriquia Rally in September, a crash on the first stage sent him back home with another broken wrist. It was a somewhat ignominious end to the season - one that ended the way it began. But Aravind soldiered on. He put behind him the four surgeries of 2018. He had a special wrist brace made to prevent the injury from worsening. He got back on the motorcycle. And he achieved a result that speaks for itself.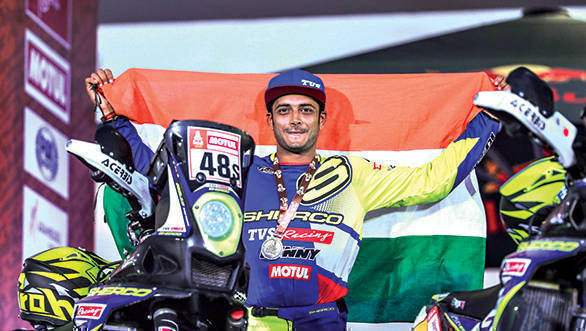 KP Aravind with the Indian tricolour on the Dakar podium
"It was really emotional. It felt a lot lighter than before, because it was a big burden on my head," Aravind says of that moment at the end, when he collected his medal. He clarifies that the pressure wasn't external. Instead it was his own expectations coupled with his dissatisfaction at the previous two DNFs that seemed to weigh him down from within. Which is why getting to the end of the rally was so very significant. Perhaps made even more significant because the people who had rooted for him in previous editions of the rally, could finally break into a smile. People like his mechanic R Prakasam - an integral part of Aravind's journey - who spent most of his year at the Sherco factory in France. "This was a common goal - everybody worked hard, everybody was happy," Aravind says recalling that moment on the podium. As he speaks, the emotion in his voice is palpable. As is the fact that he hasn't rid himself yet of the disbelief. That realisation that he is finally a Dakar finisher still doesn't seem to have sunk in.
However, going into the 2019 Dakar with the amount of preparation, or lack thereof, that he had wasn't entirely easy for Aravind. There was the shadow of insecurity that threatened to sneak up on him every now and again, that he needed to shut out of his mind. "When you have back-to-back failures, it creates a space for self-doubt," he says, adding, "but that didn't stop me from doing anything." After all, as he puts it, he's been racing for a long time, and he's been hurt before. So he had faith in the fact that he could bounce back from his injuries, even if it would take time. "We stuck to the strategy we were following, we felt good every day, and we got this thing done," he laughs. He makes it sound easier than it was.
Sherco TVS rookie Lorenzo Santolino is airborne on the No.63 motorcycle here. The Spaniard had a terrific run, even finishing as high as third in the fifth stage of the rally, before crashing out on Stage 6
That strategy that Aravind speaks of, involved riding at just 60 per cent of his abilities, with the goal each day being "Just to finish." He says, "You know, I wasn't planning on going in flat out. I planned to ride only 60 per cent and if the stage got rough, just to ease off, and not push. I wanted to just get to the finish line every day." Given that he was still riding with considerable amounts of pain in his wrist, not overdoing it was the key to him being able to survive the first week of the rally. "I knew I could push through the pain and I knew I didn't have to do wonders… even if I finished 173rd, it would have been acceptable," he says. Although one gets the sense that a result better than 173rd would have been more than welcome.
But by the time the rally was in its second week, Aravind found that he was able to ride better than before. He'd started to compensate for his injured wrist, adapting his riding style. "I got into that zone, where you forget the issue. Only impact reminds you that your hand is still hurting, but after a certain point you're just focussing on the roadbook, and you're focussing on the stage. The mind blocks it out," he says. By the fifth stage he was feeling better on the bike, able to ride faster, passing riders along the way. Things got better from there. "In the second week I was able to ride about 80 per cent of my speed, so the second week was the highpoint. My confidence was back. And I was able to ride without being conscious of the exact effort that goes into riding," he says.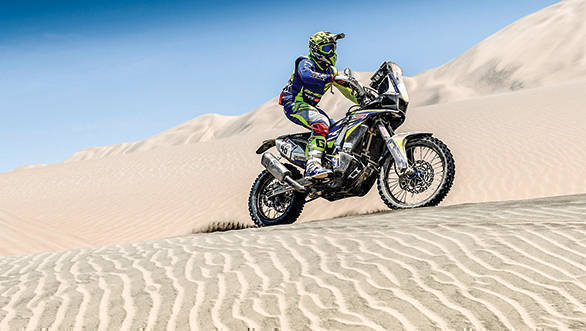 Aravind, seen here tackling the sand dunes in Peru, described the 2019 edition of the Dakar as the most physically challenging event he's competed in
However, the Dakar by its very nature, is always exhausting, and often excruciating. Even though Aravind got to the point where he was able to ride seemingly effortlessly, it wasn't entirely easy. In 2019, with 70 per cent of the rally being run in the sand-dunes, and 30 per cent off-piste, the Dakar was every bit as demanding as always. Perhaps even more. "I can say this was the most physical Dakar ever!" Aravind says, recollecting stages with fesh-fesh over four feet deep, trail sections, rocks, boulders, visibility of less than 20 metres because of sandstorms and fog. Add to that a few mechanical issues, and the rally got even more challenging for him. There was the third stage where his rear brakes gave up around the 40km mark, and he had to make do without them for the remaining 280km. "It's really hard to ride on the sand and in the dunes without rear brakes. I was really tired at the end of the stage," Aravind says. He compensated for the lack of rear brakes by cutting down his speed, finding himself unable to get into the real rhythm of riding, relying solely on the front brakes. "It wasn't natural, and it built a lot of pressure, mentally. That was one of the hardest stages. I was just hoping the stage would end soon," he says.
Then there was the ninth stage where he was running really well, having passed a lot of riders by the second waypoint, which was around the 176km mark. Then the regulator on his RTR 450 failed. "Since the regulator failed, my battery wouldn't work and it took me almost 45 minutes to fix everything," he says. This involved changing the fuses, just to eliminate the possibility that something was wrong with them, eventually figuring out that the regulator was not working, and changing to the spare regulator that they carry with them. Then waiting for another competitor to come along so he could jump start his bike, before riding the remaining 180-odd kilometres that remained in the stage.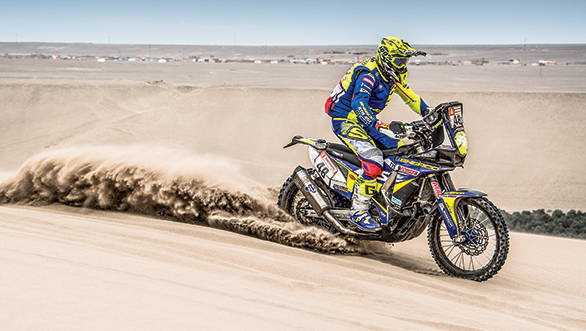 Incidents like this are par for the course for Dakar riders, though. "We train in such situations in order to ensure that they don't overwhelm us. Because if it does, it pressurises you through the race, and on a cumulative note that could become a big problem," he says. Which is to say that riding with injuries, dealing with mechanical issues, repairing your own motorcycle, paying attention to the roadbook, and keeping the throttle pinned as you race to the finish line, is just another day in the office for the likes of Aravind. It goes beyond just physical strength. It requires immense amounts of focus, determination, and mental strength. And complete acceptance that the task is every bit as hard as it is. "You tumble sometimes, you pick it up, you focus and navigate, and try not to make the same mistake again, and carry on," Aravind says almost nonchalantly.
But what does he think helped him get to the end of the Dakar this year, especially since he went into the rally with almost no time in the saddle? On the one hand, Aravind says he trained hard, to ensure that he was fitter than before, despite the injuries. Then there's the fact that it's all in the mind. "My mental health is on point, my mental strength is also on point. I can push through a lot of things, and I think this helped me push through the pain also." As for being able to get back on the bike and be up to speed at once, Aravind seems reluctant to say it, but finally admits that perhaps this is inherent. "I think in my case talent is what helps me out, because I couldn't ride at all. I rode three days before going to the Dakar," he says. However, he's quick to add, "But right now I think I have to be stronger to support my talent in order to do what I want to do."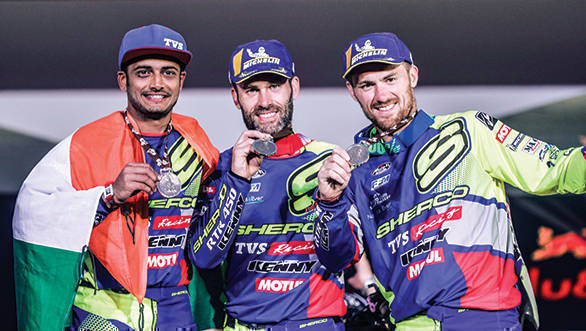 Aravind KP with teammates Michael Metge and Adrien Metge, who he describes as an integral part of his support system
This involves three more months of physiotherapy to get the wrist back in shape, physical training, which has already begun, and then training on the motorcycle with his teammates Michael Metge (who won the ninth stage of the rally and finished 27th overall) and Adrien Metge (who ended 22nd overall) in France. Teammates who Aravind describes as a "blessing", saying that he's learnt a lot from them, and they push him very hard when he's having an off day, always pointing out that every day of training will pay off during the Dakar. "Both are a very integral part of my support system," Aravind says.
The goals for 2019, then, are "To stay healthy, and to consistently improve my positions in all the rallies that I do," Aravind declares. "There's a lot to learn, this is just the beginning, so I don't want to set unrealistic goals. I know I have the speed, it's just about time now," he continues, saying that he now has his performance during week two of Dakar 2019 as a benchmark from which to improve.
Sherco TVS manager David Casteau and Aravind KP's mechanic R Prakasam hoist him onto their shoulders after the 2019 Dakar Rally
Then there's the obvious benefit of beginning the 2019 season on a positive note. "It definitely feels a lot different than the previous years. We have a strong base to build up on this year. I feel more confident, I've started believing more in myself. And you know, that makes a lot of things easier," Aravind says, sounding genuinely happy.
And it's as he says this that I think back to a conversation that I had with Aravind a little over a year ago. "There are ups and downs - life always shows you both sides. When you think you're at the highest point, is when you go down," he'd said of the biggest life lesson that he'd learnt in his many years in motorsport. Fortunately for Aravind, the converse is also just as true. When you're at your lowest point, you go right back up. After all, his performance at the 2019 Dakar is proof of exactly that.