That's all, Volks!
The last Volkswagen Beetle was made in July, marking the end of one of the most amazing automobiles ever. Many salutations for this globally loved bug have been written. The media has gone gaga with the history, and the legacy of this iconic car and all its facts, figures, landmarks, etc, have already been listed or shared. So in this fond farewell of mine, I shall try and stick to what the Beetle actually symbolises to me.
My inerasable and fondest memory of the VW Beetle is seeing its photographs in an incredible book on the legendary "East African Safari Rally". I had come across this book (which sadly I have now misplaced) in the 1970s and it had some truly spectacular shots of the Beetle bashing its way through the African bush. One particular photo I remember clearly is of Joginder Singh, the Kenyan champion of Indian descent, literally plowing through the wet and slushy African landscape in a Beetle, along with his brother, Jaswant Singh. Joginder later went on to become the first driver to win the Safari three times and was also one of the first "Flying Sikhs".
Joginder Singh, the champion Kenyan rally driver of Indian descent, in a Beetle at the East African Safari Rally
The Safari Rally has always fascinated me and as a kid I was even more enthralled by it. The East African Coronation Safari that went across Kenya, Tanzania and Uganda was first run in 1953, to celebrate the Coronation of Queen Elizabeth II, as she was in Kenya when she became the Queen. In 1960, it was renamed the East African Safari Rally and retained that name until 1974, when it became the Safari Rally. It was one of the toughest, most prestigious and celebrated rallies of its time, and attempts are on to once again put it on the WRC (World Rally Championship) calendar. In the initial years of the Safari, the regulations required the cars to be largely standard showroom versions and the simple but sturdy VW Beetle fared quite well.
With the engine at the back driving the rear wheels, not only was traction better, but the risks of breaking the sump or damaging the engine were also fewer. So the reliable VW Beetle did well and even emerged as the overall winner in 1954, 1957 and 1962. In fact Scalextric's model car of the 1962 Safari winning Beetle is now a collector's item, as is the Beetle 1200 East African Safari Rally Car model made by Corgi Toys, which came complete with a display stand along with a miniature Rhinoceros! In 1960, Joginder Singh finished ninth overall in a VW Beetle, and maybe the photo I so vividly remember, was from that event.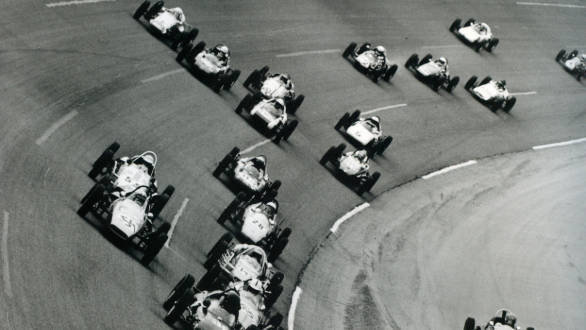 The VW Beetle also did well on several other rallies where its high ground clearance, flat floorpan, short wheelbase and large wheels proved useful. Famous drivers like Bjorn Waldegaard and Achim Warmbold rallied the cute bug too, and as it was affordable and easy to modify, it became the preferred vehicle for many motorsport entrants in several parts of the world. VW Beetle parts were also used to build various race cars including the famed Formula –Vee (Formula Volkswagen), one the most successful single-seater racing series. Till date, it remains one of the best ways to start proper racing for many upcoming drivers and even Formula One geniuses like Niki Lauda, Emerson Fittipaldi and Keke Rosberg, raced in Formula Vee in the early parts of their careers.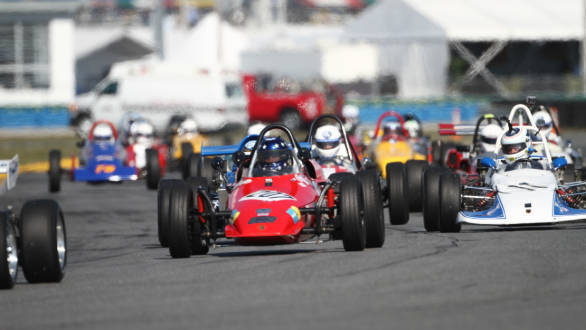 Formula Vee is one of the longest running and most successful single-seater racing series in the world
Quite unexpectedly, the simple Volkswagen Beetle with its small and low power engine, proved to be a very unlikely champion of motorsport, and one of its avatars that I love the most, and eagerly look forward to driving someday, is the "Baja Bug or Baja Beetle". The Baja Bug was first made in the late 1960s, soon after the advent of the extraordinary Baja 1000 event in 1967. It is basically a VW Beetle extensively modified to run in the desert or on sand, and typical alterations include raising the suspension height and increasing travel, and fitting large wheels and tyres and then cutting the body to accommodate them. While the increased ground clearance and raised suspension allows the Baja Bug to traverse tough terrain, modifications are also made to the engine, steering, brakes, etc, to boost performance. The Baja Beetles are really great at jumping through the deserts of Mexico and California and cope with hard landings so well, that even today you find plenty of them competing in the challenging Baja 1000.
With its huge ground clearance and long travel suspension, the Baja Bug is a very capable dune and desert basher
While the "Baja Bug" may be the ultimate Beetle based off-road racer, the most popular and well-known Beetle ever has to be "Herbie the Love Bug". Yes, Walt Disney's film, The Love Bug, had a VW Beetle playing the role of Herbie, a racing car with a mind of its own that is also capable of driving itself. Please note this was well before autonomous cars became a reality. Herbie was also a very unusual car as it had emotions and could be angry or loving and it soon became a star and even had its name carried in the credits.
The success of Love Bug and popularity of Herbie, the car character with racing number 53, led to the production of five more sequels of this Hollywood film and a TV show was also filmed on it. Love Bug was a big hit everywhere with people all over the world, including India, pouring into theatres to see Herbie. When the original Love Bug released in Bombay, I also went a couple of times to the theatre to see it. Little did I know then, that one day I would actually be fortunate enough, to drive "Herbie" in a rally.
Yes in 2010, Volkswagen kindly gave me and my friend Aspi Bhathena, editor of Car India magazine, the opportunity to take part in the Schloss Bensberg Classic Rally in a Herbie loaned from their classic car museum collection. Over 150 beautiful classic cars participated in this rally and were flagged off from the Althoff Grandhotel Schloss Bensberg in Cologne, Germany. The rally even had famed former racing drivers like Hans Stuck and Jacky Ickx taking part. For the first half of the rally, Aspi drove and I navigated. Even though the road book was in German, somehow we did well and when the results for leg one was put up at the lunch halt, we were sixth overall! Despite being in a slow and small engined car like the Beetle, we were running well ahead of celebrated racing drivers piloting sports cars like Porsche, Ferrari, Lotus, Maserati, etc. In fact several participants, including some senior members from the VW management, expressed surprise at our progress.
But it was just too good to last. After lunch we changed positions and while I got into the driver's seat, Aspi took up the responsibility of navigation. Somewhere mistakes were made and we lost a lot of time going off the designated rally route. Luckily, though we dropped down some 30 places, we yet managed to finish in a respectable position. The event was great fun and participating in the rally in Herbie, was such an awesome experience that it's a memory I shall surely treasure forever.
Volkswagen Beetles being produced shortly after the end of World War II (Below) In 1972, the 15007034th Beetle was built, overtaking the production record of legendary Ford Model-T
While almost all enthusiasts know Herbie, few know of the "Indian Love Bug". In 1991, a Bollywood film called Akayla starring superstar Amitabh Bachchan was released. It was directed by Ramesh Sippy and the unique thing was that it had a Herbie inspired character called "Ram Pyaari". This role was played by a yellow Volkswagen Beetle and in typical Indian filmi fashion; this car character had lots of different emotions and facial expressions! The "Bollywood Beetle" had a complete song filmed on it too, called "Chal Chal Re Chal, Meri Ram Pyaari", which one can see on YouTube.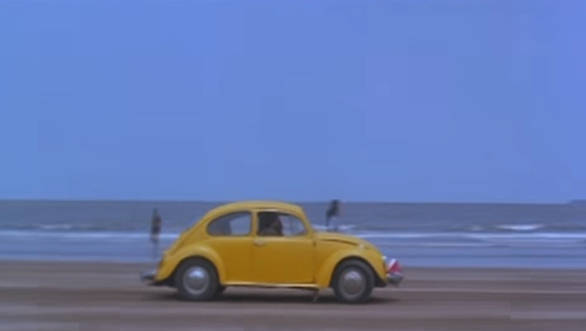 Bollywood Beetle
If Amitabh Bachchan has a song with a VW Beetle, the unmatchable British rock band The Beatles has an entire album cover with a VW Beetle in it. In 1969, The Beatles released their album Abbey Road. The album cover has all four of them walking on a zebra crossing outside Abbey Road Studios, England, and just beyond this crossing, parked on the left is a VW Beetle with registration number LMW 281F. This Beetle soon came to be known as the "Beatles Beetle" and I am told it's now in the VW museum in Wolfsburg, where it may still be swaying to songs like "Here Comes the Sun".
While the VW Beetle has achieved iconic status and will always be known as one of the world's most marvellous cars, for a car produced in such large numbers and for such a length of time, it has surprisingly, become a valued classic car. Normally for people to start collecting a car, it has to be at least somewhat rare. But despite being the world's most produced and bestselling vehicle based on a single platform, VW Beetles still command a high price and have become what many describe, as a 'gold plated investment for any car collector'.
The Final Edition of the Beetle, along with the historical one
An incredible era in the history of the automobile has just come to an end, and one thing I find extremely ironical, is that the VW Beetle which was the brainchild of Adolf Hitler, one of the world's most hated persons, went on to become one of the world's most loved cars. Now how strange is that?