Ten things we spotted at the 24 Hours of Le Mans 2013
Le Mans, most of the year, is a sleepy and rather pastoral town. Come June, however, those phenomenal cars all roll in and the entire town comes alive with the sound of engines, the smell of burning rubber and a feeling of tremendous motoring madness as the 24 Heures du Mans completely engulfs that very place for its annual running. The Automobile Club de l'Ouest (ACO), the body that has run this great motorsport spectacle, believed that there was more reason to celebrate this year given that it was the 90th anniversary of the event. But Le Mans, like most other great motorsport events, has the odd cruel blow dealt its way, the acute presence of which was felt when Allen Simonsen, pilot of the No. 95 Aston Martin, died in a freak accident on lap 4 of the race. The show, however, went on. These are the things that stood out for us:
 1. Diesel power wins again
Audi's winning number two car
The past few years seem to have merged into a haze of Audi victories. Ever since the Audi R10 TDI burst onto the scene in 2006, Le Mans has been dominated by diesel powered vehicles, and specifically by the four-ringed marque. First it was the R10, then the R15 and finally the R18 TDI. And 2013 was no different. While it initially looked like the petrol-powered Toyota TS030 Hybrid could take the challenge to the Audis, things didn't stay that way for too long. What caught the Japanese team out then? Amongst other things, fuel efficiency! The Audis managed to stay out one lap longer on a single full tank than the Toyotas. Of course, this isn't to take anything away from the rather skilled drive put in by the No 2 Audi's drivers – Tom Kristensen, Loic Duval and Allan McNish. Kristensen has now won the 24 Hours of Le Mans a record nine times, while Audi has won the event 12 times in the last 13 years!
2. The battle with Porsche heats up
Of course, while Audi is busy claiming consecutive wins at Le Mans, there's another manufacturer that is getting a little hot under the collar. You see, Porsche holds the record for the most number of victories by a manufacturer at Le Mans, a figure that stands at 16. And Audi is closing in on them fast! Could this be what has prompted Porsche to make a return to the sport for the first time since 1998? Very likely. Since they made the decision in mid-2011 to make a comeback to the LMP1 category in 2014, Porsche has been working very hard indeed. Testing of their 2014 challenger is well underway, and at every nook and cranny at Le Mans this year were Porsche hoardings that read "Mission 2014: Our return". Audi is no slouch either, with Dr Wolfgang Ullrich declaring that their own 2014 car has been developed alongside the 2013 car. But Porsche has the added advantage of having Mark Webber, with so many years of Formula 1 experience under his belt, drive for them. We can't wait!
3. An Indian at Le Mans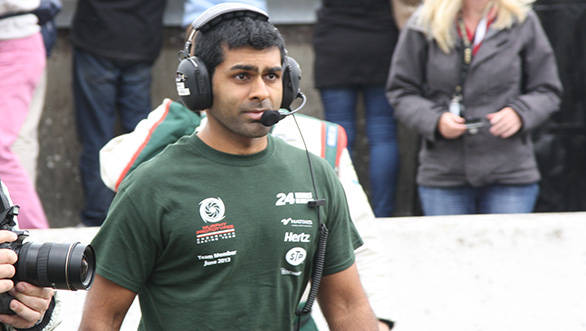 Karun Chandhok at the 2013 Le Mans
Karun Chandhok, since his Formula 1 stint, has got behind the steering wheel of many a racecar. Perhaps none of them were as exciting as piloting an LMP1 car for JRM Racing in the 24 Hours of Le Mans last year. Which is why he decided to make a return to the sport this year, albeit in the LMP2 category. Chandhok's team, Murphy Racing Prototypes, didn't have an easy race. Even though they started seventh in their class, it wasn't a spot they were able to retain, particularly as silver driver, Mark Patterson, made contact with a Porsche that sent him over the gravel and then into the pits for repairs. Add to that the fact that the team had to change ECUs twice during the first part of the race, and they were down to last position. Some clever racing by Karun and team-mate Brendon Hartley, however, saw them climb back into seventh place in class and 13th overall. Not a bad way to end a 24 Hour Race!
4. Safety Cars galore
Was the 2013 edition of the race easy? Well, no, not really. You see the race had a total of 13 Safety Car periods, during which time the cars ended up bunched up, trailing one another lap after lap. Cars that got caught in the pitlane while the Safety Car was out on track had to stay right there. Why were there so many Safety Car periods though? Because every time there was a crash, either debris had to be cleared, or safety barricades had to be mended and it was a time consuming process. So time consuming, in fact, that the total time the Safety Car was out on track amounted to five and a half hours! Not particularly fun for the drivers or the fans.
5. Speaking of the fans...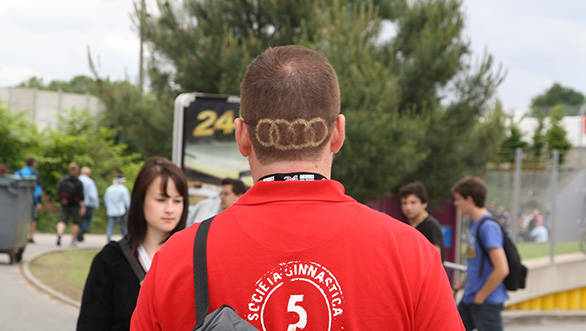 A Le Mans crazy fan with the four Audi rings as his hairstyle
… Le Mans sure does attract some hardcore ones! Honestly, the fans at Le Mans are unlike any other motorsport fans we've ever seen. Some of them have been coming to the race every single year since they were five and are now wizened old folks. Some are so passionate about the sport that they will glibly recite every single winner of the race since 1923 forwards and backwards. Others are there to transform the grassy plains that surround the track into a mad party. And as we, and our thoroughly aghast driver, discovered, they are quite eager to make you a part of their celebrations. We watched one particularly raucous bunch take over a roundabout and use it to light bonfire so bright and large that the Man on the Moon probably could see it. Another bunch barricaded the road and would only let cars pass through provided drivers did burnouts. Others wore on their sleeves, or hair as the case might be, symbols of their allegiance.
6. The cars we race are the cars you (can) buy
What is it about Le Mans that makes fans flock there in the hundred thousands year after year? It goes far beyond racing. You see, when you get to Le Mans, you don't just have an hour and a half's worth of racing to watch – instead you get a motorsport extravaganza that extends for 24 long hours, and that's excluding Qualifying and Qualifying Practice. But the connect with fans is probably much simpler. When you watch a Porsche 911 win at the races, just like they did in the GTE Pro and Am classes this year, you know that you could possibly go out and buy a car that's a race winner. The disconnect from racing series like Formula 1 isn't there. And even though LMP1 cars don't look anything like your average road-going car, there still is a huge connect. Audi, with their large range of road going diesel cars, chooses to field a diesel challenger in a field largely dominated by petrols. Plus, when a manufacturer wins a race based on something like fuel efficiency, that's half the battle won in terms of the message they want to send out to millions of customers around the world.
7. Art attack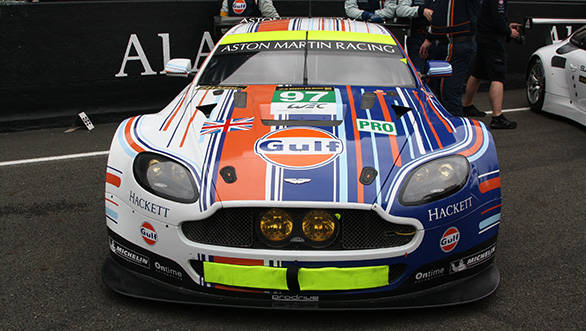 Jonathan Wesley designed the livery for the No.97 Aston Martin art car
It would appear that art cars were very much in vogue at the 2013 edition of the 24 Hours of Le Mans. You see, the art car first appeared in the 1970s, when driver Herve Poulain invited artist Alexander Calder to paint the BMW 3.0CSL that he would race at the 24 Hours of Le Mans. Since then, art cars have been seen racing down the Mulsanne Straight on a regular basis. Whether it was the Flying Lizard No 80 Porsche 911 from 2007, or the Jeff Koons designed M3 GT2 from 2009. And 2013 saw not one, but two art cars. The first was the OAK Racing art car that was designated as the official art car of the 2013 race in order to celebrate Le Mans' 90th anniversary. The second was the No 97 Aston Martin Vantage GTE that celebrates 100 years of Aston Martin. The livery was designed by Jonathan Wesley, who decided to combine the traditional Gulf blue and orange with Le Mans' day-night transition. We like.
8. A man named Pescarolo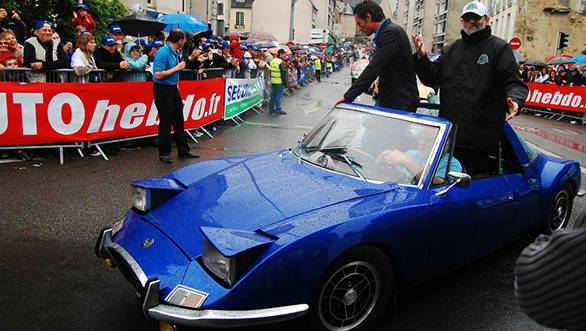 Pescarolo (right) is Le Mans living legend
Ask any racing fan (don't ask the Danes, to them it's Tom Kristensen and no one else) who they think Le Mans' one true personality is and the answer almost always will be Henri Pescarolo. If Henri Pescarolo does walk past you in the paddock, you'll notice very few people going up to him. People gaze at him from afar with a rather reverential look in their eyes. Why you ask? Well, some people know Pescarolo as a Formula 1 driver. Others, of course, know him as the man who has competed in the 24 Hours of Le Mans a whopping 33 times. That's right – between 1966 and 1999, Pescarolo competed in the Le Mans every single year, only missing one year in '69. He has won the event as a driver six times, only outdone by Tom Kristensen. After retiring from racing, the Frenchman made a return to the sport as a team owner in 12 editions of the 24 hour race. No wonder then, that the 90th anniversary celebrations saw him take on the mantle of 24 Hour ambassador. The sport couldn't have a better one.
9. At Le Mans, there are traditions to be upheld
You don't celebrate the 90th anniversary of a racing series without having picked up a few traditions along the way. Indeed, the first time champagne was sprayed on the podium of a major racing series, it was at the 1967 edition of the 24 Hours of Le Mans when Dan Gurney, having won the race with co-driver AJ Foyt, decided to spray the bubbly onto everybody in sight. Needless to say, that tradition continues to this day. To start the race at Le Mans each year, the French flag is waved, while jets trail the skies spraying the French national colours in the air. There are other traditions though – simple ones that even fans can uphold. One of which is eating a rillettes sandwich at the big race. Google it, we were too busy stuffing our faces to bother with photographs!
10. The harsh realities of the sport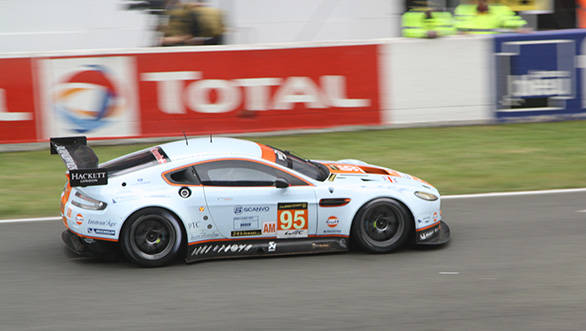 Allan Simonsen's number 95 Aston Martin
There is simply no ignoring the fact that the 2013 edition of Le Mans was the grimmest race we have seen in years. On lap four of the race, Danish driver Allan Simonsen crashed in his No 95 Aston Martin Vantage that was leading the GTE Am class. Simonsen was conscious when the marshals got to him and was transferred to the circuit's medical facilities where he succumbed to his injuries. Simonsen's death was a harsh reminder of just how cruel the sport we all love and follow can be. RIP Allen. We hope you're up there with your foot still planted firmly on the pedal. It's what you do best.
Price (Ex-Delhi)
Starts Rs 1.38 Crore