Ten coolest and the most expensive car keys
Electric car manufacturer Tesla recently launched a new key fob for its Model 3. Styled with the similar design of the Model3, the Tesla key fob essentially locks and unlocks the doors, bonnet and the trunk lid. It can also open the charging port. Just in case you want to revisit the Tesla Model 3 to know about its specifications, features, driving range and also range, click here. The Tesla Model 3 key fob is available at USD 150 which roughly amounts to Rs 10,900. Interestingly, that is half not as expensive as some of the car key fobs that one can buy. We take a look at the ten coolest and most expensive car keys that you can lay your hands on.
1. Model S key fob
Much like the Model 3 key fob, the Model S key fob too is designed on the lines of the sedan. Minimalistic yet futuristic is how one can describe the design of this key fob. The Model S' fob can be programmed according to individual requirements. This means you can save your ideal seating position, steering wheel position and also the mirrors. This one is priced at an approximate USD 300 that is roughly Rs 21,800.
2) Mercedes-Benz Swarovski car key
Diamonds are woman's best friends is an old saying. In case you too believe in that, the Mercedes-Benz Swarovski car key is what you can get. A limited run of 800 units, these keys came with 300 crystals embedded along the length of the key. These crystals were the hand-crafted by Swarovski. They had a shimmering opal-like finish. One had to shell out USD520, approximately, Rs 37,775 to get one of these
3) Pagani Huayra Roadster Miniature key
When you are buying an automobile worth $2.5 Million, the kit that comes along with it has to be equally special. To get the Pagani Huayra roadster roaring to life, there is a miniature model key that is made of aluminium, similar to what is used to make the wheels of the roadster. This key fob splits into two, where one half can be used to start the vehicle while the other can be used as a USB stick. Oh yeah, by the way, this key is priced at an approximately $5000 that is Rs 3.63 lakh. What is the price of the hatchback that you were planning to get?
4) BMW 5 Series smart key
To make key fobs resemble the car is one thing but then to make the key car fob interactive in order to access information about the car is a totally different. The BMW 5 Series key, firstly looks unlike any other as it gets a small LCD screen. While the regular locking unlocking of doors, hood and trunk are taken care of with buttons, you can also get the amount of charge, driving range, service schedule and pre set air conditioning along with scheduler. Lastly, you can park as well as move the sedan forward and reverse by just sliding on the key. This one  could set you back by USD999 that is close to Rs 72,500.
5) Lamborghini Terzo Millenio concept key
The Lamborghini Terzo Millennio concept is all-electric, but that is being touted as a replacement for Lamborghini's flagship V12 hypercars. Lamborghini describes the Terzo Millenio as the the sports car of the future that uses electricity instead of gasoline. Electric systems generate high efficiency and offer several interesting characteristics like the possibility to recover kinetic energy and to deliver huge peaks of power. How to get it started? Check out the video below.
6) BMW M8 Gran Coupe concept key
The most enthusiastic M8 i.e. the M8 Gran Coupe comes with the most powerful iteration of the 4.4-litre from the company's M Sport division. The company mentions that along the sporty coupé silhouette, distinctive elements such as the frame of the M double-bar kidney grille, the M gills, the M brake callipers and the M twin tailpipes testify to its performance ambitions. For a BMW that looks like that, the key to get it started has to be special.
7) Bespoke Ferrari key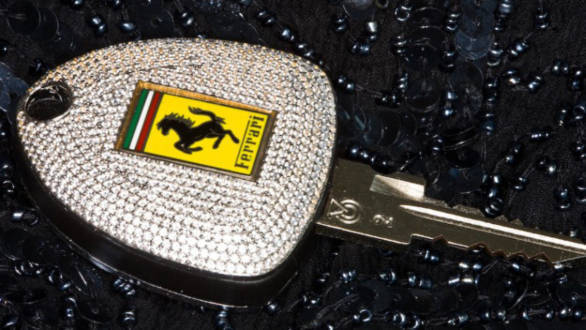 A total of 1,160 diamonds were used to make this, rightly called, Bespoke Ferrari key. Created by S.P.Green & Co, this takes the simple design of the Ferrari key to the next level. And if diamonds is not what you prefer, you can custom order this key with the choice of your precious gemstones and metal. These diamonds, metal or gemstones that you finally lock for your key are carefully hand polished. Owning one of these will take £14,500 that is approximately Rs 13.76  lakh. You might want to sell that premium sedan that you've recently got to get one of these.
8) McLaren MP4-12C Spider carbon fibre key
Now if glittering diamonds, bling or graphics running on the small screen is not your thing, then you might have a liking for the McLaren MP4-12C Spider's Carbon-fibre keys. Lightweight construction since it is made of Carbon fibre and has the basic controls to lock/unlocks doors, hood and trunk.
9) Koenigsegg CCXR key
That might look like a miniature of a shield that soldiers use at war. However, it isn't. Instead, it is a supercar maker Koenigsegg's logo with an aluminium finish. We can just imagine wearing one of these on the neck, letting people think of us as a superhero, who's day job is to manage a billionaire empire and is friends with Mr. Stark.
10.Aston Martin's Jaeger LeCoultre AMVOX2 transponder watch
Saving the best for the last. But that's an image of a watch? Well, this one is not just a watch. It is the Aston Martin's Jaeger LeCoultre AMVOX2 transponder watch. That is indeed a mouthful for a name but it does come with as many features. Developed jointly by Swiss watchmaker Jaeger-LeCoultre and Aston Martin, this watch has an electronic transponder that can lock and unlock Aston-Martin's doors.  Instead of buttons, it gets sapphire crystal. Pressing this on the left and the right lock and unlock respectively. This one is priced at $34,000 which is approximated Rs 24.65 lakh, making it the most expensive in our list.
Price (Ex-Delhi)
Starts Rs 62.9 Lakhs