Tatiana Calderon on her championship hopes in the MRF Challenge
Tatiana Calderon might have had a difficult 2015 season in European F3, but things looked up for the Colombian driver when she made the transition to the MRF Challenge. Race wins, podiums, and some rather bold overtaking moves mean that she heads into the last round of the championship second in the standings. Ahead of the season finale at the Madras Motor Racing Track, Chennai, Calderon talks to OVERDRIVE about who she thinks her biggest rivals are in terms of the championship, what racing in the MRF Challenge has taught her, and what the way forward is en route her motorsport goals.
OVERDRIVE: Why did you decide to compete in the MRF Challenge?
Tatiana Calderon: For the first round in Abu Dhabi I knew the series had been running a few years already. And it was the perfect timing because I was going to be testing GP3 later on in Abu Dhabi. And in the winter we are not very busy, there's no racing, so I thought it is a really good idea. They invited me for the first race to see how everything was and it went really well, so we ended up doing the whole season and it was one of the best decisions I think I have made and it really changed my whole season as I had a tough season in F3.
It was very difficult I did not score any points, the level was quite high but it's a small difference that gets you in top ten or top twenty, so for me this was like a boost to my confidence. Because I could show, as you know the cars are all the same, there's no teams, it's just the pure driving for me, which made me think okay I can compete against the best and win so for me it's been an amazing time.
OD: Can you tell us what you think of the car.
TC: I think it's the perfect series for people that are racing in either F3 or F4. It's a great Formula car with a 2.0-litre Renault engine. I think its perfect because it can you can do set up changes to it, it's not completely closed, so with your engineer you can also decide on some changes. So I think it's great for preparation and on the off-season to prepare for the peak season in Europe.
OD: What do you think of the tyres that you are running on?
TC: It's very positive. We have five sets of new tyres per weekend so it's better compared to GP3 where we get only three sets of tyres. It teaches you how to use a new tyre, and to be honest the MRF gives you many chances. Because it's quite consistent, you can still improve on Lap 5, so it's good for people that are learning as well, and for the races too as it keeps everyone tight and everyone very competitive.
OD: What do you think of the level of competition you have had so far in the series?
TC: I was very surprised to find such a high level, in the first race there was GP2 race winner Nobuhiro Matsushita, and Jake Dennis who was third in Formula3 in FIA and then you have Harrison Newey and lots of big big names and people that are doing well in their championships. So I think the level is really really high and that also makes it more interesting for people to get involved in the series, as you don't wanna go there and have no competition. So it's really good preparation for the next steps in single seaters.
OD: And you've earned the reputation of being a very bold overtaker in this series!
TC: For me it was great because everybody has the same car, it's very competitive. And in karting I was a good overtaker. And because although these cars have got a lot of downforce it is still a little less than F3, so you can follow closely. I think as females maybe we are more likely to overthink things, so I think I do overtaking in the last lap so that no one can overtake me again. So I think I am a good overtaker I guess!
OD: Do you think the element of surprise has helped you because you always left it till the last lap and then made your move?
TC: Yes absolutely, I think because we are all very close in lap times and I was following most of the people that I overtook in the last lap, being aware where I was a little bit quicker. I analysed the lines that they were taking and I knew that I would have gone short and so I really decided to do it in the last lap and try everything. It's not like a stupid move that you have planned, I planned my move and I do that very well, to take them by surprise and so that they wont have the chance to get it back, it has helped me in those big moments.
OD: It's clearly made a big difference as you now stand second in the Championship standings with one round to go....
TC: Yes, it's amazing that I'll be fighting for the championship as I haven't been in this position since Karting really. And I think it's very exciting to be deciding the championship in India in Chennai. I have seen some onboards of the track and it seem to be a very tricky and challenging track where one could do a mistake and it can cost you quite a lot. So I am really excited about that and I will give it my best shot. There are still four races in the last round and plenty of points, and, of course the prize money for the winner. So I think the championship has everything for the people who are in it and it's going to be really exciting.
OD: The gap in terms of the championship isn't very big between you in second place and Pietro in first place. So what do you think your chances are at the championship?
TC: I think I have big chances. I think I have been quite consistent, I have done many races and been in top five whenever I have not had any problems. So I think I'm going to go for it and definitely if I can manage to be consistent and do no mistakes I think I have chances to win the whole thing and it will be extremely big for me.
OD: What do you think you need to do to prepare for the race in Chennai as you said it's a track you are not familiar with?
TC: For sure, I have found a lot of videos, so you kind of watch everything there to be as prepared as possible because I'm currently in Columbia and will be travelling back to Europe next week. I'm planning to do at least two simulator sessions and of course the track work the day before, to show you the lines because I think it's a pretty bumpy track, so it's gonna be all about really getting as prepared as possible before you arrive there.
OD: Who do you think will be your biggest competition in Chennai other than Pietro maybe?
TC: Other than Pietro, I think (Alessio) Picariello. I think he's been very quick in all the races. He's been quite consistent, so I think he is going to be the second most dangerous driver to get the title from.
OD: In terms of the Chennai race, there is one driver who actually does have an advantage and that's Tarun Reddy because he knows the Chennai track really well and if I'm not mistaken you did have a couple of intense overtakings with Tarun as well.
TC: Yes, we have been fighting quite a lot during the season and of course if he knows the track its going to be tough to beat him. Maybe we should go behind him on the track and find out what the tricks of the track are. I'm not sure how much track time we will have before qualifying, but we will have to figure out what the tricks are of the track and I look forward to fighting with him on the track as it's been a pleasure and we have had good battles.
OD: Let's go back to your European F3 seasons. Last year was especially tough, because in 2014 you had a relatively good season, but then things sort of nose dived!
TC: Yes, to be honest I was quite surprised with what happened this year as I had been expecting a lot more from myself and probably a little bit more from the team as well. I think there are quite a lot of factors that make the season tougher. I raced in a winter series, previous to getting to the European season (in 2014) and last year I didn't. And the test days were just three, so it was quite tough and then the level was extremely high. And in last year there were 35 cars on the track and everyone in the grid was between one second, so if you were 6/10th of the pace you could be 25th. And then there were loads of crashes, which I also had bad luck with as well. So after that I thought I couldn't really score points because for me qualifying was very difficult to get. Even though I had great race pace I still could not qualify, to even take Dennis who was sometimes a second quicker than me in F3. And to compete against him in MRF and be there, it shows that I'm still learning and developing during the season but couldn't get the results for various reasons. Also it was a new team for me so it's always difficult to start working with someone you don't know and it took a bit longer to find the car, which will suit my style so that also didn't really contribute to my performance.
OD: Can you tell me about the experience of working with Carlin?
TC: I think Carlin is a very big and successful team and I really enjoyed my time there and learned a lot. But they could not really make the car work for me and sometimes you go to different teams and the base set up suits you very well from the start and I don't think the Carlin setup was very suited for me and my style. So they are a really good team I have a good relationship with them and I have learnt loads from them, but it just didn't really work for me.
OD: What do you think your biggest learnings have been in your time at European F3?
TC: I think you get mentally frustrated when you're 25th but only 6/10th off. So I think a lot of what I have learned was to be mentally tough. Although you still develop your skills racing from 25th - you end up doing loads of overtaking and I think I have shown some good overtaking in MRF as well. I think F3 also helps you develop as a complete driver both in the set up of the car and in preparation. Where Carlin was really good, they give you all the information about the track, what bumps, how abrasive or how you had to warm up your tyres and all of that, I think makes you a much better driver. And I think F3 is great for preparation as well, as they have three races per weekend. Two qualifying sessions in some other races you only have to race, so I think it's a tough Championship and really teaches a driver to be professional and be better on the driving side as well.
OD: So your association with Carlin is not likely to continue in 2016?
TC: No. I don't think I will be doing F3 anymore, I haven't finalised my plans yet, but the idea is that we are trying to get a seat in GP3 and I don't think Carlin are doing GP3 anymore.
OD: What are your goals in terms of where you want to be when?
TC: My dream is to get to Formula 1, but I know that it is going to be a really tough journey. So our first step is to hopefully get a seat in GP3 for 2016, as then you are in the F1 environment and if you manage to signup with a team then everything comes on your hands and you depend on yourself so that is the aim to be in the F1 weekend.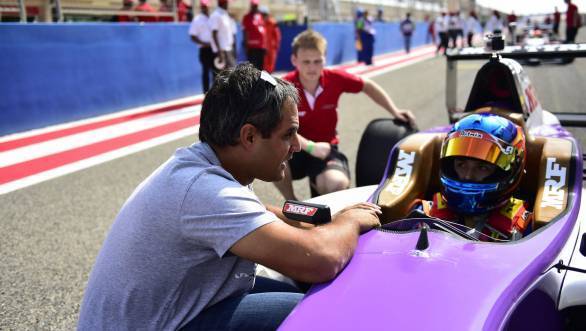 Juan Pablo Montoya gives Calderon some last minute advice during the Bahrain Round of the MRF Challenge
OD: You had Juan Pablo Montoya as your mentor in one of the races for MRF. How did that happen?
TC: Yes. He was in Bahrain and I didn't know him that well before, but he was very helpful in Bahrain. It's amazing the amount of experience he has got and it really helped me on that weekend because we have very limited track time as in GP2. Since then we have been quite close, we did for a GoKart Race of the Stars in Columbia. He was also surprised with the level of competition in MRF and as he has got his son as well he is starting to look at what his son could be doing in the future. So it was nice to have him there.
OD: How often do you end up karting, just as training?
TC: I love karting so I have a kart in Madrid. So usually when I am there, which is not very often because I am always travelling, I try to go at least once or twice a week. But in a month maybe go four or five times to keep myself sharp in karting.
OD: How did you start out in karting?
TC: It started when I was 9 and I started racing with my sister as well. She is 8 years older than me. We went to a GoKart track and we really liked it so we used to go there everyday after school or at night and we started winning, so we convinced our parents to buy us a GoKart and this was actually by the time Montoya got into F1 so we were always following the races. And he brought up EasyKart, which is a series in GoKarts to Columbia. So we started competing there, and since then I think my passion for this sport has grown and I have been doing it for my whole life as well. Later I started competing in the US, I won a Championship there, then I started racing in Europe and then it was the time to decide whether to go towards Formula cars or University and luckily enough my family has always supported me and they supported me decision to go towards motorsports as I wanted to be a professional and wanted to go to Formula 1 and now that is the dream that we are all chasing.
OD: Even though you said that you haven't yet confirmed if you will be doing GP3 or not what do you think you need to be prepared for? Because the level of competition in GP3 is also quite stiff.
TC: I think especially this year GP3 is going to be very competitive because its going to be a new car. So this season it is also going to be really important to have good team-mates and to have everything ready with the new car and test it. Because in the race weekends you have very little track time and qualifying is going to be really important. So for me right now my main focus is to get qualifying right. Something I did not manage to do in F3 last year. Also because they are Pirelli tyres, which only last for one lap and then you lose a second of performance easily and you need to start to know how to manage your tyres as well for the races. So it's going to be a completely new story for me. I'm gonna have to learn a lot but I think I have good experience and information from F3, so it's going to be a clear step up from F3 to GP3. Although motorsport is not about being the strongest person, still for a woman it is a little bit tougher. I'm doing good precision and physical preparation as well, so even though its going to be a tough year at least it's going to be a new car, making it the same for everybody at the start.
OD: In terms of qualifying what do you think are the most important things to keep in mind?
TC: I think, in my case I overthink when I'm doing a qualifying lap. I'm always thinking that I want to do a good lap, but I don't want to do any mistakes and sometimes in qualifying you just have to go for the lap and not think about securing anything. So whenever we decide which team is gonna go for GP3 the most important thing I think is gonna be the work conditions, because things like getting your tyres warmed up properly are essential and that is made even more difficult with the Pirelli tyres. But you can practice that in the simulator. I think the work in the simulator is going to be the key for me to perform in qualifying .
OD: Have you already been in talks with teams for GP3?
TC: Yes. We are actually just waiting on confirmation on that. We have been in discussions with teams but in motorsport you never know, you have to sign and then have the seat. In GP3 its gonna be very busy this year.
OD: Is there a Plan B?
TC: We were considering World Series if it didn't happen, and that's really our Plan B. And we don't have any Plan C at the moment, hopefully we will just have to go with Plan A, which is GP3
OD: What do you think the biggest life lessons are that motorsport has taught you so far?
TC: I think any sport will teach you lots of things, but hard work will always pay off. I worked really hard during last season and when it finished I was like what happened. But at the end I had my reward with MRF and I think it's about following your passion. If you find your passion you just have to go for it because when you win it feels amazing, but when you lose you're still doing what you love and it's not as hard to take. So for me it is just about go and find what I love and do what I love, so I'm a happy person and I love what I do and love my life really!
OD: You said it was difficult handling the fact that you finished 25th last year. So how did you end up coping with that?
TC: It was very tough because I'm a very competitive person and I want to win everything that I do even if it's a football match or a tennis match. So to keep going when I was 25th has been a real challenge. But you can see the data and compare it to the guy who won the race and you will see that I will be quicker in some of the corners and maybe did a few mistakes during the qualifying lap, but I understood what was missing. So I think I needed to find out that it is not speed that I am missing it is just putting everything together and I just haven't figured out how to put it together yet. But at least I am trying to find a solution.
OD: How close do you think you are to putting everything together?
TC: I have shown that sometimes I can put it together as I did a top five in Formula 3 and I won the MRF race. I have been competitive. There it's a completely different environment because its stress-free although you have pressure. Not everyone is looking at you, there is no team competition, and the atmosphere is more relaxed so I have definitely learned that I need to find the environment that I trust and feel relaxed in to perform. So I'm hoping to put everything together in this year in GP3.