Tata Nano XTA AMT long term review: After 7,809km and four months
Recently, I had given the Nano for service to fix a couple of niggles like an off-centre steering wheel, a non-functioning Bluetooth system and a loose fan belt. After I handed the car in, I went out of town for a bit, and by the time I got back, there was a bit of a mix-up at the service centre. My Nano had been reassigned to another journalist by mistake, and when it was returned to the service centre, there was a cracked windshield. So they kept the Nano for a bit longer to claim the insurance and fix the windshield.
When the car was out, the bill amounted to Rs 5,502 which included labour and parts, which I think is a very reasonable amount for a car in this segment. Maruti Suzuki, for example, would charge you between Rs 5,000-6,000 for a windshield replacement. Obviously, nobody owned up about cracking the windshield, but that's irrelevant. I was just glad to get my Nano back because as soon as I got behind the wheel, it put a smile on my face.
I've tried to connect to the Bluetooth receiver with several phones, but it still doesn't work
That same day, I had to get to my brother's stand-up show, and I was late. "I don't think you'll make it in time," said my friend. "The show is at 8.30pm. It's 8.10pm right now, and it's rush hour." I was 10km away, and the Google Maps lady said it would take me 35 minutes to get there with heavy traffic. However, in the Tata Nano I made it in 25. Now, don't go thinking that I drove dangerously fast because the Nano isn't really capable of that. I managed to get there in 25 minutes only because of how nimble this car is, and how easy it is to navigate through the narrowest gaps in traffic.
The steering wheel, which had gone off centre, has now been corrected
All that said, there are still a couple of issues with the Nano. The car's Bluetooth receiver still isn't working. Initially, I thought this was just an issue with my phone. But when I tried a couple of other phones, I faced the same issue. Also, now that the fan belt has been fixed, the brakes are squealing instead.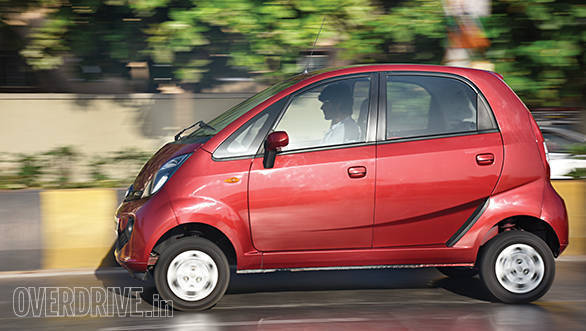 Although the Nano is still running strong and impressing all the people who have travelled in it, it's a bit disappointing to see issues pop up one after the other. I'll admit that it took a couple of hours to get back to driving the Nano after all the other cars. But like I said in my previous report, you can't get behind the wheel of a Nano and expect it to drive like any other car. It has certain unique characteristics that you'll either love or hate. Personally, this car's growing on me.
Date acquired: Feb 2016
Total mileage: 7,809km
Last report at: 6,848km
Fuel: 78.77 litres
Economy: 12.2kmpl