Talking about Rossi, EVs, Tenere and much more with Mr. Motofumi Shitara, Chairman, Yamaha Motor India
Yamaha, like many other brands in the automobile space, has felt the brunt of the pandemic. But the Japanese brand is showing signs of recovery as it plans to stabilise the business with a continued effort to add exciting products to its line-up. We got talking to Mr. Motofumi Shitara, Chairman, Yamaha Motor India, to understand what is the brand's restart strategy. Shitara san also spoke to us about Rossi, electric vehicles for India and his thoughts about the Tenere and the adventure segment. Read on...
Q: The pandemic took a big toll on the auto industry, but the two-wheeler sales seem to be stabilising. What has been the restart strategy for Yamaha India and how has the unlock been so far?
A: While the year 2020 was difficult for most of the businesses, the market sentiment for the two-wheeler segment in India is improving and has seen a steady rebound. Having said that there are still signs and expectations of a better recovery from the two-wheeler segment as more and more consumers move to adopt means of personal mobility over public transportation. We have been continuously monitoring the retail situation in all our dealerships and have witnessed rapid revival as Yamaha reported positive sales growth consecutively since July 2020.
What led us to achieve these positive numbers is basically our focused approach and proper planning & implementation of our business strategy. We ensured that we do not lose connection with our customers even during the lockdown and adopted the digital medium to engage with them and convey about our products, campaigns, and the safety protocols we are following at our dealerships. In addition to this, we introduced virtual stores to provide our customers with an enhanced buying experience from the comfort of their homes. We also made Yamaha merchandise available on Amazon to help customers purchase attractive riding apparels and accessories online.
The Yamaha dealerships also provided their support in promoting contactless delivery and using digital communication tools like WhatsApp etc. for communication with the customers during the pandemic, which helped us remain connected with our customers.
Yamaha has performed well in the second half of 2020 and we would like to continue with the same momentum to revive the retail growth while continuously connecting to potential customers with the help of various internet-based engagements and on-ground activities under "The Call of the Blue" campaign. Yamaha began with a 4 per cent year-on-year growth in July and ended with 33 per cent year-on-year growth in December, which helped us register a total sales of 5.04 lakh units for the year 2020.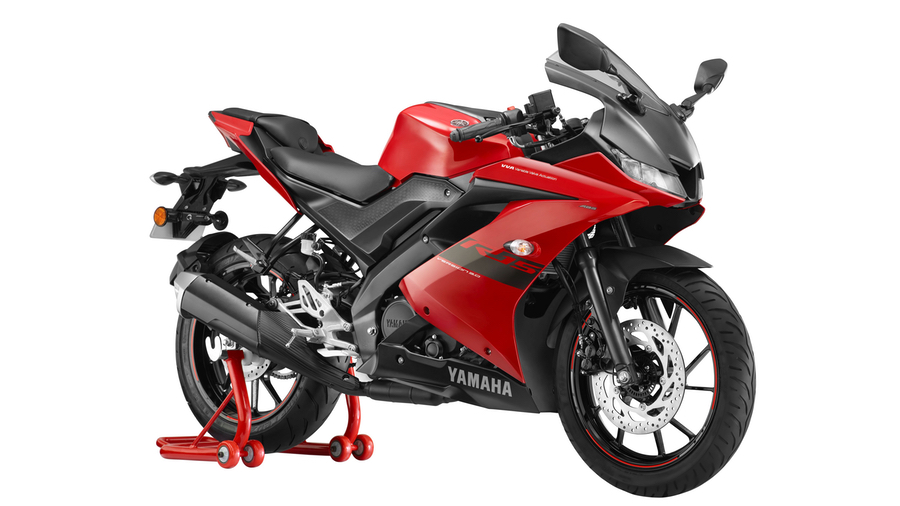 Q: What is your immediate goal - stabilise the sales for the current portfolio, or inject fresh models to boost sales and market sentiment?
A: The immediate goal is to stabilize sales with the current product portfolio. We had launched our scooter models in December 2019 and last year due to the pandemic, the kind of push we expected in the scooter segment did not happen. Though our scooter models have received a fantastic response in the market, we feel they have much greater potential to be at the top in the 125 cc scooter segment. We will continue to promote them through digital campaigns along with on-ground activities like COTB Fiesta and Test Ride my Yamaha campaigns so that more and more customers are aware of the product features and can experience the real value that Yamaha provides.
Yamaha's motorcycle models have a cult following for many decades. Currently, the sporty commuters like the FZ FI and FZS FI, streetfighters like MT-15, race machines YZF-R15 Version 3.0 and refined quarter litre-class like FZ 25 and FZS 25 are well equipped to meet the aspirations of Indian youth who are passionate about riding, touring and adventure. With the current product line-up, the company's focus will be to cater to various riding requirements of the customers and to let them experience the Yamaha's excitement apart from the core utility of commuting or racing.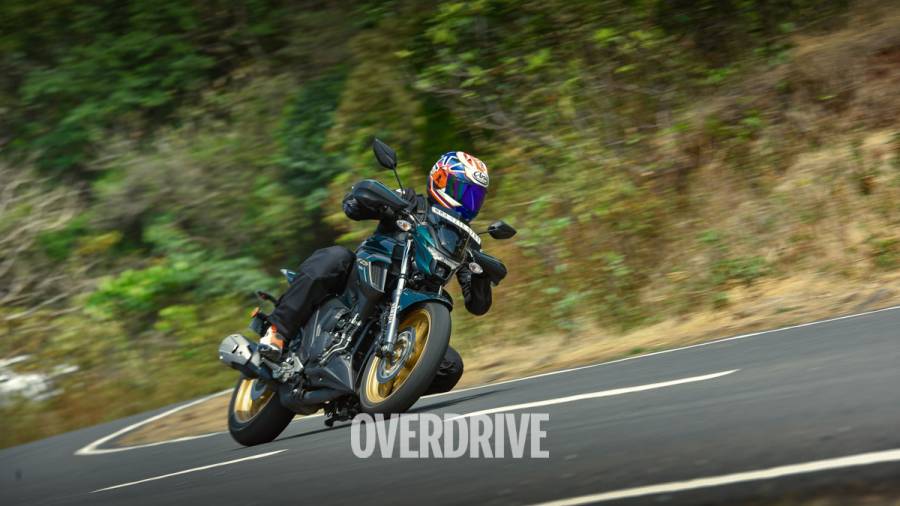 Q: By when do you see traditional two-wheeler marques like Yamaha enter the EV space in India?
A: Undoubtedly, Electric Vehicles are the future of the automobile sector and have a very high potential in the long term. However, its success will solely depend on the available infrastructure, affordability, and acceptability by the customers. India can achieve success only through a clear roadmap, stable policy, and proper planning. Currently, there are bigger challenges related to investments in infrastructure, charging stations, battery production and swapping infrastructure for electric vehicles.
We already have a dedicated team at our Headquarters in Japan who are working on an all-new electric vehicle platform for India and other global markets. We already have been manufacturing EV models in Taiwan for the last two years in association with Gogoro. So, having said this, I want to tell you that we have the technology and the expertise to develop and manufacture EV models. But at the same time, we also need to consider many factors like pricing, performance, and infrastructure before we roll out any products for the Indian market. We want to be sure that once the customer buys a Yamaha EV product, he should not face any issues related to charging, battery swapping or service.
We are contemplating all these factors now. Once, we have worked on all these areas, we may introduce EV models for Indian customers.
Q: Market research shows that as India moves towards its EV goal, electric two-wheelers will find a lot earlier adopters compared to the electric four-wheelers and tier two and tier three markets are likely to be a large consumer of electric scooters and motorcycles. Do you agree with this forecast? What are your thoughts?
A: As I mentioned earlier, investments in infrastructure, charging stations, battery production and swapping infrastructure for electric vehicles are going to play a vital role in the acceptance of EV models in India. In addition to this, pricing and performance will also be a major factor. And I think in the current scenario, infrastructure in the metro cities and Tier I cities are much better than any of the other category of cities in India. Also, for any two-wheeler player which wishes to make a mark in the EV space, they would want to introduce EV models in a market which has the capability and the infrastructure to support the requirements.
Q: Yamaha India has a strong presence in the premium space. Could you share what the roadmap looks like? Could we see more models from you in this space?
A: Rightly said, we hold a strong presence in the premium space and one of our strengths is the strategically planned product portfolio that consists of two-wheelers for all riding possibilities - new riders, experienced riders, riders seeking the finest technologies or advanced controls and adequate safety features. Our focus for the year continues to provide the best experience to the consumers through our exciting, stylish, and sporty products. Yamaha will continue with "The Call of the Blue" strategy that embodies the global spirit of motorcycling culture.
We will adopt and introduce the latest technologies and advanced features in our existing models but at the same also work towards launching new models which fits the customer's riding preferences, and which adds value to their lives.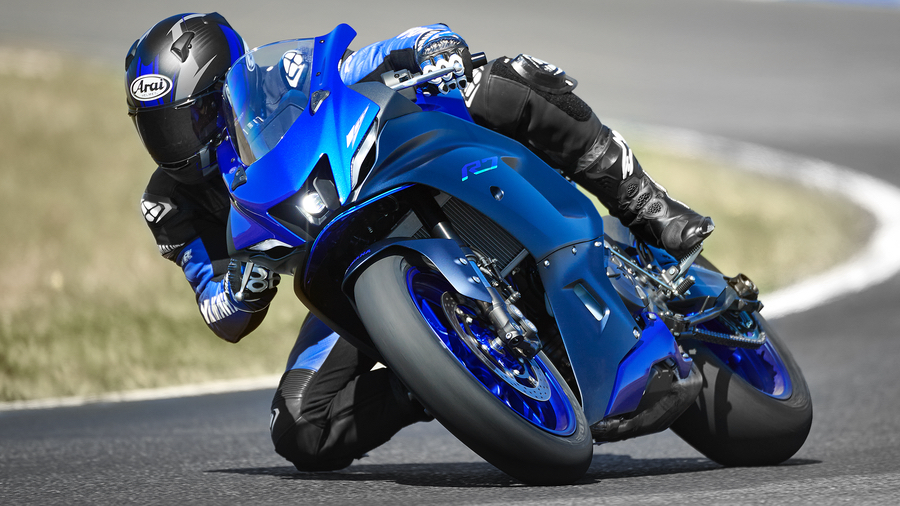 2021 Yamaha YZF-R7
Q: The adventure motorcycle segment has been the big talking point world over and even India isn't far behind with quite a bit of action seen in the entry-level as well as imported space. When do we see a Yamaha in this space? The Tenere maybe?
A: Indeed yes, while the Indian adventure and premium motorcycle market segment is at an initial phase, it has massive potential considering the increased purchasing power, aspirational levels for luxury brands and evolving lifestyles of new-age millennials. The Indian two-wheeler market has seen an influx of luxury and premium motorcycle manufacturers and the numbers will continue to grow to make India a much more conducive two-wheeler market. For Yamaha, at the moment our focus is to strengthen our portfolio in the premium segments comprising motorcycles with engines of at least 150cc and 250cc, and scooters with engines of at least 125cc. Having said that, I would like to point out that we will keep on studying and analyzing the trends in the adventure motorcycle segment.
Q: Industry experts believe that buying trends in the auto space are changing post the lockdowns e.g. sales of preowned vehicles have gone up, work from home is allowing people to think positively about vehicle purchases, the astronomical increase in fuel prices could lead to a boost in commuter two-wheelers etc. Have you witnessed any such changes in buying patterns? What segment of the two-wheeler market do you foresee the largest growth in the next five years?
A: Yamaha's target customers are in the age group of 18 to 40 years and the priority of this segment is to find the identity of their own riding personality along with exciting performance. This target group is more feature conscious and techno conscious and our efforts have always been to satisfy this age group with our innovation, latest technology, and advanced features. What we have observed over these years is that motorcycling is now becoming a part of the lifestyle for most of the millennials and they are less concerned about product pricing but more interested in owning a bike or a scooter with advanced features and technology.
The premium segment is surely going to witness rapid growth in the next five years. The 150 cc category has grown up as an important market wherein almost all motorcyclists converged for new product options and exciting rideability. Gradually when higher class products started entering, upscale buyers were seen stepping up while the 150 cc category continued to be an exciting class to beat back with the fun of motorcycling and superior commuting utilities. By 2015, it had become a new age commuter segment wherein many new/first time buyers had stashed owing to multi-utility, performance, and cost-effectiveness. Today's 150 cc class holds enormous value for both step-up customers and new riders and Yamaha has always been a strong contender in this category.
Q: I hear that you love motorsports. On a personal note, what do you think of Rossi's move from the Yamaha factory team to Petronas Yamaha?
A: Rossi is a champion and for me, his continued association with Yamaha matters a lot. His stellar contribution in the Yamaha factory team for 15 years is commendable. He earned 4 MotoGP World Championship Titles and secured 56 victories and 142 podiums in Yamaha's 255 Grand Prix races together. This is a big achievement and it's always going to inspire youngsters to excel and win podiums for the team.
I think Petronas Yamaha will really gain a lot from the doctor both in the form of a rider as well as a mentor. We are all excited to see Rossi on the track and I think nothing is bigger than witnessing this moment.
Q: Does Rossi's relationship with Yamaha have any impact on the brand's sales in India?
A: Rossi's image as a racing icon and his association with Yamaha's MotoGP team has definitely helped us promote the brand's racing culture in India. When we launched "The Call of the Blue" brand campaign in 2018, it was all about reiterating our commitment to offering two-wheelers to Indian customers that add up to the global spirit of Yamaha Racing. And when we talk about the spirit of racing, you cannot miss out on Rossi. It was this combination which further motivated us to play a significant role as a sponsor to the Qatar Moto GP test in 2019 followed by the launch of MotoGP Editions of R15 V3, FZ25 and Ray ZR.
I can convincingly tell you that in these years, we have successfully managed to build and propagate the exciting, stylish, and sporty image of the brand among Indian customers. They can now easily relate to the brand's rich racing legacy which cannot be complete without Rossi and his immense contribution.
Q: What should we watch out for from Yamaha India in 2021?
A: Yamaha will continue to offer excitement in the two-wheeler market with "The Call of the Blue" campaign that has already set its stage in unique sportiness and style. More as the year progresses, the company will stand by its commitment to introducing the global excitement of racing and motorcycling culture in India with the help of various products and experiences. Personal mobility will continue to remain a top priority in 2021. The two-wheeler demand is expected to gradually ride on the growth curve in 2021 and Yamaha aims to captivate this growth by driving most of its product publicity and campaigns over digital mediums for an enhanced reach.
Our focus will be to strengthen our position in the premium segment through a strong product portfolio of 150cc & 250cc motorcycles and 125cc scooters. We have also introduced "another exciting chapter" of style and excitement in India with the "colour order system". This is a unique initiative wherein patterns can be created with existing colour combinations for vehicle body and wheel that will help develop an entirely new look and appeal of the same two-wheeler. The "Customise Your Warrior (CYW)" campaign launched in 2020 for MT-15 is the first part of the colour order system. We will continue to drive the "strategic effort" with other products in 2021.
Additionally, we also want to target our customers through premium standalone retail outlets called Blue Square which is conceptualized to transform the customer experiences at Yamaha dealerships. Contrary to the conventional setup, Blue Square is designed to bring out "The Yamaha Uniqueness" and its sporty and stylish oeuvre in the overall build, appeal and customer interface. "Blue" characterizes Yamaha's racing DNA, while "square" defines a one-stop buying junction. Apart from the products, these outlets will also offer accessories and apparels, which are the prime focus of the company for the "Blue Square" theme. Our initial plan is to open around 100 Blue Square shops by end of this year across India.
Another important campaign which we have already started at the beginning of this year is the Test Ride My Yamaha campaign. The objective is to establish a deeper connection with the existing customers and encourage them to further create awareness about the safety features and advanced technologies in our products. Through this campaign, the company's effort is to provide the touch and feel as well as a personalized riding experience to more and more customers who aspire to own a Yamaha product. This campaign is aimed to foster higher levels of consumer engagement by providing the best customer experience. At the same, we want to help them understand the safety features in our products like a Side stand engine cut-off switch that prevents engine ignition till the side stand is withdrawn & ensures the safety of riders. Similarly, we also want to emphasize how The Stop & Start System automatically shuts off the engine immediately after the machine comes to a stop and is idling at traffic lights thereby helping to save fuel and achieve increased fuel efficiency.
Overall, the year 2021 will be more about reaching out to a wider audience in the metro cities and surrounding districts, where the demand for personal mobility will surge more than ever. Yamaha will continue to build a strong network and product portfolio in the premium segment and adopt innovative brand engagement campaigns on digital platforms to capture the growing demand.
Price (Ex-Delhi)
Starts Rs 50,817