Suzuki V-Strom 650 XT: What we like and disliked about the adventure tourer
The Suzuki V-Strom 650 is middleweight adventure tourer that packs in a host of features, and for its price, offers great value as well. The price difference over its nearest competitor, the Kawasaki Versys 650 is a little over a lakh but as we found out during our comparison test, the V Strom 650 has a clear advantage, justifying the premium that it demands. Here's a list of what makes the V- Strom 650 tick and what does not.
LIKES
Styling
It may not be the prettiest adventure tourer but the new V-Strom 650 looks way better than its predecessor (Google it). We also feel that the Suzuki DR-Bing inspired beak lends the bike an identity, something that's hard to find in some motorcycles. The V-Strom 650's dimensions are quite big as well, almost as big as a full-size adventure tourer. And then there are those shiny gold rims on the yellow V-Strom 650 that simply enhance the look of the motorcycle.
Tubeless wire spoke wheels
Wire spoke wheels are an asset on our kind of roads. With potholes taking road users by surprise, the threat of a busted rim is ever present. That's where the impact absorbing ability of a wire spoke rim comes in handy, especially in the middle of nowhere. Wire spoke rims are also useful while riding off-road and the best bit about the V-Strom's rims is that it's fitted with tubeless tyres, so that's additional peace of mind. Also, tubeless wire spoke rims are expensive and do not feature on motorcycles costing almost twice as much.
Engine
The V-Strom's liquid-cooled V Twin motor is an absolute gem. It is refined, produces oodles torque (62Nm @ 6,500rpm) and has excellent driveability as well. You can potter around town at low speeds, in high gears without a hint of protest from the engine. Also, at highway speeds between 100-120kmph, the motor is calm and almost vibe free. For instance, at 100kmph, the engine is revving at 4,500rpm only.
Ride quality
Though the suspension components are conventional, right side up forks and a pre-load adjustable monoshock, the V-Strom 650's setup is spot on. Bump absorption is good but stiff enough to ensure the ride is not bouncy or wallow. Even while riding off-road, the suspension does a good job of absorbing impacts.
Tyres
The Bridgestone Battlax adventure tyres offer good feedback on tarmac and its block pattern tread makes the riding the bike off-road easy.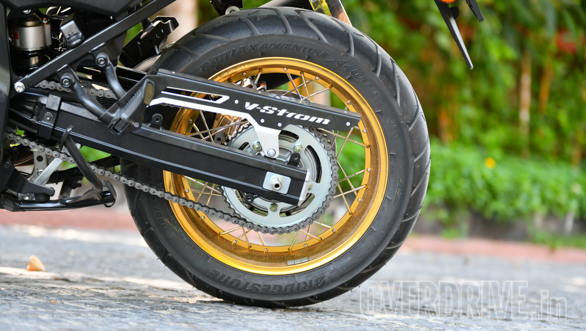 Safety
Besides ABS, the V Strom has a two stage traction control system. So riding on tricky surfaces or concrete roads won't induce wheelspin, incase you are hamfisted with the throttle or a beginner. But if, you are a professional with years of experience, you can switch off traction control and indulge in some sideways fun!
DISLIKES
Not a true blue off-roader
Given the limited scope of the suspension and the fact that the V-Strom 650 is a heavy machine, you can't go all hell for leather while riding off road. So, big jumps are a serious no, no and keeping in mind that this bike is a Sports Adventure Tourer and not an Enduro is important.
No adjustable clutch lever
While the brake lever is adjustable, the clutch lever is not and it just comes across a poor cost cutting technique. The Versys 650's levers are adjustable, so it's puzzling why Suzuki didn't offer the same on the V-Strom 650.
Cumbersome windscreen adjustment
The windscreen can be adjusted to suit riders of varying heights, but that requires one to stop the bike and use an allen key to loosen and re-attach the bolts. This can become very cumbersome and simpler mechanism would've been better
Also see: Suzuki V-Strom 650 XT vs Kawasaki Versys 650 Video
Price (Ex-Delhi)
Starts Rs 8,84,804
Price (Ex-Delhi)
Starts Rs 6,79,000