Suzuki Gixxer long term review: After 12,170km and 15 months
It's been an eventful month and half for our Suzuki Gixxer. One morning, when Rishaad was riding it to Pune for a shoot, there was a sudden change of engine note and loss of power. Luckily, he wasn't too far away from home and managed to crawl it back. Suzuki confirmed his fears, it was an engine seizure. The oil window was empty but there was no sign of a leak anywhere on the engine - surprising because it'd been less than 2,000kms since the last service. Suzuki claims they've never seen this before and as of now, there's no answer on why it happened.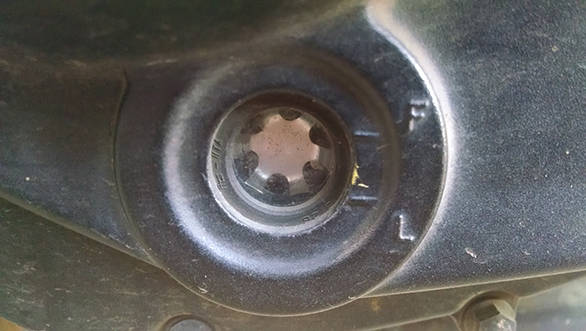 The low oil level resulted in insufficient lubrication at the head and hence caused a partial seizure. The Gixxer now has a new cylinder block, piston, timing chain, clutch plate assembly, cam chain tensioner, cam chain guide, cam shaft, camshaft sprocket, valve rocker, gaskets, engine oil, oil filter and spark plug. Pretty much a brand new engine. Total cost? Rs 6,942. Suzuki says that if such a problem were to occur with a customer's motorcycle (it's never happened before) during warranty, the owner would not be liable to pay.
Back from service, I began running in the Gixxer. Soon after, I registered for the Indimotard TWO Track School at Kari Motor Speedway, Coimbatore and the Gixxer was the bike I'd be riding to the track and back. Talk about trial by fire!
It was a long ride from Mumbai to the track and we covered over 3,000km in five days to and fro. The Gixxer does not feel strained until the 110kmph mark after which it begins to lose steam. Since I had two considerably faster bikes for company, I had to keep the throttle pinned the entire way. Revving around the 8,000-8,500 mark, it returned 22-24kmpl. It took a lot of effort to maintain pace, but the Gixxer coped well.
The reward for all that exertion? A supremely memorable track experience. Here's where the Gixxer shone. I was riding on a race track for the first time ever, and on a tight and technical circuit like Kari. But the Gixxer gave me incredible confidence. It's brilliant chassis, grippy rubber and smooth throttle response helped me focus on the drills and worry less about the motorcycle. The brakes are good, but could do with a little more bite, especially when hauling the motorcycle down for the challenging C1,C2, C3 complex. But, overall, the Gixxer is a gem. Despite all that hard riding, the engine's smooth nature has not changed. The handling is the class benchmark. The Gixxer (and the track school) has helped me learn to ride better. It's going to be hard to bid adieu to this brilliant motorcycle, but I guess, that's part of filling my closet of wonderful memories.
Date Acquired: Dec 2014,  Total Mileage: 12,170km/15 months,  Last report at: 8,352km/Jan 2016, Fuel: 110 litres, Efficiency: 34.7kmpl
Also read:
Suzuki Gixxer long term review: Introduction
Suzuki Gixxer long term review: After 7 months and 4,629km
Price (Ex-Delhi)
Starts Rs 1,11,871