Suzuki Burgman Street long-term review: Introduction
Maxi scooters are pretty much unheard of in India and the last time one was on sale, it was many over a decade ago in the form of Italdesign Kinetic Blaze. The 2018 Auto Expo Suzuki introduced a new maxi scooter in India, the Burgman Street. And to be honest, I was always hoping that I'd be assigned the Burgman as my long-termer. So, here it is, the new member of the OD garage and yours truly's daily commuter.
First things first, I really like the design and the white shade only makes it more appealing to look at. It actually looks quite large and that draws a lot of attention. The 14-inch, blacked out alloy wheel at the front looks good but the smaller, 12-inch wheel at the rear looks out of place. It's the only issue I have with the scooter's design. As a photographer, I have a keen eye for aesthetics as well and I have to say that the Suzuki Burgman Street appeals to me in this department as well. I like the design of the handlebars as well as the all-digital instrument panel. But my favourite bit is the LED headlamps that look ultracool!
My commute to office is a 30km ride that involves a bit of highway and a bit of city roads. So far, I've found the seat to be extremely comfortable and the large floorboard allows me to sit comfortable, legs stretched a fair bit. The riding posture feels quite natural as well and I'm already chalking out plans of a long highway trip.
The peppy 125cc engine from the Access has always been a favourite and in the Burgman, it doesn't feel underpowered as I had initially expected.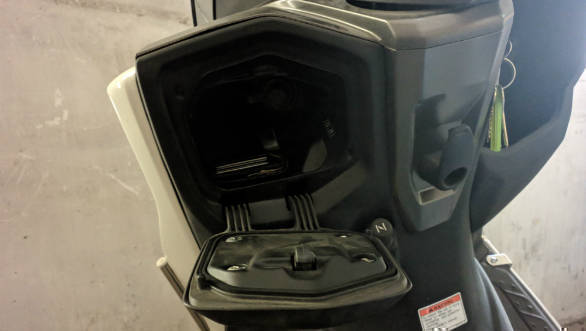 There's a lot more in store for my new long-termer as I'm going to test its abilities over a period of time, including lugging around my photography equipment. Let's see how it goes.
Acquired:
December 2018
Inducted at:
 912km
Total mileage: 
1,607km
Fuel: 
19.85 litres
Economy:
 35kmpl
Next update:
A long highway ride
Price (Ex-Delhi)
Starts Rs 77,900