Supercar cool: The tech behind Ferrari's advanced air-conditioning systems
The automatic HVAC is a complex system and is the second most calibrated parameter after the engine management system. The approximation of the inside and outside air temperatures, the localised heating caused due to the sun load, humidity control, oxygen levels to prevent drowsiness, vehicle speed, cabin size and many more factors go into the automation of the HVAC to give the users utmost comfort. The cars are calibrated in the Northern as well as the Southern Hemispheres to fine-tune the parameters in the hot and cold seasons in addition to the temperature/humidity controlled wind tunnel testings.
A Ferrari is a high-performance vehicle and the challenges faced while designing the HVAC for it were unique. The shape of the cabin, the rear-seated engine, the high current carrying harness, hot exhaust gases, the local hotspots due to vicinity to the above elements and the proper placement of the sensors were some of the challenges that had to be overcome. In addition, flash fogging not just on the windshield but also the windows needed to be taken care of as a safety aspect.
The HVAC ducting for the car had to be designed with utmost care to avoid localised heating. In convertible Ferraris like the 488 Spider, the high acceleration profile of the car called for dampening systems to avoid sudden gusts of wind being blown into the cabin. The open rooftop mode had to be taken into consideration to ensure uniform cooling even when the roof was open. The lateral vents are separately controlled to avoid window flash fogging with inputs from the fog sensor. The air quality sensor and timed recirculation ensured oxygen-rich clean air in the cabin. These are some of the many challenges that were resolved in the designing of an HVAC system for a Ferrari.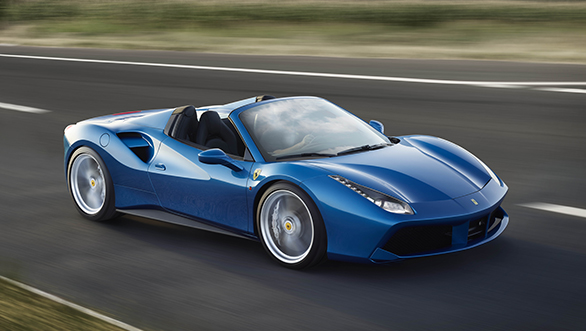 In any car, the demand for engine power translates into turning off the compressor which then affects the internal cooling. However, for a high-performance vehicle like a Ferrari, meeting this demand would mean a mediocre air conditioning inside the cabin. Hence, Ferraris are equipped with lightweight, compact and smart variable displacement compressors that are pneumatically controlled so as to not overload the engine. This ensures that the car delivers maximum performance without affecting the air conditioner's performance.
While many seem to overlook the capabilities of the HVAC, it remains to be one of the essential pillars of passenger comfort and safety in Ferraris.
Words: Darshana Tikle
Also from OVERDRIVE:
Ultimate Indian automobile AC test: The testing parameters
Hyundai i20 Active's AC is best among Indian hatchbacks!
Hyundai Creta's AC scores highest among SUVs and MUVs in India
Hyundai Elantra's AC rated highest among sedans in India
Then and now: When ACs were not common in cars
Simple Tech: Air conditioning and ozone explained
Price (Ex-Delhi)
Starts Rs 4.4 Crore
Price (Ex-Delhi)
Starts Rs 9.99 Lakhs
Price (Ex-Delhi)
Starts Rs 17.6 Lakhs
Price (Ex-Delhi)
Starts Rs 6.8 Lakhs
Price (Ex-Delhi)
Starts Rs 7.74 Lakhs