Special feature: To the 2016 Auto Expo with Zoomcar
It's no secret that Team OVERDRIVE loves road trips. We've always jumped at every opportunity and when it was time to decide our mode of transport to the 2016 Auto Expo, driving down to Delhi was the only one that occurred to us, really. Now, we usually drive down to Delhi/Greater Noida in cars from our longterm fleet. But this time,we decided to do things differently. We decided to hire three vehicles from Zoomcar, to discover what it's like to drive without having to worry about the servicing etc for one's own vehicles, and decided to make our biennial pilgrimage to the Auto Expo.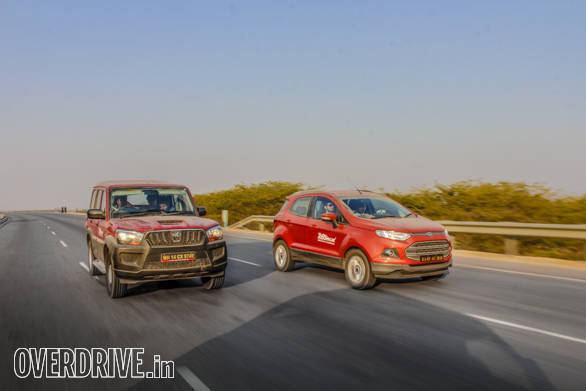 We logged on to the Zoomcar mobile app and browsed through their wide range of cars. In the end, we chose two Mahindra Scorpios and a Ford EcoSport as our rides. After punching in our details and paying the rental fee, we were all set. Zoomcar has unique fee slabs that let you book cars as per your itinerary. Zoom Lite and Zoom Classic are tailormade for short trips and drives to city outskirts while Zoom XL is ideal for long drives, like the one we undertook. (Zoomcar also offers free kilometres depending on the package. So, the more the kilometres, the greater the discount).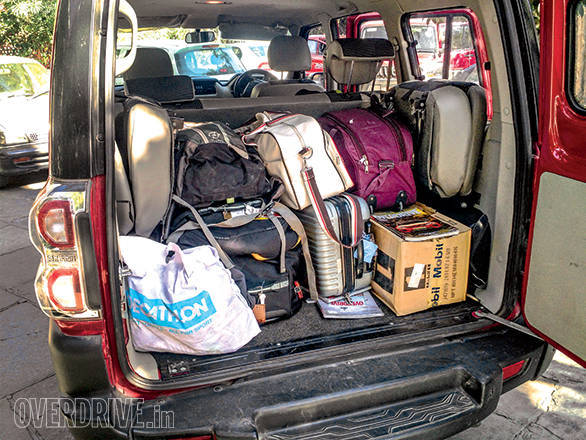 The Mahindra gobbled up our luggage with room to spare
On the first day of the trip, we met up at the Zoomcar parking lot that's conveniently located at the Domestic Terminal of the Chhatrapati Shivaji International Airport. After a short briefing and getting acquainted with the SUVs, we were handed the keys. We were also delighted to discover the strict maintenance procedures that Zoomcar adheres to. The SUVs were washed, interiors clean and had all travel documents in order. Zoomcar also provides a USB car charger and an AUX cable to enable you to listen to your favourite tunes on the move. We loaded the cars with our luggage, laptops and computers and set off on our voyage. Traffic out of Mumbai was moving at a steady pace and we stopped for breakfast about 100 kilometres from the city. After a quick bite and a hot cuppa of freshly brewed coffee, we were back on the road. We were cruising at a steady pace and well within the limits.
That's when our designer Jatin noted, "It feels so safe to go on long drives with someone you know at the wheel." He was paranoid about the trip right from the time we told him he was part of OVERDRIVE's contingent to the Expo. Now, Jatin would rather take the train than get into a car with an unknown driver. Which is where Zoomcar's core advantage comes into play. You don't have to rely on someone unknown or with dubious driving skills, which assuaged Jatin's fears and added more miles to our driving experience – win! You are in full control of the car and can drive at a pace you are comfortable with. An added benefit is privacy when travelling with your folks – so Team OVERDRIVE could be their usual goob-ish selves without having to include an outsider in the fun.
We entered Gujarat by late afternoon without any worries. The Zoomcar SUVs had a yellow plate with an all India Permit which lets you travel unhindered across state borders. The roads in this part of the country set an example that other states ought to follow. Smooth, well designed and with adequate signage on the roads, we were in driving heaven. Traffic was sparse and we steadily increased our pace. We stopped at Surat for lunch and gorged on traditional Gujarati cuisine which is usually on the sweeter side. All of us indulged in the spread on the table except for our photographer and resident chilly lover, Suresh Narayanan. (A little note at this juncture.. If you order masala chaas in Gujarat, you get a potent mix of buttermilk with green chutney, instead of the mild, black peppered affair we're used to in Maharashtra. While we struggled to gulp it down, Suresh was happy to get his regular dose of chillies.)
We tanked up the Zoomcar Scorpios and EcoSport and continued towards Vadodara. It was a pleasant drive until we reached the dreaded Bharuch jam. The authorities have been building a new and wider bridge for quite some time. All we could see was a long, seemingly endless train of trucks with a few cars in the mix. But because we were in SUVs, we just took them off-road on a route that ran parallel to the main road – no questions asked. Upon reaching Vadodara, we turned off NH8 to explore a new route, the Halol-Shamlaji highway. We were skeptical in the beginning but were pleasantly surprised with what lay ahead of us as soon as we crossed the toll booth. Unblemished tarmac, flowing corners and minimal traffic. Our principal correspondent, Rishaad stepped on the EcoSport's gas pedal, Wham! on the playlist and corner carving putting a mile wide smile on Bawa's face. This road serves as an alternate to the NH8 and bypasses urban settlements of Ahmedabad, Gandhinagar and Himmatnagar. The highway bypasses Godhra enroute to Shamlaji and it's a route that's best experienced than told or written about in this case. We stopped at Udaipur for the night, our convoy of Zoomcar SUVs rumbling slowly into the lake city at a very odd hour.
The next day we got the cars cleaned off all the highway grime- yes we are very particular about looking after the cars we drive. We had about 650km to go to Delhi but none of us were worried. We knew we'd make it, cosseted in the comfort of our SUVs.
Halley Prabhakar, our talented road test editor got behind the wheel of the Scorpio as we made our way out of Udaipur. He owns a ten-year old Scorpio and is highly appreciative of the new Scorpio that Zoomcar has inducted into its fleet. It's a great mile muncher and ideal for such trips. The EcoSport on the other hand is equally effective with an involving ride and handling package. We crossed over into Jaipur around lunch time and continued onto Delhi. We entered the capital to be greeted by an endless jam. What's also a bit unnerving about Delhi traffic is their disdain of following general traffic rules. Cars usually travel a few mm away from each other – we'd only shudder at the thought of having to drive in a little car. Thankfully and expectedly, the Mahindra Scorpio is treated with a lot of respect, even in this part of the country. Its imposing stance and muscular styling sent them sedans and small cars scurrying for cover. We simply slotted the EcoSport in between the convoy and carried on unperturbed. Finally, we made it to our destination at Sector 44 in Noida. Zoomcar provided us with an additional Scorpio and EcoSport in Delhi, taking the total tally to five cars.
Lijo-tall-Mathai was most comfortable behind the wheel of the Scorpio
Over the next set of days, the Zoomcar SUVs were used to ferry the team as well as equipment to the India Expo Mart, the location of the Auto Expo. In fact, we set up an office at our pavilion to ensure that our readers were updated with the highlights at the Auto Expo as soon as they happened. We can only imagine what a nightmare it would have been if we had to hire a regular rental car with a driver. With the pressure and intensity of the Auto Expo at fever pitch, the last thing you want is a sullen driver who simply does not want to drive to and fro, multiple times.
After we were done at the Auto Expo, it was time to celebrate a job well done. Again, the SUVs from Zoomcar served as the ultimate mode of transport as we (which now included the marketing team) set about hunting for local cuisine. At last we homed in on a street that served some of the most delectable sheek and tunde kebabs with piping hot momos. For dessert, we savoured gajar-ka-halwa and hot gulab jamuns. Rohit Paradkar, a self confessed foodie just like me, topped his bowl with vanilla ice cream – it's an unlikely but well-known marriage of two different flavours that complement each other. It was only obvious then that everyone followed suit.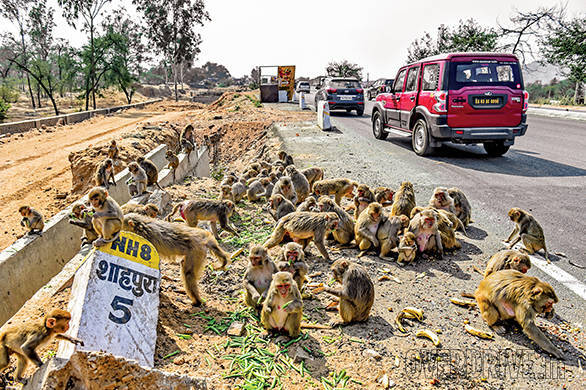 It's lunch time on NH8 for these simians
The next day, we set out on our return journey to Mumbai. With no deadlines to meet, we began soaking in the scenery that appeared through the windshield of our vehicles. It's surreal, the varying landscape of our country. The colours of the soil and rocks, the houses that dot the highway, the people in various garbs, the feeling of breathing in fresh air, the joy of cruising down a beautiful highway without a care in the world. A road trip can be an eye-opener for one and a soul soother for another. It can make you delve deep inside you and find yourself again. We cruised into Udaipur around 9pm and began looking for a place that served the best lal mas. Now Google maps will show you the route to your destination but not tell you if the road is wide enough – the app is funny like that. Soon we were struck in a jam of our own creation. The same size and presence of the Scorpio that was a boon on Delhi's wide roads turned out to be a nightmare in the ultra narrow streets of Udaipur. With barely enough room for a Scorpio to pass through, we had to tackle a steady stream of oncoming motorcycles and pedestrians. Having had enough of sitting and staring at the Scorpio's rear for a while, Rishaad jumped off the EcoSport to play spotter. The Wham!-fanboy turned out to be a blessing as we managed to get ourselves out of the mess in no time – freedom! After such a harrowing experience, we were itching to get our forks into freshly cooked meat. But as we entered the hotel, Halley broke the bad news, "We have to book tables in advance to eat here."
This jam on the highway was caused due to VVIP movement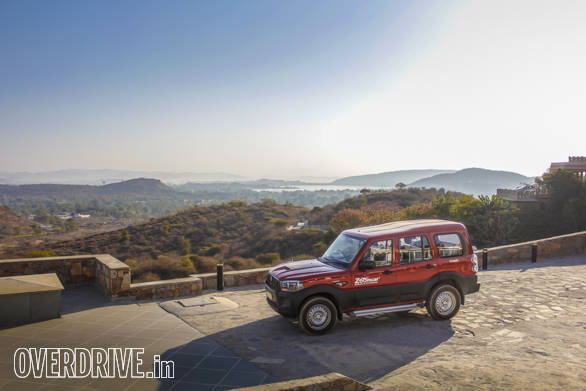 There, as we saw our imaginary bubbles of fresh lal mas burst, hunger was driving us through the roof. We had to traverse the route on the way out to our hotel. This time, however, we were more confident. You wonder how? A driver in a BMW 5 Series went past us, narrowly missing the rocks on the verges made it look so simple. Thankfully, we made it through without any difficulty. After a few U-turns and a few missed turns (yes, Google maps takes time decide where you're heading), we made it to the Rang Niwas Palace, our abode for the night. After a few drinks and fresh meat, Team OVERDRIVE hit the sack.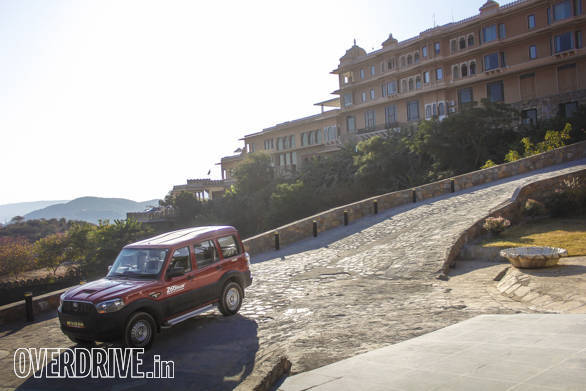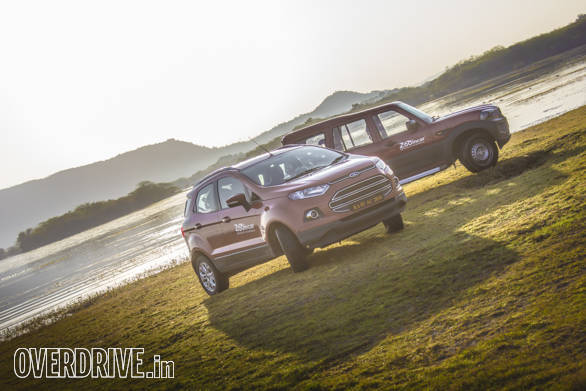 Stop, sightsee and snap a picture whenever you feel like. That's the convenience of hiring a Zoomcar
The next morning, Halley, Suresh, and new recruits Rahul, Pradeb and Anis met up at the hotel porch, greeted by a chill in the air. It can get very cold in this part of Rajasthan. We drove over to the banks of Lake Pichola to take a few pictures. It was calming, the sight that unfolded ahead of us. We also snapped a few rare birds, basking in the morning sun. Halley along with Rahul and Anis took off in one of the Scorpios to meet an old friend at the Fatehgarh Palace (Fatehgarh Niwas). There, he checked out the envious collection of vintage cars that have been restored and maintained in a pristine condition. These beautiful machines of yore evoked feelings of passion in our resident vintage car lover, Rahul Richard. What's ironic is the fact that he is the youngest member of the team.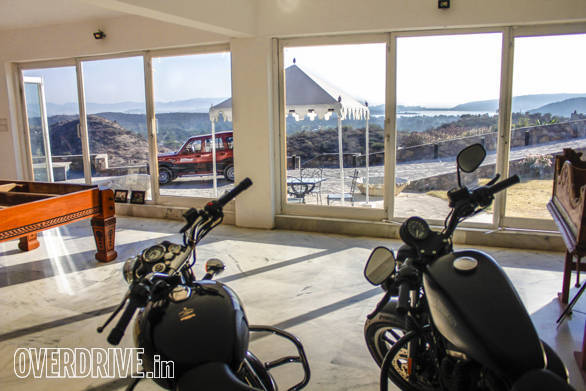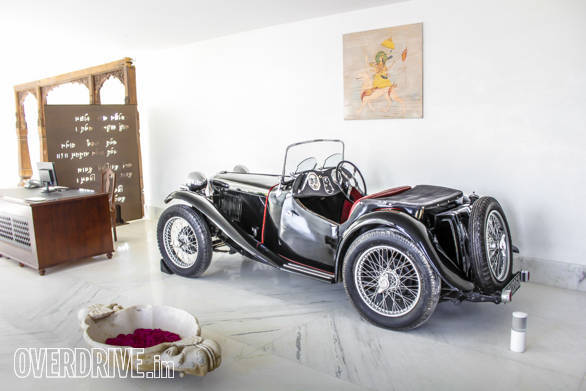 Claissic car at the Fateh Garh Palace, Udaipur
After snapping a few pictures of the hotel, we set off on the final leg of the journey, Udaipur to Mumbai. That's driving across three states. We drove out of Udaipur and got onto NH8. We set course on the same route we used to get to Udaipur from Mumbai. Cruising at a steady pace, we were making good progress. The lunch stop doubled up as a discussion session where all shared anecdotes from their experiences at the Auto Expo. Assistant news editor, Lijo Mathai, as usual was goofing around with his strange brand of humour that we've somewhat gotten used to. Halley was assessing every dish on the table (he's our food test editor too!). But man on fire was Rishaad. No, he didn't win a Grand Prix. He had way too many chillies and had turned red. Way to go-go, Rishaad.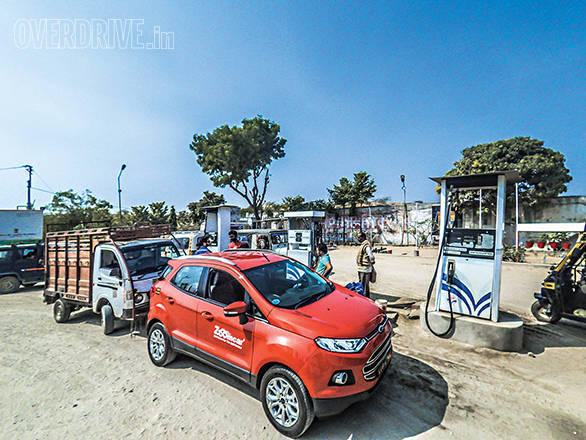 Three tank-ups is all it took to get from Mumbai to Delhi
We thought it'll be an uneventful drive back to Mumbai but we were wrong. In an attempt to bypass the Bharuch jam, we tried using the old bridge over river Narmada. Unfortunately, it was shut for traffic between 4pm and 8pm. We were lost for a while, running around like chickens with heads cut off. Finally, maps put us on a route that helped us skip all the accumulated traffic on NH8 and got us to the beginning of the bridge. Our features editor Ashok was smiling and happy to see this – to see him do that is just, well, rare.
We crossed Surat by nightfall and stopped for dinner, about 150 kilometres before Mumbai. Parsi-da-Dhaba is renowned for its authentic Parsi food and we couldn't help but eat to our heart's content. Our table was a sight in itself. A spread fit for kings. Men chomping on the delicacies whilst chatting, laughing and completely lost in the moment.
We are a team yes, but as the journey was drawing to an end, I could see bonds growing stronger and deeper. As we entered Mumbai city, there was a collective sense of achievement. We covered over 3000 kilometres together. We saw the magnificence of our country together. Meals were shared over conversations. We were outside the confines of our office, we were all in a different light. As we retired for the night, we couldn't help but look at our vehicles – grateful to Zoomcar for making all of this possible. The entire experience of renting and driving the cars was glitch-free. We returned the cars the next day, where a company person checked the car before making us sign a form that said, "Car is ok." Success!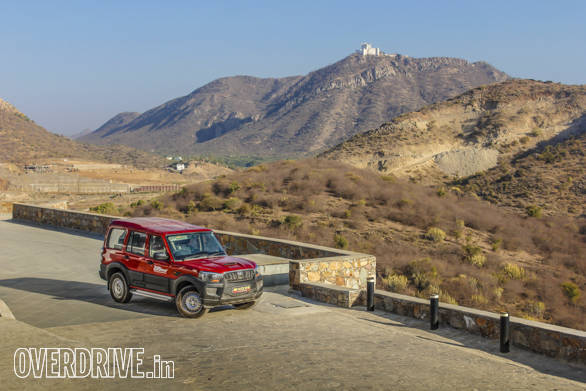 A road trip can be a surreal experience. Don't wait to have one of your own
Zoomcar turned out to be completely hassle free experience. The SUVs were in great condition, we were not stopped or harassed by cops at border crossings and the best part is that we were reimbursed for all the fuel we put in the SUVs. So, in case you plan to rent a car for a long drive but want to do so at your own convenience, Zoomcar got our vote.
Price (Ex-Delhi)
Starts Rs 62.9 Lakhs
Price (Ex-Delhi)
Starts Rs 7.99 Lakhs
Price (Ex-Delhi)
Starts Rs 12.4 Lakhs