Special feature: Tasting spicy delicacies of Maharashtra in Hyundai Verna
Hyundai is among the few car manufacturers in the country that has retained its dominant presence in all its years of existence, which is indeed impressive in a market that has automobile brands from all parts of the world. Take any of their present-day offerings and you will realise they have set a benchmark of some sort in their respective segments.
The sedan that we are focussing on in this installment of Going the Distance with Hyundai is the spirited new Verna. It entered the Indian market not too long ago but is already gaining popularity among buyers, for it is a spicy mix of a powerful engine complemented with advanced connected car telematics and nicely blended comfort and safety features, garnished with a sculpted razor-sharp design language. A perfect delicacy then, right? The only way to experience all of that is to taste equally spicy delicacies synonymous with the grand state of Maharashtra.
In a world where people are connected with technology, it is obvious to expect your car to do the same, right? The Hyundai Verna comes equipped with Hyundai's BlueLink advanced telematics which lets you power on the engine, and set the climate control to your comfort without even being near your car. And not just that, you can lock, unlock, get driving range, tyre pressure info, share location, ask for RSA help and even get cricket scores. Also, you can search for a location on your phone and push it your car's touchscreen infotainment.
Precisely what we did for our first destination of the day, which took us to the outskirts of Mumbai to a place called Ramakant Vada Pav, that was established in 1936 and has a legacy of 84 years and counting. One of the first eateries of its time, people swear by the quality and taste of the vada pav served here which has been consistent over time. What makes a Hyundai the benchmark and a popular choice amongst its competitors is the well-thought list of features which includes wireless charging, ventilated seats, digital console, smart trunk, emergency stop signal and more.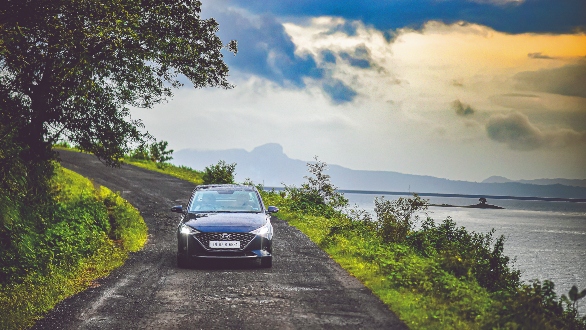 The combination of these features offers a premium experience. Similarly, the next delicacy in our list is a mixture of simplistic yet tasty ingredients to form a wholesome meal of misal pav, a famous Maharashtrian delicacy that is seen as a quick and affordable yet filling meal. For this, we visited Buvachi Misal, a 35-year old eatery that was founded by Dagdubua Gaikwad, mainly to serve travellers in the yesteryears. Even though the brand has seen ownership by multiple generations, the taste has remained unchanged. Proof of which can be seen in the large turn-up of people on all days of the week.
As for Verna's powerplant, you can choose from a wide spread of engine and transmission options but the one that we had for this instalment was the 1.5-litre diesel engine that makes segment-leading outputs of 115PS and 250Nm. What you will like about this engine is how gentle and refined it feels at slow speeds, yet how responsive it is with every tap of the pedal, making all of that power and torque that the engine boasts of quite apparent.
Matching the meaty torque of this engine was our last destination for this trip, Shilpa's Homely Food in Lonavala. Famous for its non-vegetarian preparations, this humble eatery boasts of famous clientele from the Thackeray family to Rajesh Khanna, Asha Bhosle, Shabana Azmi, and even Salman Khan.
What makes the place special is that the food is still prepared by the family members using home-made masalas. Additionally, the support crew too are treated as family members, to make sure the connection with the roots is not lost. While the delicacies served at these three places are different, the common link between them is the constant endeavour to serve the best to its customers, earning their respect and appreciation.
Similarly, Hyundai has always paid keen attention to its Indian audiences and has tailored its offerings keeping the tastes and aspirations in prime focus, which we believe has played a big role in the brand's successful journey in the country.