Special feature: Keeping it natural with Honda WR-V
Thanks to technological marvels, one no longer has to leave to the cosy comfort of the couch to satisfy hunger pangs. Just get your smartphone out, select your favourite restaurant and in a matter of no time, you can get your favourite cuisine delivered to your doorstep. Simple and easy. But then, the real flavours of the cuisine is lost somewhere in the journey from the restaurant to your plate. Apart from the fact that it does not come even remotely close to something prepared fresh out of the kitchen, served piping hot, ordered-in meals just lack the right feel. Now imagine how amazing it will be to taste delicacies prepared right in front of you in a natural setting with a sea in the background. Too difficult to imagine? Not for us as we recently witnessed the same at India's popular party capital, Goa, which in addition to its sun-kissed beaches and susegad lifestyle, is also famous for its seafood.
The simplest way to make any plan foolproof is to get the experts. And that's precisely what we did. Our first expert was Chef Shubehndu Kadam who comes with more than 12 years of executive chef experience with Wellness, Asian, Tapanayaki, Western banquets, fine dining and speciality seafood restaurants in India, Indonesia and Phillipines. Also, the winner of multiple awards and accolades throughout his career. Our second expert was the Honda WR-V that offers the convenience of a versatile offering with the manoeuvrability of a hatchback, performance of an SUV, and also comes loaded with features.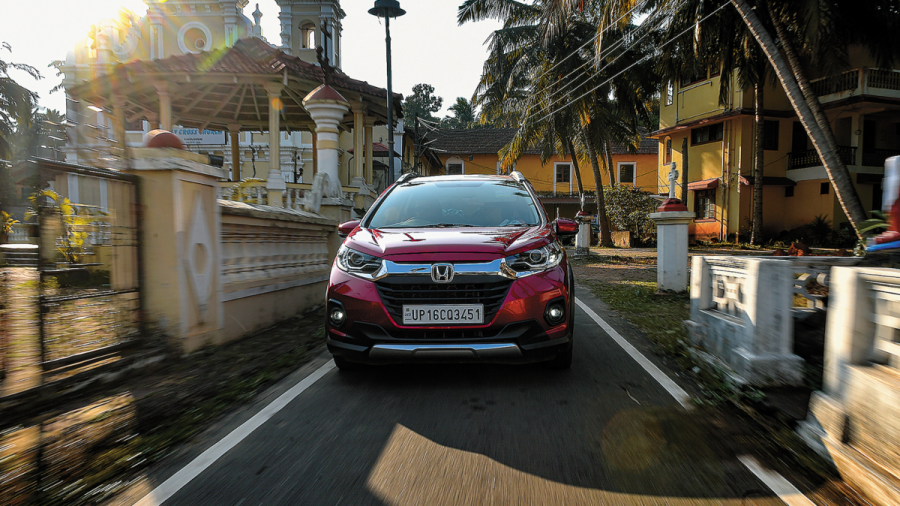 The diesel workhorse of a motor in the Honda WR-V just ensured that the 600km journey from Mumbai to Goa wasn't much of an effort. And a big credit for that goes to the torquey nature which is of big advantage on the highways. Additionally, the WR-V's handling took care of the turns and curves of Chorla ghat on the way to Goa from Mumbai. After catching up with Shubhendu in Goa, we proceeded towards the local fish market where he likes to buy his fish from. However, Shubhendu seemed to be sceptical about the WR-V making it there as the lanes to the market were pretty narrow, as he was clearly intimidated by the dimensions of the WR-V. But then he gained confidence as we manoeuvred the WR-V through the bylanes, without sweating it out.
Just like the WR-V impressed us with its dare-to-go-anywhere nature, Shubhendu brought in his prowess while selecting some of the best fishes and ingredients from the sea market, also teaching us a thing or two about how to select the right fish by checking their freshness, texture etc. After hovering at the market for a good time, he carefully selected tiger prawns, pomfret and mackerels along with special spices and masalas that are authentic to Goan cuisine. Considering that the WR-V
is an outdoorsy vehicle, the idea was to pack in everything that we would need to prepare food out in the wild. We threw in a full-size barbecue, coal, couple of chairs and a whole lot of cutlery and kitchen equipment to prepare our chef's three chosen dishes - Tiger Prawn Peri Peri, Grilled Pomfret Cafriel and Hay Smoked Mackerels. The WR-V happily obliged with its 363-litre boot space. What also deserves a special mention is the WR-V's generous best-in-segment cabin space which not only offers an airy experience but at the same time brings in more convenience for all the occupants.
To get the right setting, we took the WR-V on a not-so-frequently charted terrain cause the view in the background captured everything that Goa is famous for - sea, beaches and the perfect weather. The preparations of these dishes were as unique as well as Shubhendu used a forgotten traditional form of preparing mackerels using nothing but marination of sea salt and hay. Next were the tiger prawns that were grilled with Goan coconut vinegar and spice-infused peri-peri chillies and the last was the pomfret that was stuffed with mild spices, coriander, mint and green chilli and served with a gentle squeeze of lemon.
Now that's how we like our food prepared and served. Fresh in front of our eyes, spreading a heavenly aroma and capturing all the real flavours of each and every ingredient that has gone into the preparation. All of that complemented by a serene backdrop. No wonder none of the team members was complaining even though we were working on a weekend. We enjoyed feasting on these mouth-watering preparations while Shubhendu developed a liking for the WR-V. However, it does not end here as we have more adventures planned with Honda's most celebrated offering.
Photography: Sumit Gaikwad
Related Stories