Special feature: Coast to coast in the Jaguar XE diesel
Adam's Bridge or what is also known as Rama Setu is a chain of limestone shoals connecting India to Sri Lanka. Is it a geological formation or man-made as mentioned in the Ramayana is not for me to decide? For me it is a one more of those incredible sights that makes this planet spectacular. On one side of the Rama Setu lies the Bay of Bengal and on the other is the Indian Ocean. While the Indian Ocean rages on one side, its waves bashing their heads against the shore. In the Bay the water is calm, soothing, almost placid reflecting the early morning sun as it climbs up from the horizon. This is the east coast of India, and I'm here at 5am to start off a drive from Dhanushkodi, the easternmost tip of Pamban Island in the Jaguar XE 20d which has recently got the new 4-cylinder Ingenium engine installed in it. The objective of the drive: see the sunrise on the east coast and then race it 400 kilometres away to the west coast, and do it all on a single tank of fuel! So, while the sun traces its arc across the skies, I'm going to navigate my way overland across south India to Kollam on the west coast. From a 6:01am sunrise time to a 6:04pm sunset time, we had a deadline to meet! We also had to make sure we did not run out of fuel, which meant balancing speed and efficiency. Sounds like a challenge? Thus, could we, the Jaguar XE and I bid goodbye to the sun on the other side? It's a race against time!
Waiting for sunrise at Dhanushkodi on the east coast of India
Dhanushkodi, where our drive begins, was once a small town, but a massive cyclone in 1964 ravaged it forcing its inhabitants to evacuate. They haven't returned ever since. It's a ghost town today, with ruins and the usual tourist traps being the only residents. The narrow strip of land that exists was once nearly half a kilometre wide. Today it's much narrower but supports a fabulous strip of road, which runs for some 17 kilometres. Arrow straight and smooth, it's a stunning strip of tarmac to kick-start our drive, which begins the moment the sun climbs up into the sky. Actually, it did not quite happen that way, while the sun did climb out, so did our photographers and videographers equipment to capture the moment, and several more after that! It's a good time then to tell you more about the Jaguar XE 20d with its new diesel engine. Jaguar recently had a soft launch of the refreshed XE announcing prices and options. What did kind of slip under the radar was the advent of the 2.0-litre 4-cylinder turbocharged diesel engine that belongs to the Ingenium family. This new range of engines is Jaguar's answer to existing and forthcoming petrol and diesel fuel efficiency and emissions norms. Smaller in capacity, it still has the depth and versatility for multiple applications. The XE now gets the Ingenium diesel for the first time and with it comes a change in performance, fuel efficiency and ownership costs for the XE.
Jaguar's XE 20d Sports gets the new 4-cylinder Ingenium engine, a first for Jaguar in this segment in India
This engine made wholly out of aluminium is nearly 20kg lighter than its predecessor. New technologies like adaptive cooling and a urea-based diesel exhaust fluid that breaks down harmful gases like nitrogen oxides additionally improve efficiency and reduce emissions. This engine makes 180PS of max power in the XE with 430Nm of max torque. It's mated to an 8-speed automatic transmission and power is delivered to the rear wheels. The XE also gets multiple drive modes, from Economy to Normal and Sport modes. On this drive, given the time factor and that I wasn't looking at losing this race, so obviously Sport mode it was. Also the distance from Dhanushkodi to Kollam beach is just around 400 kilometres which does not sound like anything at all. But the route is a state highway, and most of it is a single carriageway passing through densely crowded villages. This will force our average speeds down, making the entire exercise a very close-run thing. Exiting Dhanushkodi we hit Pamban Bridge, the road bridge between the mainland and Pamban Island is relatively new. The rail bridge that runs alongside, however, is over a 100 years old. It was India's first sea bridge and the longest one holding that record from 1914 till the Bandra-Worli Sea Link came up in 2010. Once back on the mainland we had to pick up our pace. It was already late in the day, and the metrological bureau has forecast sunset at 6:04pm. Google maps had us pinned down to roughly around eight and half hours of driving time, but that did not account for the additional time we would have to spend documenting the trip on our cameras. Spinning the transmission dial into Sport, off we sped.
Powerful it is, but its efficiency is what gives it an edge
From Pamban the road follows the coastline for several kilometres. It's an average road for most parts, the surface quality is smooth, the road is straight but isn't too wide and neither is it scenic. It meanders through village after village, and even though you are now on the East coast road, there is barely anything of the coast that you see other than tall swaying palms indicating the proximity of the sea. You continue journeying on the east coast road till you hit Tuticorin where you turn right and head west. It's a lazy road, fast in places with some wide sweeping corners, but soon enough the road widens to a glorious dual carriageway. An expressway in the middle of nowhere! I rejoice and open up the valves, the torque shifts from a lazy thrum to a quick staccato! The XE was first introduced in 2014 but only made its way to India the following year. It was one of the early and significant adopters in the Jaguar range of aluminium technology. Its bodyshell is made up entirely of aluminium, as are several other components and this enhances the efficiency aspect. But it also gives it another character, pace! Given a relatively strong power-to-weight ratio, this provides the XE with a lot of linearity and brisk acceleration. We just about start to make quick progress but see a milestone almost immediately saying, "Expressway ends in 20 kilometres." Bad luck! We pressed on nonetheless slicing through a steady stream of trucks that hog every lane on the expressway. The XE began chewing up the miles more quickly now, and our pace got a bit more consistent. We spent more time staying at triple-digit speeds yet our average speed still hovered between the 45-48kmph mark. The real-time fuel efficiency hovered around the 9kmpl mark and this was expected simply because of our urgency. Most times I'd keep using the paddle shifts to work the gearbox, but this also meant I was spending more time in the lower gears, egging the engine on to higher speeds. We'd travelled a bit over 250 kilometres, though 50 of those were probably miles we put on while filming the early morning shots! So, by an hour past noon, we'd come half way on our journey and were feeling good about it. My calculations were a bit off, but I'd compensated for the additional time we'd take to film and was feeling quite confident about achieving our goal! Little did I realise the bigger challenge was just about to begin.
We started off with a range of 756km, astonishingly we travelled over 450km with a range of 150km still to go!
50 kilometres after turning right to skip entering Tuticorin, we hit the town of Tirunelveli. Was this a town or a small megapolis, I couldn't tell. Tirunelveli, it appeared, had the population to rival any megapolis, but it also had extremely narrow streets that are densely crowded. Fortunately the XE is a small car, its proportions make it easy to navigate the twists and turns needed to not navigate its streets but avoid hawkers, autorickshaws, buses and some much more jostling for space in this town. The steering could have been a little lighter, enhancing the comfort many of us seek. But for those who enjoy driving, this is the perfect amount of weight you need, and Jaguar after all does not simply make sedans, they make sporty sedans, so there! The drive through Tirunelveli took an inordinately long time to pass. The clock was ticking throughout and by the time we passed through Tirunelveli, we were set back by half an hour. Not only had we lost an advantage but we were now trailing. Not only that but our efficiency had also fallen. The XE had lost a bit of fuel crawling through the teeming streets though slipping into Eco mode did keep the range in check. Despite the 250-odd clicks we'd already registered, the range meter still showed us that we could travel for almost another 400 kilometres. Out of Tirunelveli traffic was sparse and we could pick up our pace again. Couple of hours later we hit Tenkasi, and in the distance, we could now see the western ghats. At the same time, we also began seeing some moisture in the air, while the temperature outside dropped. From scathing 40°C across central Tamil Nadu, the temperature was now a balmier 28°C. In the cooler air the XE's diesel engine no longer felt as laboured, and it quickly settled into a more rhythmic beat. We hit the border between Tamil Nadu and Kerala at the foothills of the western ghats three hours short of the stipulated sunset time.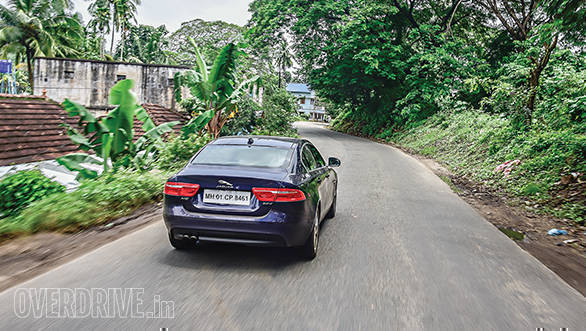 Getting past the border, the roads immediately begin to climb into the hills and it's all fast paced and twisty for the next 25 kilometres through the Thenmala Reserve Forest. This is where the XE comes into its own. The well-weighted steering I spoke about, coupled with the torque and a well-tuned suspension system blend with each other in an exhilarating dynamic display! The XE scythes through the twisties smartly; it's a well-balanced, direct and fun car when you need it to be and that's one of its biggest traits. In no time the forest cleared up giving way to Kerala's most famous geographical feature, water, water in its lakes and rivers! Even the roads were wet, though that was because of a spurt of rain, but with an array of electronic safety nets the XE stayed confident throughout that section.
Superstar Rajnikanth is omnipresent and adulated everywhere in south India
Feeling good that the XE had made some progress, we stopped for a cuppa tea and some Kerala parotas. Big mistake, rather than the allotted 10 minutes we ended up spending 30, and finally the exhaustion of the day caught up to me. Now the XE is a fairly comfortable car with supportive seats, but even it can't keep its driver alert for 10 hours straight. Without much fuss, for the last leg, I handed the car over to Akshay, our photographer and caught some sleep. An hour and a half later when I woke up, we were 10 kilometres short of Kollam beach. It was a quarter to six and while navigation indicated we had 30 minutes to go till our destination, the sun still looked fairly high up in the sky. For once I was glad the metrological department had got their forecasts wrong! We still had a chance.
The seafood, if you can ignore the heavy garnishing, is definitely better in Kerala than Tamil Nadu
All along the east coast, one of the primary sources of livelihood comes from salt pans
Exchanging seats I got behind the driver's in the hope that my driving skills would help us get to the beach quicker, even though Akshay had done a fairly good job this far. Skills, no skills, fast car, slow car, motorcycle, scooter, everything only moved in a single file and only as fast as the guy ahead let you. Kollam streets are narrow and traffic density ridiculous. To add to our woes evening hours meant a lot of offices had shut, so traffic was full of hopefuls trying to get to their homes in as much of a hurry as we were! And so we entered urban crawl. Gently guiding the XE through that mess, we had one eye on the navigation, and another on the sun which kept sinking lower and lower! We almost got a turn wrong, almost collided with a cyclist, almost scared the life out of a jaywalker and almost missed the sunset! Almost. In the nick of time we managed to pull over just a couple of kilometres short of the Tangasseri lighthouse on beach road and witnessed the sun sink lower into the horizon. The Jaguar XE had done it, we'd come all this way comfortably, quickly and on just one tank full of diesel. We'd covered nearly 500 kilometres, and the range meter still showed a little over 150 kilometres to go. We had achieved an overall efficiency of around 12.2kmpl which is impressive considering we did not have much in terms of highways to cruise on smoothly. Our speeds were high, we were in a constant state of anarchy with the traffic around us, and we were rushing through everything using low gears to get the job done! At its worst this is what the XE 20d delivers, and that's still better than most. That then is how we did it, from the east coast to the west coast, we'd raced the sun. And in the end, this was not so much about who was victorious or not, we'd had the unique pleasure of seeing the sun rise and set on two different coasts in opposite directions. How many can claim to have done that ever!
Price (Ex-Delhi)
Starts Rs 44.98 Lakhs