Special feature: A tale of two cities
Our driving lives in the city are pretty repetitive. But the grind is far harder on our cars, which have to run the daily gauntlet of stuck traffic, poor roads, sudden braking for other drivers and the hard acceleration the few times you are released from these troubles. OVERDRIVE has always tried to go farther and do more. And this, the Tale of Two Cities, is our latest little adventure. If you consider driving 12 hours a small task, that is.
The plan was simple. Rishabh and Shumi, that's us, hop into one Honda City, and Rohit and Abhay take the other. Our City takes on a big city - Mumbai and we bring our individual perspective on the city. Shumi's lived here for two decades and Rishabh was born here. Rohit and Abhay, attack Pune, both are born and brought up Puneris down to the ever-present chip on the... They're hardcore Pune fans.
What would we gain from this? The plan was to be doing what the city's denizens might be doing through the 12-hour period. So we'd start at 11am and head for an area with loads of offices. An hour or so later, we'd head towards a place with lots of food places - for a working lunch, as it were. In the afternoon, we'd head to shopping or touristy districts. And yes, Abhay and Rohit both rolled their eyes at the idea of a touristy district in Mumbai. In the evening, we'd get stuck into, ahem, some rush hour traffic. Late evening would be reserved for dinner places. And finally at night, nearing the 12 hour mark, we'd finally get some empty roads you might head to for the cityscape, or for the pleasure of driving. Over the course of the week, a Mumbaikar or a Puneri would live this cycle in spurts. We would stop only for bio-breaks, driving a full 12 hour cycle. We would watch the traffic patterns, the distances we were covering, the level of aggression and aggravation that each city offered and so on. We'd also be monitoring our blood pressure levels to see if we were getting stressed out or not. Ready for a City drive?
Both cars rolled out at 11am from places close to OVERDRIVE's heart. The Mumbai car started from our garage while the Pune car started out from Vohuman Cafe which has been the site of a mid- or post-shoot breakfast on innumerable occasions.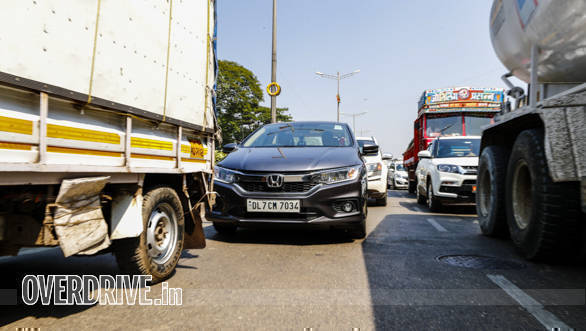 Right from the beginning, we knew that the diesel Honda City running in Pune would return better economy than Mumbai's car. Diesel engines, as a thumb rule, are more efficient than petrols just by the nature of the combustion process. And of course, there are pros and cons to both kinds of engines which is a story for another day. But the Pune car also moved slower through the city than the Mumbai Honda City. The difference would be 4kmpl in favour of the diesel, but the petrol city would also usually be 20-25km ahead in terms of the distance covered. That isn't a surprise though. Mumbai's traffic tends to move faster and the sheer length of the city means bigger distances are covered to get, for example, from office to home. On the other hand, Pune's smaller size, the heavy two-wheeler presence in traffic and their under-implementation bus lanes don't help average transit speeds.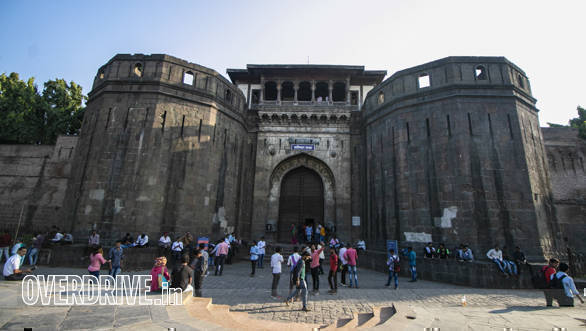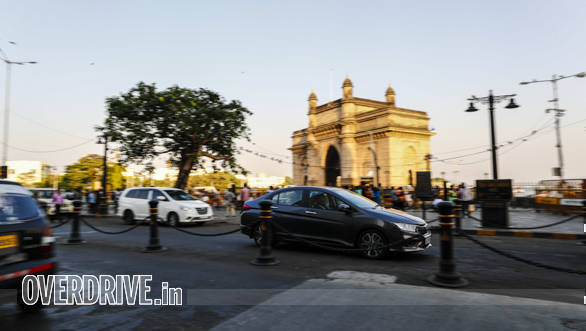 But on the flip side, traffic in Pune is more laid-back, while Mumbai drivers are more orderly but also more aggressive. This isn't unique to us. In the US, big cities like New York are famous for their brash, fast drivers, bordering on the rude. While smaller cities usually have more polite, more patient drivers. This is a direct function of how fast the two cities work. At one point, Aditya Chatterjee was in the car and one of the insights he had was that Mumbai measured distances in time units. This is a very big city thing to do. And as traffic becomes a bigger challenge, smaller cities will adopt this method too. Because a place that's 30 minutes away is that far away, whether that distance is 2km or 20.
Shreya Shanbag and Rishad Nathani, who run a beautiful restaurant called The Clearing House in south Mumbai also underlined the differences in Mumbai and Pune. Rishad demolished any ideas of setting up a restaurant in Pune, calling it too price-sensitive. But on the flip side, he also noted that Mumbai's food scene was changing. The dense traffic and the metro construction has encouraged delivery kitchens and food delivery services to allow people to dine in rather than head out. It's a big city trend that percolates slowly to smaller towns as the distances in those cities grow and time becomes an ever more precious commodity.
To wit, while the average Puneri might consider a 30-minute commute onerous, a Mumbai chap travelling an hour each way might consider it the norm and think very little of it. It's just the nature of the playing field.
The nature of the two cities also played a role in how the driving went. Mumbai has a lot of history but not a lot of historical places to see outside of the Art Deco district and Southern Mumbai. Pune, a very old, very important Indian city, on the other hand is rife with old buildings and history. And in that sense, Rohit and Abhay had a lot more to see and talk about on that front. We could only respond with a series of firsts - the first civil aerodrome, the first railway line, the first electrified railway and so forth. Clearly, Mumbai is all business whereas Pune has other softer facets too.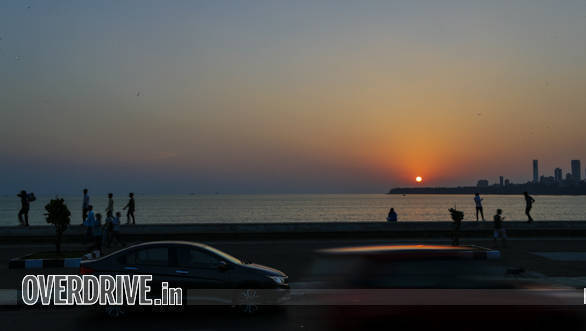 The train network also affects Mumbai in strange ways. If you're willing to put up with the in-train crowd, it remains one of the fastest and cheapest ways to get around. One of our guests, a student, underlined that Mumbai has a lot of people who drive within their suburbs but hop into trains for longer distances without a second thought. This creates a fleet of drivers of moderate or no skill who appear on the weekend and end up clogging the highways. Pune is the exact opposite - public transport isn't very good and getting autos and taxis is a hassle and that explains the two-wheeler population and the increasing private car numbers. But those cars do get driven and while it leads to congestion, Mumbai's Sunday drivers are probably more likely to err than Pune's more regular drivers.
But as the night calmed the cities down, the big difference was how quickly Pune roads empty. It isn't unknown for Mumbai's rush hour to run into 11pm. Pune's empty by half past nine. And that showed in how rapidly Honda City in Pune made up the distance deficit post 9pm. In fact, from a consistent 20km deficit, the Pune car finished at 176km, 6km ahead of the Mumbai car.
The one thing that was common was our admiration for the Honda City. Spending 12 hours sitting in a car moving slowly through the urbanscape isn't for the faint of heart. But all of us, our guests as well as the crew shooting the story easily managed the duration thanks to the comfy seats, sweet suspension and calm nature of the car. We all believe that in heavy traffic, an automatic transmission might have made things even easier but we got out of the car feeling upbeat and perky. In fact, in Mumbai, we drove an additional 8km to a famous late night dinner place and then drove a full 35km back to our homes. And it was a treat!
Conclusions - the two cities
The biggest difference between a large city and a smaller one like Pune is obviously size and pace. And it makes a huge difference to how you drive and how your experience of traffic is. Mumbai is perhaps the fastest-paced city in India. As we're fond of saying, we have the fastest traffic jams in India and that's not an idle boast. The Pune boys repeatedly noted that the education hub and 'pensioner paradise', Pune is a more laid-back city and there's a certain charm to it.
The two cities also differ in the mix of traffic. Mumbai has two-wheelers but Pune revels in them, carrying India's largest population of them, in fact. This makes for more chaos on the road, as the light and nimble vehicles veer this way and that without warning, and cause havoc in their wake. Mumbai's autorickshaws, similarly, are accused of exactly this behaviour, although historically they're not permitted to cross into South Mumbai.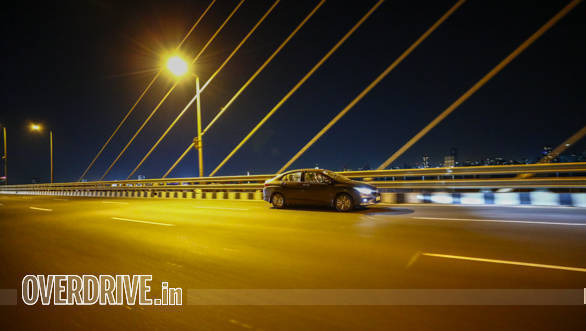 Another detail is that Mumbai Police is regarded as the best police force in India. And to that extent, traffic is more orderly than any other city you can name and most two-wheeler riders are wearing helmets - with or without the chin strap fastened. Pune is famous for having a periodic anti-helmet protest. Yes. But we believe that subconsciously, Mumbai's hardcore work-oriented rhythm creates this kind of traffic - it's just efficient. Big city folks want to get there and realise that some semblance of order is usually a bit faster than complete chaos.
On the flip side, the Pune team made up a 20km distance deficit in the post office hours. This is another big city versus small city phenomenon. The big city runs longer hours and the rush hour persists for a long time. Pune closes down much earlier and the Honda City diesel was able to enjoy much emptier roads in the final hours of our 12-hour run which helped them do 6km more than the Honda City petrol running in Mumbai.
Conclusions - driving in traffic
The one thing that was common to both Mumbai and Pune cars was the lower stress level. Both of the non-drivers did show blood pressure drops when they sat in the passenger seat. And yet, the Honda City drivers' blood pressures rose only a moderate amount. We believe that was because of the simplest change in attitude. While both Hondas had definite targets to reach places in the city at an appointed hour, the idea that we had to spend 12 hours in the car changed the stress level. The Mumbai car, for instance, sailed through a heavy traffic jam in the evening rush hour without significant stress. What does that teach us?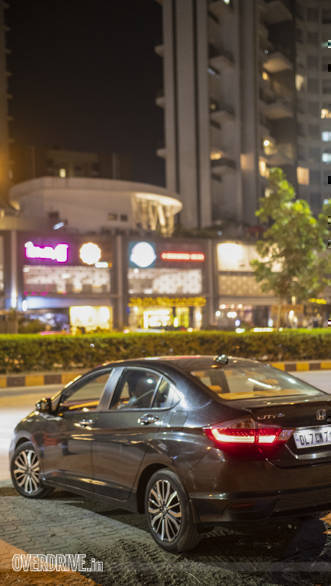 We believe that once you're moving, in a car or on a bike, you shouldn't hurry - it changes nothing but your stress level. Once you accept that you're doing the best you can, you should just focus on driving as well and as efficiently as you can. The rest will work itself out. As Rohit pointed out, "Just enjoy your drive as much as you can. Every time you are in your car." This will stand you in good stead. It can be hard to implement when you're stuck in a daily traffic jam, but believe us, it can be done. And it changes the stress level - well, worth trying at least.
The third thing is perhaps the most important. Go explore your city. All four of us are pretty well-versed in our cities. But each one of us saw sights, heard things and learnt new information about the cities, we live in, during our drive. It's fresh perspective and opens new doors into the history, culture and life of the city you live in. Try it. Take your car and your family out one Sunday and just go exploring. I promise you'll thank us later. Because the tale of your city is an evolving one. It isn't ever fully written - you have a chapter to add to it.
Images by Ishaan Bhataiya and Anis Shaikh
Price (Ex-Delhi)
Starts Rs 10.9 Lakhs