Seventy years of Ferrari: Scarlet fever!
"Winning one world championship with Ferrari is a special feeling. Winning two is unforgettable."
These are the words of Niki Lauda, who in 1975 and 1977 took Ferrari to two spectacular Formula 1 championship titles. Since then, though, there have been a few more world championship victories for Ferrari. Some of which are possibly even more unforgettable. This, because at one point in the early 2000s the Scuderia turned Formula 1 scarlet. There were back-to-back victories, championship titles being won in quick succession, and so much celebratory champagne that it was a wonder that they managed to get any work done at all!
However, work they did. Along the way they made Enzo Ferrari very proud. They probably also made Francesco Barraca - the Italian World War I ace whose coat of arms they adopted as their logo - rather proud too. Here then is a look back at all the wonderful things the Scuderia have managed to accomplish since they made their Formula 1 debut back in 1951. Some involve pure victory and joy, others are marred by tragedy, but still play a significant role in Ferrari's history.
Victory, sweet victory â€" 1951 British Grand Prix
Victories are sweet. But first victories are even sweeter. And if that first victory comes courtesy a driver like Froilan Gonzalez, it is even more special. The Argentine had only made his debut for Ferrari at the previous race, the French Grand Prix at Reims, sharing a car with Alberto Ascari. At Reims, Gonzalez started the race, and Ascari ended it, crossing the chequered flag in second place.
Ferrari's first Formula 1 victory came courtesy Froilan Gonzalez at the 1951 British Grand Prix
One race later at the British Grand Prix at Silverstone, it was Gonzalez who was on pole. It was a sign that while some people within the motorsport fraternity might refer to him as El Cabezon, which translated into "fat head", he was anything but. During the race the hefty Gonzalez (part of his middle hung over the side of his Ferrari 375) had to fight off stiff competition from the Alfa Romeos of Giuseppe Farina, Juan Manuel Fangio and Felice Bonetto. There were also Gonzalez's team-mates Alberto Ascari and Luigi Villoresi to contend with. What made matters even more challenging for the 'Pampas Bull' as he was also known, was the fact that he was using an older chassis compared to his team-mates. He didn't let that deter him, however. While the Alfas had to make two stops, Gonzalez's Ferrari, more economical in the amount of fuel it burnt away, needed to make only one stop. He took the lead, and never gave it up. At the end he would win the race by 51 seconds. It was to be one of only two races he'd win in Formula 1 (the other was at the 1954 British Grand Prix) but it was very, very special. It was the first time Enzo Ferrari managed to win in a car that bore his own name. At the 2011 British Grand Prix Ferrari celebrated the 60th anniversary of their first F1 win, honouring Gonzalez at the event. One way or another, he'd set the ball rolling with that first win all those many years ago.
The era of gentlemen â€" The 1950s
Juan Manuel Fangio, already a legend in the sport, won his 1956 championship title at the wheel of a Ferrari. Fangio's title was in part down to his own brilliance behind the wheel, but also in part due to his kind team-mate Peter Collins, truly the last of the gentlemen drivers. At the season finale in Italy, Fangio's own Ferrari ended up with a broken steering arm and his team-mate Luigi Musso was asked to hand over his car to Fangio in order for the Argentine to take his third consecutive title. Musso refused, but Collins gamely sacrificed his own chances at the championship (he was all set to become the first British Formula 1 world champion), giving his car to Fangio midway through the race.
The points that they shared were enough to secure Fangio his fourth world championship title; his third on the trot. When Collins handed the Ferrari D50 over to Fangio, he'd reportedly said that he himself had many years left within which to claim the championship title. But that wasn't to be - Collins was killed at the 1958 German Grand Prix. Fangio would later say of Collins, "I was moved by the gesture - Peter was one of the finest and greatest gentlemen I ever met in my racing career." Enzo Ferrari himself was impressed with the gesture. And we're sure he was pleased at having won the title too!
Here Phil Hill, who was F1 champion in 1961, and Peter Collins who sacrificed his own shot at the 1956 title, are seen in the Ferrari 250 Testa Rossa, which they drove in the Buenos Aires 1000 and Sebring 12 Hours
Title piece â€" 1961 Formula 1 season
The International Cup for F1 Manufacturers was first instituted in 1958, when the title was awarded to Vanwal. The next two years saw Cooper Climax take home the title. Ferrari needed to wait until the 1961 season before they'd win. And it was the manner in which they'd win the title that would prove to be so very satisfying for the Scuderia, although it was a season that would be marred by tragedy. Of the eight races held that year, Ferrari would compete in seven, and win five, with Stirling Moss being the only driver who could beat them to victory twice. The man leading their championship hunt was Wolfgang von Trips, who had won the Dutch Grand Prix and the British Grand Prix that year. Heading into that year's Italian Grand Prix at Monza, all the German driver needed to do was make sure that he took home a third-place finish. But during the race, von Trips collided with Jim Clark's Lotus. His car became airborne, and ended up in the barriers, killing him and 15 spectators. Hill inherited the championship title. The whole experience changed him, though, and he would retire after just another season in Formula 1. Hill might not have been the sort of driver that von Trips was, but there was something gentle about him, a quality that endeared him to fans around the world. In motor racing's rather ruthless era, the sensitive Hill was a rarity. No one begrudged him his title.
Brave times â€" The glorious 1970s
The seventies, the glorious seventies. That period of time in history, where drivers smoked, rode motorcycles without helmets, and, if you were anything like James Hunt, also got up to some mischief before a race with the track nurse! But the seventies were also a particularly dark period of time in Formula 1.
Niki Lauda's time with Ferrari resulted in two world championship titles and a horrific, near-fatal crash in between
Niki Lauda even went so far as to say that all the madness and mayhem off track was because the drivers needed a release from their day job. After all, every single time that they got into their racecars, they knew there was a possibility that they weren't coming back. And Lauda possibly knew this best of all.
Here Enzo Ferrari is seen having a moment with John Surtees, who won the 1964 championship for Ferrari
His 1975 title was Ferrari's first in over a decade, after John Surtees won the 1964 championship title. It was a landmark year for Lauda, who refers to the season as "the unbelievable year".
Lauda in conversation with a very young Luca di Montezemolo
It was only his second season with Ferrari, and he was behind the wheel of the 312T. He would go on to win five races that season, and take the championship title by 19.5 points to second-placed Emerson Fittipaldi. He'd follow that up with a historic 1976 season, where he'd lose the title to James Hunt by a single point. The reason for the championship loss would be that Lauda, who suffered a near-fatal crash at the Bergwerk corner at the Nurburgring, was firm about just how much he was willing to risk. At the Japanese Grand Prix that year, he decided that he would not complete the race because the rains had made conditions terribly treacherous. He chose his life over the championship title, which is easily one of the bravest things a racer can do. The following year, though, Lauda repaid Ferrari's loyalty to him.
Jody Scheckter took home the title in 1979, after which Ferrari would have a long wait for championship glory once again
He'd claim the 1977 championship title with three wins and seven more podiums. After Lauda, it would be South Africa's Jody Scheckter who would take home the title for the Scuderia in 1979. Then there would be a long, long wait before the prancing horse would once again win a title.
Burning too bright too fast â€" The early eighties
Gilles Villeneuve - he who dazzled the world with his speed and skill, if only briefly. There's simply no way to think of Formula 1 in the early eighties, without the image of Gilles Villeneuve drifting his massive Ferrari 126CK around corners. The Canadian driver had skills! The sort of skills that you have to be born with. But Villeneuve's career in F1 was all too short. The racer competed in 67 F1 events, and won six grands prix. Which might make people think that he, statistically, has no claim on the roster of Formula 1 giants. But his sheer talent, and the memories he gave spectators, makes him one of the greatest drivers Ferrari ever had.
Gilles Villeneuve is said to be the only driver Enzo Ferrari loved like his own son. If he'd lived, he'd almost certainly have been world champion
Take, for example, the 1979 F1 weekend at Watkins Glen. Gilles' Ferrari team-mate, the more experienced Jody Scheckter, who'd win the title that year, believed he'd done pretty well in practice. Scheckter then found out that his team-mate had managed to go well over 9 seconds faster than him. Villeneuve would win the race too, his third race win of the season.
Villeneuve defied the laws of physics in the Ferrari 126CK
Then there was the 1981 Spanish GP where no one could get past that 126CK, or that close battle with Rene Arnoux at the 1979 French GP. Or even the time in Canada in 1981, when a part of his car's nose cone and wing came off and lodged themselves in such a manner that they blocked his sight - he went on to finish third anyway! A fatal crash at the 1982 Belgian GP put an end to Villeneuve's racing career. If he'd lived, he might have been world champion. But he certainly did give fans thrilling races to watch while he was alive.
The Schumacher era â€" The early 2000s
The early nineties were a tough time for Ferrari. The team signed Alain Prost for their 1990 season, and he came quite close to winning the title for them. Except, of course, that didn't happen. Senna, Prost, Suzuka, collision, remember? Prost's relationship with the Scuderia soured the next year, and he departed the team in a huff.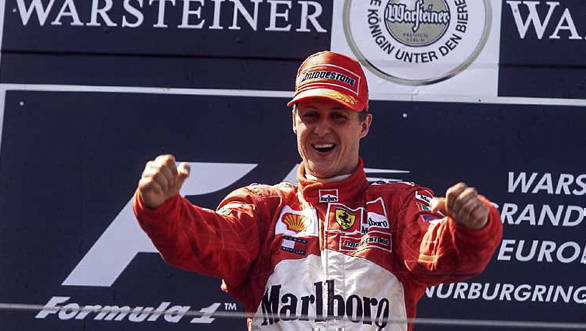 The Schumacher era - Ferrari's brightest and most dominant of all
It would be a certain German who would come to their rescue a few years later. Indeed, when Michael Schumacher joined Ferrari, he had already stamped his authority on Formula 1, and was known for being a fierce, if somewhat ruthless, driver. It was his commitment to winning, combined with the forces of Ross Brawn, Jean Todt and Rory Byrne, that made Ferrari an unstoppable, if a somewhat unpopular entity in the sport. Schumacher's first win with the team during the 1996 season came at the Spanish Grand Prix. He'd started on the second row in his F310, made a poor start, but overcame this to take victory by 45 seconds. It was a sign of things to come. Ferrari would win the constructor's championship in 1999.
An era of victory leaps, klaxons blaring, and endless amounts of celebration
Then Schumacher would win the driver's championship in 2000. He'd follow that up with four more world championship titles, back to back until 2004. There were some very memorable moments, like when he raced at Spa in 1998 with three wheels on his Ferrari, or when he bizarrely won the 1998 British Grand Prix by ending the race in the pitlane, or even that first title with the Scuderia, sealed with victory at the Japanese Grand Prix at Suzuka in 2000. It was a very special time in motorsport.
Carrying right on â€" Post 2006
When Schumacher retired, the task of leading Ferrari to more race wins fell on the shoulders of Felipe Massa, who'd already spent a season with the team, and Kimi Raikkonen, who'd been hired as Schumacher's replacement. The Finn soon proved to Ferrari that they'd made the right decision signing him on. At the very first race of the season, the 2007 Australian GP, Raikkonen won. The tifosi let out a collective sigh of relief. Raikkonen would go on to win five more races that year, and would take the championship title in his first year with Ferrari. The next year, it would be Massa who would take charge of things.
Although the championship title wouldn't be his in the end - the last few seconds of the Brazilian Grand Prix changed everything - he'd proved that he more than deserved his seat at the team. That image of Massa bravely standing on the podium at the Brazilian GP, which he'd won, and thumping his chest, even as tears poured down his face, will forever be etched in our minds.
Eventually Fernando Alonso would take up the mantle of being Ferrari's biggest hope for multiple world championship titles. And though the Alonso-Ferrari combination would result in some terrific wins, and though he'd finish runner-up in the championship in 2010, 2012 and 2013, the title would elude him.
Resurgence â€" 2017
When Sebastian Vettel joined Ferrari in 2015, he was already a four-time F1 world champion. He was following in the footsteps of his mentor, Michael Schumacher, by joining a somewhat ailing Scuderia. It would take two years before he'd truly challenge for the world championship title though. And it all began with Ferrari's resurgence at the 2017 Australian Grand Prix.
Vettel was in fine form as he overhauled pole man Lewis Hamilton for the win. And what a victory it was! Vettel would cross the chequered flag almost 10 seconds before Hamilton, notching up his first F1 win in 18 months. The SF70H, it would seem, was more than capable of taking the challenge to the Mercedes team that had dominated since the 2014 season. As we type this out though, a botched Singapore GP has meant that Vettel has now got a fair amount of catching up to do in terms of the championship battle. But it's become increasingly clear that the Vettel-Ferrari combination is working very well. Will we soon usher in a new era of endless victory leaps, as the sounds of Il Canto degli Italiani fill the air? It could well happen.