Rewriting the rules with the MG Astor
Ever since MG Motors waltzed into the Indian market in 2019, its Hector SUV took over the segment with its internet packed feature which made the other SUV's look outdated. Now two years later as the mid-size SUV segment is booming in the country, it only made sense for MG to make their contribution to the long list as well and along comes the MG Astor.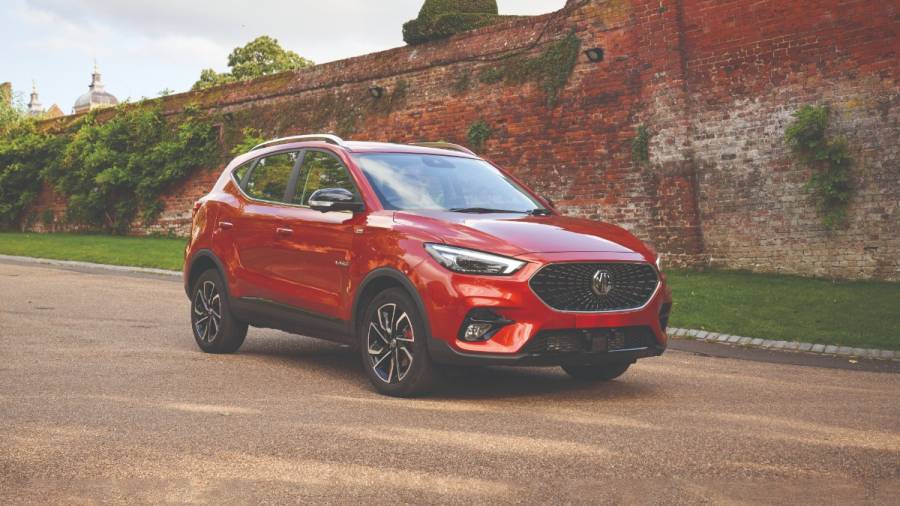 The name Astor comes from the Raytheon Sentinel, a battlefield and ground surveillance aircraft used by the UK. It is the manufacturer's response to the Hyundai Creta, Kia Seltos, Volkswagen Taigun and Skoda Kushaq. In addition, MG's biggest claim regarding the Astor is that this is the first vehicle to include an AI assistant and a Level 2 Advanced Driver Assistance System (ADAS).
The Astor gets 2 sets of petrol powerplants for customers to take their pick from, a 1.5-litre naturally-aspirated unit will be available with a manual or an automatic transmission and a 1.3-litre turbo-petrol paired to an automatic gearbox. The 1.5-litre unit produces 110PS and 144 Nm of torque, while the turbo unit puts out a punchier 140PS and 220 Nm of torque.
The MG Astor gets a completely redesigned front end. Slimmer full-LED headlights, a new hexagonal grille with chrome accents and beefier bumpers are among the changes. Sharper LED taillamps, a conspicuous fake skid plate and new bumpers have all been added to the back. A new set of alloy wheels has been added as well. The MG Astor is one of the bigger SUVs in its league, so there's always enough space and comfort for you and your family.
MG also knew that if they had to take on the most competitive segment in the country they would have to bring in something more to the table. Hence, the MG Astor's selling point is the segment's first Level 2 ADAS, which brings previously unheard-of levels of safety to this price point. Adaptive cruise control, forward collision warning, automatic emergency braking, lane-keeping assist, lane departure warning and prevention, intelligent headlamp control, rear-drive assist and a speed assist system are among the features offered by the system, which includes six mid-range radars and five cameras. A 360-degree camera, traction control, hill-descent control, ABS with EBD, and six airbags are among the passive safety measures available.
The Astor personal AI assistant also makes its premiere. Using the onboard internet connection, the AI can converse with the driver in human-like ways and draw up information from Wikipedia. This assistant may also be utilised to access all of the features and services available on the SUV.
The 10.1-inch infotainment system, which comes standard with Android Auto and Apple Carplay. The temperature control piano buttons, as well as the gear lever that replaces the rotary-style selection, are carried over from the ZS EV. A dual-tone red and grey interior motif is offered, with a dual-tone grey-ivory and an all-black option also available. So a cabin look and feel that suits you perfectly is never too hard to find. There's a Jio 4G connection onboard, as well as the JioSaavn music app. Navigation through MapMyIndia, a Blockchain-protected car digital passport by KoineArth, and a thoughtful function that allows owners to reserve a parking place via the infotainment system have also been introduced. Artificial leather upholstery, connected features, 6-way adjustable seats, three steering modes, a 7-inch digital instrument cluster, panoramic sunroof, e-brake, heated ORVM, rain-sensing wipers, PM2.5 filter, front and rear armrests and a Bluetooth-operated digital key for locking/unlocking and starting the Astor are just a few of the very long list of other features the Astor brings to the table.
And with the well-thought-out pricing, buyers have a wide range of variants to choose from with the MG Astor. So whichever variant you pick, you can be certain a cutting-edge, stylish SUV will be in your garage.
Customer speak
The MG Astor has struck a chord with the early adopters at the first-batch delivery event
Neha Agarwal
It was my first car and MG ensured to make that a memorable experience. The event was one of its kind with appreciable hospitality and services. My wife and I thoroughly enjoyed the experience and went back with the smartest car on the road and big smiles.  MG made me feel part of their family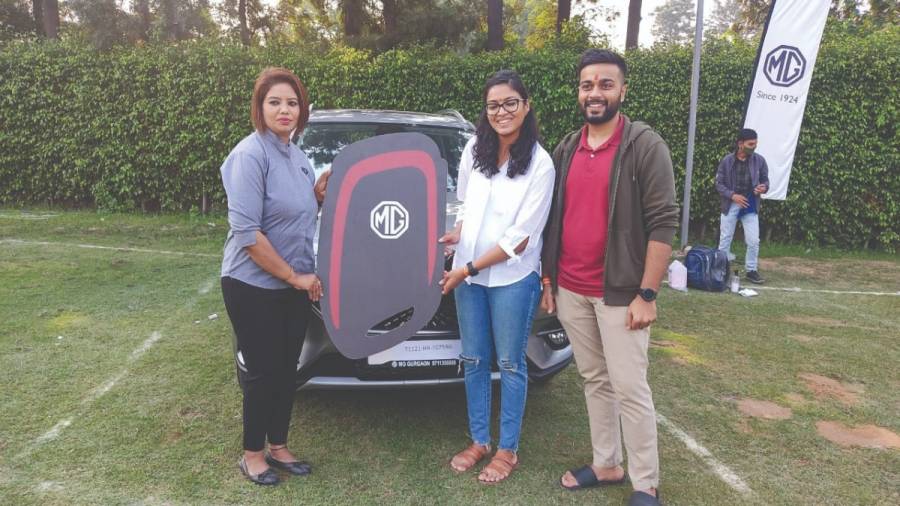 Neetu Katariya
Amazing, well organised. I was delighted by the delivery event and have never before gotten a car's delivery like this. Thank you MG Motors India.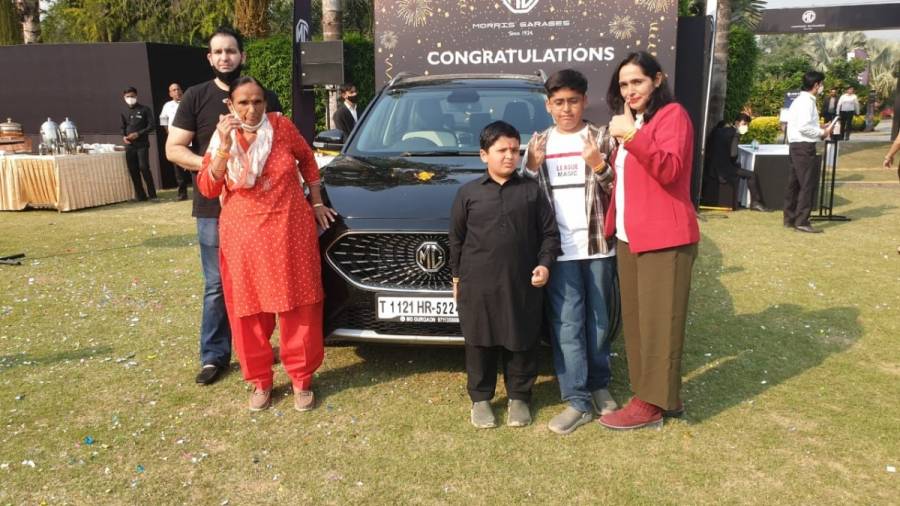 Ajit Singh
Build quality, classy interiors and smooth ride are the things I like about the car
Santosh Yadav
It's my third car and the search ended when I test drove the MG Astor which is loaded with features. I loved it. This journey of choosing and then the delivery of the Astor was made memorable when MG planned a grand event for the Astor's delivery and I must thank MG Motor India and its entire staff for making it a memorable experience for me and my family.