Return of the Hyundai Santro
Hyundai is all set to launch its new hatchback, presently known as the AH2, on 23rd October. Now we also know that it will be called the Santro and 23rd October will mark the return of Hyundai's most popular product name in India.
The original Hyundai Santro was launched in New Delhi on 23rd September, 1998, just a little over 20 years back. Things were very different back then. Hyundai Motor India had just been set up in 1996 with an investment of 614 million USD, and this was the biggest investment to have been made by any MNC in the Indian automotive sector till then. They had put up a state of the plant at Sriperumbudur near Chennai, and this was Hyundai's largest plant outside of Korea then.
So the success of their first product, the Santro, was very important for Hyundai – their very future in India being dependent on it. Soon after Hyundai launched the Santro, Tata introduced the Indica in December 1998 to a rousing reception. Tata's extensive advertising campaign's caption was "More Car, Per Car". In fact speaking at the launch, Ratan Tata said that the Tata Indica's external dimensions were similar to the Maruti Zen, while the space it offered inside was like the Hindustan Ambassador, which was one of the most spacious cars sold in India then.
When Hyundai introduced the Santro in 1998, hardly anybody knew this Korean car maker. Yes, they had shown the Santro at the Auto Expo in January 2018, but were overshadowed by the likes of the Tata Indica which was seen as India's first fully indigenous car. Global automotive giants like GM, Ford and Toyota had also started operations in India by then, but nobody knew Hyundai. To the credit of this Korean car company, they recognised this and roped in the youthful Shahrukh Khan, who had just started on his journey to stardom with films like Dilwale Dulhaniya and Kuch Kuch Hota Hai. So modest and realistic were Hyundai, that their initial TV commercials showed a Korean gentleman called Mr. Kim trying to persuade SRK to advertise and become the brand ambassador for Hyundai. SRK keeps refusing and mockingly even asks how do you pronounce Hyundai? Mr. Kim patiently explains this and also speaks all about Hyundai, their products, technical expertise, etc. The fact that Mr. Kim so patiently and convincingly, explained all that Hyundai represented and stood for, worked big time in their favour and they succeeded in making a positive impression on Indians.
Meanwhile, though the Santro faced stiffed competition in the marketplace from the likes of the Maruti Zen and Tata Indica, its refinement, peppy engine, unusual tall boy design, well-finished and put together interiors and the friendly and helpful sales and service staff, all helped the Hyundai Santro script its success story. What was also very significant, was that the Hyundai Santro was almost simultaneously launched worldwide and we in India, got the same product as the rest of the world. It showed Hyundai cared for Indian consumers and treated them on par with the world. Most other big manufacturers at that time were offering outdated technology and design, saying India was still not ready for their latest and best. Being well-known global players, they also displayed a sense of arrogance and in some cases, even gave the impression of doing Indians a favour by selling them their products.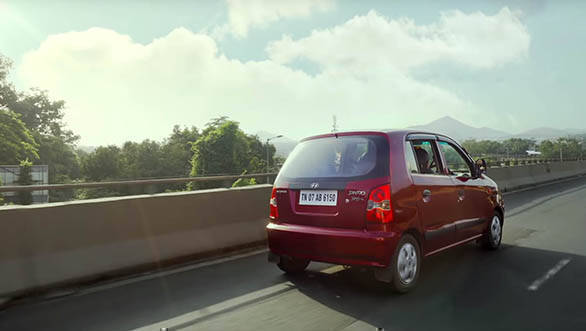 But Hyundai's approach was completely different. They understood that Indians did not know them. They were humble and honest about this and made the effort via Shahrukh's TV commercials, to speak and communicate with all Indian consumers. They also introduced a latest product like the Santro and backed it with the best sales and after sales experience. The fact that until then, Maruti never had to work on selling their cars, helped as did the fact that Tata's Indica ran into some teething quality and reliability issues.
Hyundai stuck true to the path with the Santro, and our consumers ensured this little Korean car became one of India's most successful hatchbacks. Now it is all set to return in a completely new avatar, wearing the latest and most fashionable clothes and packed with the most modern technology. Now the question is not about whether the new Hyundai Santro will succeed, but what the scale of its success would be. Stay tuned for more.
Also see, 
New Hyundai Santro Atos spotted testing again before launch
Pre-bookings for new Hyundai Santro (AH2) to begin on October 10
Hyundai (AH2) New Santro spotted in a new paint shade
Hyundai (AH2) Santro hatchback naming contest begins in India
2019 Hyundai Santro spied testing again, more details revealed
Also see: Hyundai Santro v Tata Tiago v Maruti Suzuki Celerio Video
Price (Ex-Delhi)
Starts Rs 3.9 Lakhs
Price (Ex-Delhi)
Starts Rs 4.99 Lakhs
Price (Ex-Delhi)
Starts Rs 4.6 Lakhs