Return of Magic in Metal
Modena holds a special place in the heart of all true-blooded auto enthusiasts as it's the home of high-performance Italian sports cars like Ferrari, Lamborghini, Maserati, etc. And for a long period, the bodies of some of these magical machines were handcrafted by 'Modena's Master Coachbuilders' and talented craftsmen like Giancarlo Guerra, Afro Gibellini and Oriello Leonardi. In fact at one time, the Modena school of coach building was so outstanding that it is credited with creating some of the most beautiful jewels in automotive history.
Amongst the cars these coach builders have built by hand is the 250 GTO, considered by many to be the greatest Ferrari ever. Only 36 were built (from 1962 to 1964), and last year a 1962 Ferrari 250 GTO sold for $48.4 million (over Rs 340 crores) at RM Sotheby's annual sale in Monterey, California, USA, making it the most expensive car in the world! Interestingly, five of the most expensive cars sold in the world are creations of 'Modena's Master Coachbuilders'. Says something about their talents and skills, doesn't it?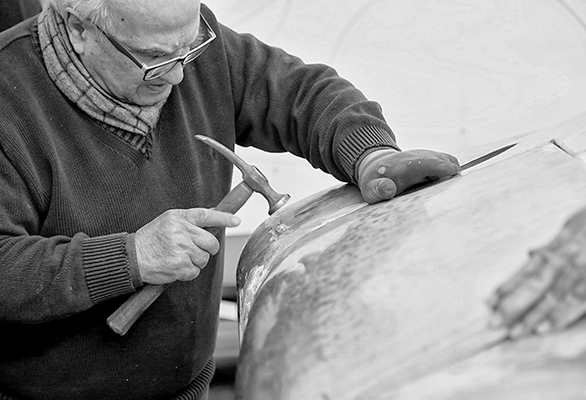 Cars like the Ferrari GTO have become true treasures for collectors and now reside in the most prestigious private car collections. But because of the changes in technology and regulations, and the introduction of composite materials in the 1970s, the art of handcrafting cars began to decline and gradually led to the disappearance of most coach builders from Modena. The history of 'Modena's Master Coachbuilders' is one of the most fascinating, but also one of the least known. It's an extraordinary story of incomparable craftsmen who created iconic masterpieces with their passion and talent, based purely on their manual ability.
As a tribute to three of these artists - Guerra, Gibellini and Leonardi, an exhibition was held at the 16th Century, San Carlo Church in Modena, Italy. This ModenArt event called "The Sculptors of Movement" is the first-ever exhibition of its kind celebrating 'Modena's Master Coachbuilders'. As a matter of fact, never before has the art world given such recognition to coach builders and the highlight of the exhibition is that Guerra, Gibellini and Leonardi, though all quite old now, recently again hand made some bare polished aluminium bodies.
These newly made body shells, personally signed by these old-timer craftsmen, were displayed at the church as sculptures of modern art and are now superb showpieces of the way in which great Italian cars were once built. The all-aluminium bodies are entirely hand-made following the tradition of Renaissance sculptors, using only hand tools, a set of hammers, a tree trunk, a sandbag, shears and an iron work table! Yes, this entire new collection was born under the hammer, once again wielded so deftly by the very same hands that gave the world some memorable masterpieces.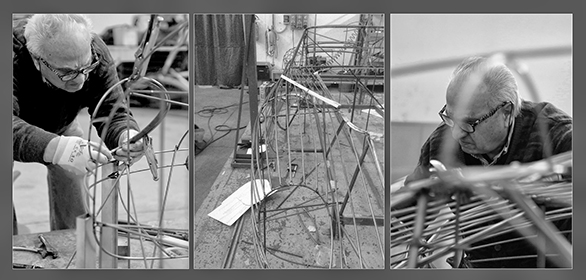 Such a collection has never been presented to the public earlier, and it will help make present generations aware of the legendary work done by the master coachbuilders of Modena. These three ace artists who are the main pillars of Modena's coachbuilding legacy, say they took up the hammer again, only to epitomise an era of hand-built car bodies, which is no more.
Guerra, Gibellini and Leonardi are hopeful that this display of their work, which is identical to those created by them many moons ago, will help keep alive the legacy of their amazing coachbuilding abilities. After the great response generated by this distinctive display, this exhibition will hopefully travel around the world and demonstrate the exceptional talent of the craftsmen who raised coachbuilding to a form of art.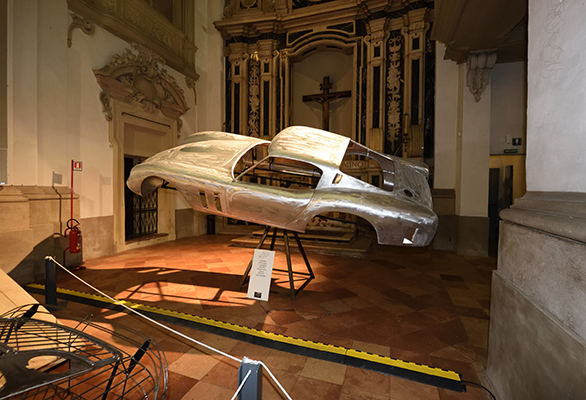 The exhibition consists of several bare bodies of cult cars that were built in Modena, including the Ferrari 250 GTO prototype, the production Series I and Series II Ferrari 250 GTOs, the Ferrari 500 Mondial, the Ferrari 250 GT Nembo Spider, the Maserati 151/3 and the Shelby Cobra Daytona. These are some of the most valuable gems in automotive history and now it's nearly impossible to bring together all these actual cars, as most are part of private collections or different museums, and some are not even around anymore.
The "Sculptors of Movement" exhibition has paid a long overdue tribute to 'Modena's Master Coachbuilders' and reignited interest in their work. It will hopefully also help record and save their artful work for posterity and contribute significantly in preserving this great automotive heritage. Before this event, little was available in terms of archives or even old photographs, which are extremely rare, and the selection of the San Carlo Church as the venue for this exhibition is also very significant, because never before has such a place honoured the art of the automobile.