Quick chat: Peter MacKenzie, Harley-Davidson India MD talks riding and flat tracking
Harley-Davidson India introduced us to the joys of rebuilding a Milwaukee 8 engine just over a month ago and this time, they decided to take a new direction. Led from the front by Peter MacKenzie, MD, Harley-Davidson India and Vijay Thomas who heads marketing for H-D India, they hosted a two-day flat track riding school for us at the new John Singh Speedway that was created by Vijay Singh Ajairajpura of Rajputana Customs.
MacKenzie heads both India and China operations for Harley-Davidson and when he's not running the company is an enthusiastic enduro rider. The man showed up in his extremely colourful off-road riding gear and participated in the school and the races that followed it, showing us more than a thing or two. Between the races that he won, OVERDRIVE caught up with him for a quick chat.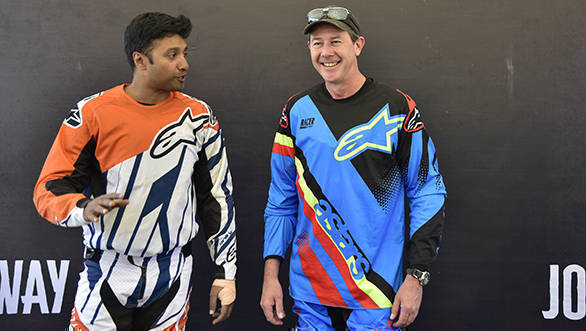 Peter MacKenzie, MD Harley-Davidson India was among the fastest riders at the Harley-Davidson flat track school experience. With him is Vijay Thomas, marketing lead at Harley-Davidson India, who earned himself the Wild Child award for having the maximum crashes during the school, heh heh
Why flat tracking?
Harley-Davidson has had a rich history of flat track racing and we thought it would be good to expose India to that side of our story. India has already seen the on-road Harley experience and now we wanted to showcase the off-road side of it. Also, the idea is to highlight the simplicity of flat tracking as a sport and we believe that it can be really popular in India.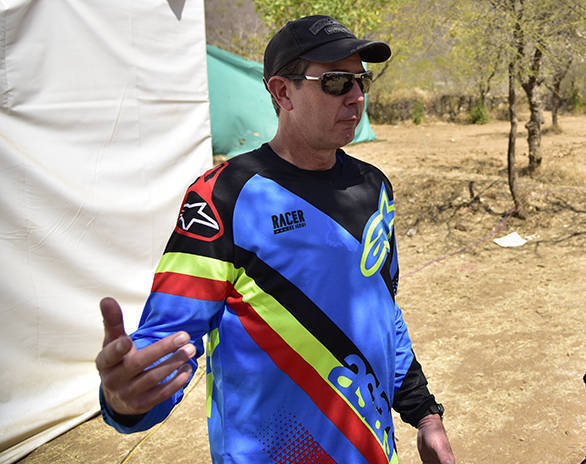 Peter MacKenzie heads Harley-Davidson India as well as China and apart from this, he's a passionate enduro rider as well
Can we expect Harley-Davidson India to offer a ready to go flat tracker to buyers?
. I don't believe we have to do that, you know. What I think is there are more people getting into the customisation scene and making a flat track bike isn't too difficult to do. As you can see, we've got five here already today.
MacKenzie also rides enduro which we are convinced is why he trounced so many of the journalist-students in the friendly races at the Harley-Davidson flat track school experience
More tracks coming? More flat tracking in the offing?
The first way to share it is to have all of you, actually. Spread the good word about how much you had here today and yesterday and enjoyed flat tracking. You know, flat track has the opportunity to pop-up anywhere. You don't need to develop a full-blown racecourse, as you can see, it's a dirt track, it can be arranged just by finding a suitable piece of land. So we hope that the world of flat tracking will continue to grow and people will become more active with it. And more flat tracks pop up across India.
That's Harley-Davidson MD Peter MacKenzie hard on the throttle out of the corner as he races during the Harley-Davidson flat track school experience
Are you a flat tracker?
I've done about, er, an hour.
Are you going to be the fastest today? [Before he went out riding for the first time]
I doubt it . But I'm looking forward to having some fun, that's for sure!