Product review: TCX Infinity Evo Goretex boots
I've been in a pair of TCX S-Sportour boots for two years now and absolutely love them. Those boots have been used in every environment possible and have never disappointed, even in places they were never intended for. On our last tour of Ladakh, I felt I should try a more focussed boot for the rough stuff and the TCX Infinity Evo Gore-Tex perfectly suits my kind of spirited, but not hardcore off-road adventuring.
This boot is near the top of the TCX food chain and features some high end equipment. The boot is tall and constructed in full grain leather with two sturdy 6060 aluminium buckles. The fastening straps are adjustable and the buckles are replaceable as well. The fact that there are just two straps and buckles instead of three or four signify this bike is more for the causal adventure rider rather than a hardcore enduro or MX enthusiast. The side of the boot has a suede pattern for better grip against the side of the motorcycle and there are rubber traction pads on both toe sections. Protection comes from a built in shin plate, and PU toe, heel and malleolus protection all baked into the boot - you won't see any external hard armour.
The boots look smart but restrained, without any of the typical flamboyance most adv/mx boots have. In fact, if you wear your pants over them, the boots don't really stand out. I like this subtleness, it allows the Infinitys to look at home on a variety of motorcycles. However, beneath the plane-jane looks lurks some serious kit.
First is the Michelin sole that is designed to replicate the pattern of the acclaimed Anakee 3 off-road tyre. The soles offer unshakable grip on nearly every surface, wet or dry. Second is the premium Gore-tex waterproof layer. There are plenty of water proof technologies out there but Gore-Tex is widely considered the best and gear that uses it generally commands a premium. What makes Gore-Tex so good is that it keeps water out but efficiently allows moisture (in this case, sweat) to wick out and away keeping your feet dry when it's hot outside. The Gore-Tex liner extends about two thirds to the top of the boot which ensures water proofing when immersed to a depth of about a foot.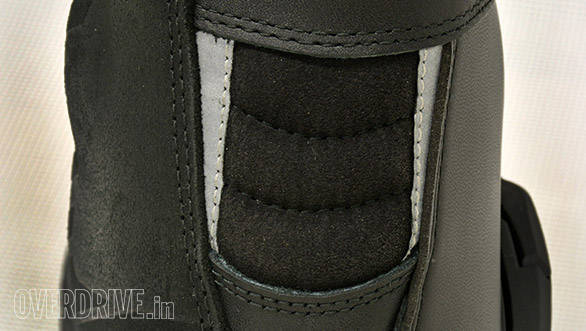 Fit is true to the TCX sizing chart and those with wide feet will find these boots comfortable. That said, they certainly need some breaking in. For the first few days, the boots felt very stiff and unnatural on my feet, something typical with off-road boots. After a week or so they got considerably more comfortable and now, a month on they are at the point where I almost don't notice them on my feet. What I will say is that after sleek sports boots the things feel like armoured tanks on my feet. The sense of protection is immense. Naturally, they work best in an upright riding position with the feet comfortably below the rider, like on most ADV bikes. However, I was happy to find they work decently well on feet forward cruisers as well as bikes with sporty rear set pegs like the KTM 390 Duke. They don't offer a lot of feel though, so save the sport boots for fast riding. Another point worth noting is that the calf area is a little tight and people with large calves may find it a little too snug.
A lot of my time in these boots was spent commuting in the Mumbai rains. The fact that they always kept my feet dry was nice but I was more impressed with the fact that you can use them even in our hot and humid weather. One particularly hot day, I was stuck in a two hour long traffic jam but returned home to almost completely dry socks. Most other waterproof boots would have been horribly clammy in a situation like that.
The Infinity Evo Gore-Tex is an excellent boot for someone looking for solid protection and and high end features like Gore-Tex and the Michelin sole. Such luxury doesn't come cheap and the Infinity Evo is available on order from Highnote Performance for Rs 30,000, a little more than its $399 list price in USA. As is, it makes an excellent pairing to an adventure motorcycle or someone who does some serious touring.
Price: Rs 30,000
Price (Ex-Delhi)
Starts Rs 2,52,928