Product review: Shima RS-1 gloves
Shima? Many jokes were made about the gloves being Shumi branded but how a typo meant that the gloves say Shima. Very funny. Ha ha. Same jokes were made when I wearing Shoei helmets also. Sigh. And now to our story. The Shima brand is a bit of an unknown and that's no surprise. They started off with a 2009 ladies glove that did well and today aim to offer high-spec protective motorcycle gear at reasonable prices. The Polish company is represented in India by Moto Ignite and we've had the RS-1, their top glove product on test since June 2017.
What is it
The RS-1 is Shima's top sporting glove - the company doesn't actually call it a race glove and I suspect that is because the construction and materials suggest a hardy and protective glove not a feel and protection kind of glove. This is a good thing in my book - race gloves are brilliant but while gloves like this typically last a year in my hard and heavy use, race gloves get holed in three months, more or less.
As a sporty glove, the Shima needs secure retention, comfort, protection and a design that talks to the sportsbike-type rider. The design certainly toes that line with a aggressive knuckle protectors in rubber, a carbon fibre knuckle guard set on a floating member, expansion gussets over the wrist, double velcro closure and more. Even in the sober all-black shade, there's no mistaking this glove for anything else but a sport glove.
In terms of protection, the glove has Knox protectors over the palm and scaphoid, a superfabric insert along the outside, second layer of leather over high wear areas and more too. The glove is CE rated to level 1 by the European standard. The website is a bit ambiguous on this but this is a CE Catergory 2 (personal protective equipment) Level 1 glove
What we liked
The RS-1 blended into our use pattern naturally. I wear a medium and the Shima medium fits almost exactly, the glove felt snug but not overtly tight from the first ride onwards and after tens of thousands of kilometres in all kinds of weather (except rain) and in multiple countries on all formats of motorcycles, I can say confidently that this will eventually prove to be a comfortable glove. Eventually? See what we did not like. On the other hand, I've no othe complaints - the seams are all as they were, the printed parts haven't faded away or anything and the glove feels as solidly made as it did on the first day. All told, as a daily use glove, I am quite happy with what the RS-1 does. To clarify, my daily use glove does 90 per cent of my annual mileage which often is well in excess of 40,000km.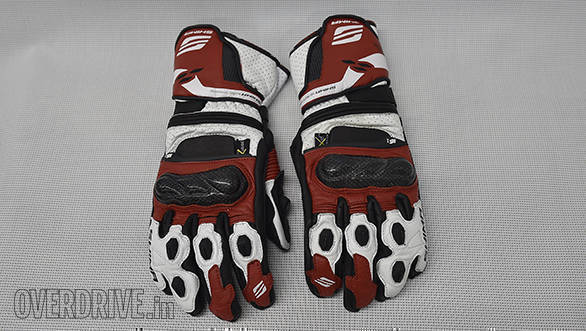 What we did not like
On day one, the Shima left welts on my wrists and forearm from the internal seams, especially at the gauntlet end of the glove. This had me worried but in time, I've stopped noticing the welts or any discomfort from this area so I guess there is a small amount of break-in that happens.
The other thing I noted was the scaphoid and palm protectors, Knox branded, are wearing out as if they're being scrubbed against something. This is strange - I have had other Knox scaphoid protected gloves that didn't even show any scratches - odd.
Overall
I am happy with the RS-1s. I didn't know what to make of them when they arrived because they were an unknown brand and I'm wary of those specifically in the area of protective gear. But over 30,000-odd km and seven-odd months, the Shima RS-1 gloves have proved to be effective gloves from city riding as well as highway work. I have used them at the racetrack and off-road as well, but I do believe there are better gloves for both those roles than these. I did have some discomfort initially but they've settled into a comfortable pattern since and seem to be wearing away as normal. The only suggestion I would make to Shima is to remove the 'balloon' end of the wrist strap. It projects into the cuff closure's velcro and that partially compromises a secure closure if the jacket underneath isn't bulky.
The gold standard for daily use sporty gloves remains the (now discontinued) Rs 8,500 Joe Rocket GPX 2.0. But these Shima RS-1s have surprised me. They're cheaper, almost as comfortable, offer more protection and seem to be lasting rather well! Highly recommended!
Price: Rs 7,499
Available at: motoignite.com;  TeamDriven, Pune; MotoStore, Bangalore