Product review: Daytona TransOpen GTX Boot
The Daytona brand is a storied one. They make a limited number of boots in Germany. By hand. Who does that today? But this small company has a huge footprint that goes all the way back to the time when the Daytona race boot was the ultimate boot. The Daytona TransOpen GTX is their top adventure touring boot. Daytona is represented in India by MotoPoto and there is a small selection of Daytona boots you can buy. This is a premium brand though. So while MotoPoto nearly matches the prices as they are in Europe, these are not cheap boots. And you will see why in a moment.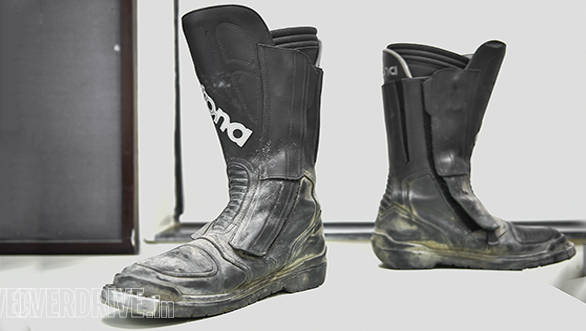 What is it?
The Daytona TransOpen GTX is one of the tallest boots outside of a full-on motocross boot I've ever worn. The shin part of the boot contains plastic protection and it rises almost to the knee. This part folds forward and down when you open the quarter of flaps, reveal the trademark curved zipper and unzip the boot. It looks odd to be sure.
But once open, you realise that the protective part hides what looks like an inner bootie (another Daytona feature) with a generous, uncut tonque. At the back of this 'bootie' is another leather panel with still another panel at the back with velcro patches to adjust for calf volume. Below is more or less a normal boot in black leather but with a steel shank in the sole, plastic heel and toe caps, a steel tip on the toe and a thick walking-friendly adventure boot sole.
What we liked
You will instantly love the TransOpen GTX when you wear it. The boot is immediately plush and comfortable. It feels awesome on the bike and walking around on a daily basis is super comfortable too. I've been using this boot since mid-May 2018 and I've never noticed anything that I might think needs improving. The steel toecap looks badass and the simple upper and the black boot make it easy to wear in more places than a technicolour motocross or other off-road boot.
It's also hilariously waterproof. I will admit to trying many wierd things, including walking through every pothole I can see and at one point, dipping the boot in mud to see if I couldn't get water in. In fact, the boot does go cold when the leather water on it. So you think there might be some water inside. But the socks always come out bone dry. I am impressed.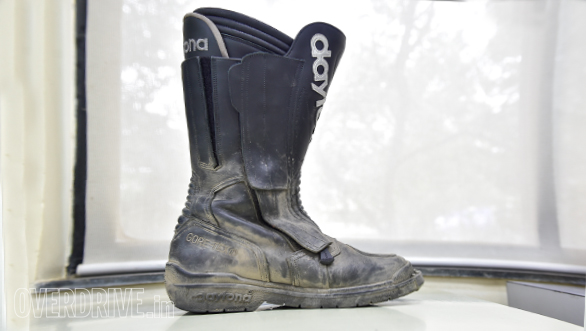 What we didn't like
The two flaps per zipper, two zippers per boot is something you learn to live with. There are more complex boots than this to get in and out of, and there are far simpler boots too. But Daytona insists that the twin curved zippers allow the boot to open dramatically so ingress is easy. And a curved zipper, if it bursts, will not unravel all the way by design. Also, Daytona's sizing is weird. I was advised to test a size smaller than normal by MotoPoto. And they were right. I normally wear a size 44 but the Daytona, size 43, is a perfect fit with a wide, comfortable toe-box. The sole is hard - great feel - but the inner material is very plush and comfortable.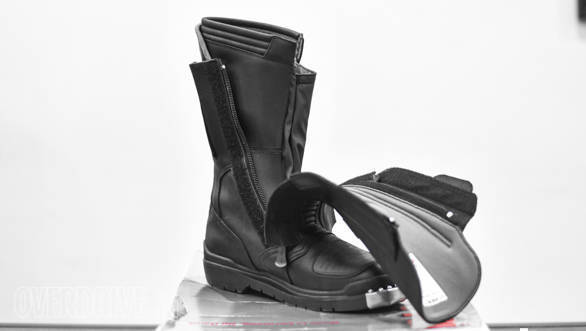 Verdict
Within days of using this boot, the Daytonas made every other adv boot I've ever seen or used feel underdesigned or cheap. Or both. That's a huge achievement because there are some very, very good boots out there. The Forma Adventure, for instance, worked really well. But the level of detail, the materials and the feel of the Daytona is unmatched. I'm unable to get a clear confirmation on this, but the UK dealer's video also suggests that many parts of the boot, including the toe cap and the sole are actually replaceable. And that the Daytona TransOpen GTX is meant to be a hard-wearing, lasts forever type of boot. Oh, and the waterproofing is guaranteed for two years.
Should you spend the money? If you're the type who likes to change your kit now and then, perhaps you should think before you buy. I prefer to buy once, buy the best and then use the living daylights out of it. That's the kind of boot the Daytona TransOpen GTX is. This is a test unit that I'm trying to find faults in and failing to. But I would happily buy one for myself when this one wears out. I have a feeling that will be many years from now.
Price: Rs 33,900
Available at: 
motopoto.com
Related Stories