Product review: Dainese body guard vest
I've used a handful of back protectors under my leathers and many inserts in my jackets, but I have never worn chest protection. The Dainese Life Guard vest is easy to grasp. It's a sleeveless mesh vest designed to be worn snugly. It includes Dainese's CE Level 1 chest protector and back protector. The idea is simple. You wear it, zip up and when you wear an armoured jacket over it, you're completely protected. It does get two hand warmer style pockets which I've only used to store earplugs in. The vest offers two reflective Dainese logos, a wicking collar and waist-fit adjustment.
I wear it under all my gear for testing, racetrack and highway work. For street use, I use the back protector from the Body Guard in my Dainese jacket - the Italian brand does not offer a standard back protector with its jackets. This is double benefit for the Dainese jackets owners.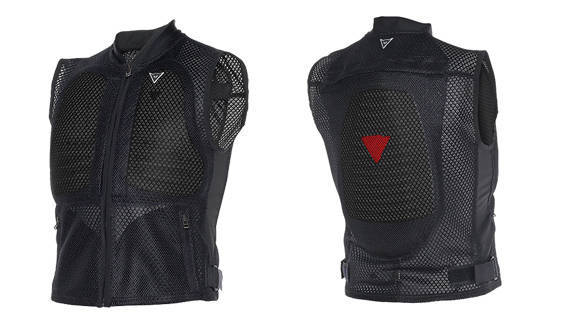 I like how skintight clothes feel under a motorcycle jacket. The only word I have for the feeling is sleek. The Dainese Body Guard feels as sleek to wear as a base layer. Like other Dainese stuff I own, there's a faint itchiness to them initially but it passes. I also like that you can take off the outer jacket (with shoulder and forearm armour) when you stop and strut about in the Dainese without feeling naked or feeling conscious of your skintight clothing. Also works with sweat-soaked cotton tees.
The mesh is strong enough to feel robust, and flow is certainly good enough for the vest to disappear once on the bike. Problems? At $200, this is expensive for CE level 1 protection. Rishaad's jacket has slots for chest and back protectors, and he says the Alpinestars Nucleon armour is cheaper and Level 2, but this doesn't offer the convenience of the vest.
However, the Life Guard has convinced me that buying a zip-up vest that includes a chest and back protector feels sleeker on skin and fits better than the usually strappy separate back and chest protectors. I might eventually locate a better vest, but you can bet that the chest and back protection for me will always be a vest. Cheap and vest would be perfect.
Price: 13,500
Available at: revzilla.com