Product review: Dainese Air Tourer S-ST jacket
We spotted this Dainese Air Tourer S-ST jacket on discount at the India Bike Week earlier this year and it's become my daily use jacket - and you've seen it in the magazine as well. Listed ar prices between Rs 20,000 and Rs 25,000 depending on where you look, the Air Tourer S-ST was 30 per cent off - I paid Rs 14,000 for it.
What is it?
The Mugello fabric stretches and that allows Dainese to cut the Air Tourer S-ST to be sharp and snug in fit. It's a flattering cut and the red accents do stand out
The Air Tourer S-ST is a Dainese textile jacket meant for summer use. It uses Dainese's trademark extremely wide-set mesh on a shell made of a material Dainese calls Mugello. The Mugello material is slightly stretchy and that mesh is a dark grey but has a metallic gleam to it that looks really neat. Accents come in red on this jacket and the demon eyes on the back and a wide swathe across the bottom of the jacket are both reflective. Dainese use a zipper with a slightly small pull for the jacket and throw in two convenient pockets at the front-bottom and one inner pocket. The jacket includes Dainese' properiatary CE-rated foam-backed plastic armour include articulated forearm units. Per policy, Dainese does not offer included back protectors and expects you to purchase your own - the jacket has two pockets for two shapes of back protectors. Cuffs have velcro closures and there's another set of velco tabs to adjust waist fit. At the back Dainese uses a really long zip - not the usual 8 inch or the all-the-way-round that're more common - so you can connect the jacket to riding pants.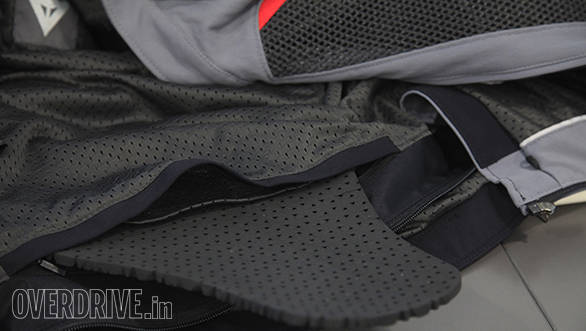 The Dainese jacket, like all of them, comes without an included back protector. I scavenged this slim-line one from one of my other riding jackets. What Dainese gives you is a zippered compartment that opens up to reveal two pockets for back protectors. One pocket is the traditional irregular hexagonal shape while the other is more oval for the sort of protector Dainese makes
Does it work?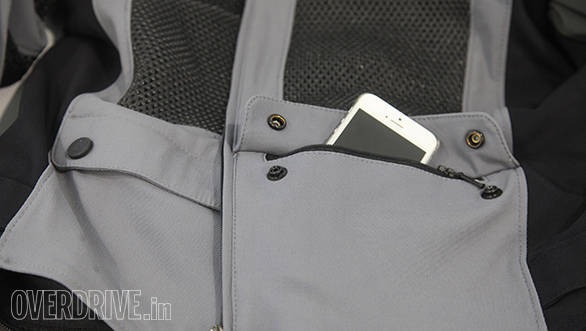 The two pockets in the front are very useful. Closure is secure and easily verified while operating the snaps and the zippers is very easy. There is enough space for wallets and phones and the only other pocket in the jacket is a single zip-closed inner pocket.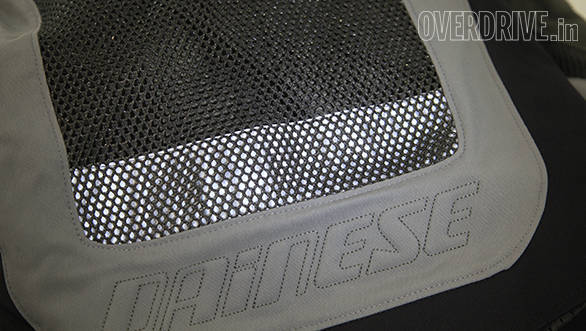 The second retroreflective strip is stitched in along the bottom of the rear mesh panel. It's a good idea but if you're riding any motorcycle with a raised rear seat or with luggage, then chances are the Dainese jacket isn't very good for visibility in the night
Indeed. I haven't crash tested it yet but this is an extremely well cut, flattering garment to wear. The stretchy-ness of the shell material reduces the need the extraneous things like sleeve adjusters and allows a cleaner, sharper silhouette. The armour sits exactly as it's supposed to on the bike and I've had days where I've been on and the off the bike and the jacket has proved comfortable enough for me to just keep wearing it through everything. Warning: for some reason this is a slightly itchy jacket, especially on really hot days when you're wearing a thin tee or just a baselayer under it. On the flip side, the two pockets are perfectly placed and I gather there's a longer version of the Air Tourer that give more coverage via a longer cut for the torso. I scavenged a back protector off one of my other jackets and the Dainese accepted that without fuss.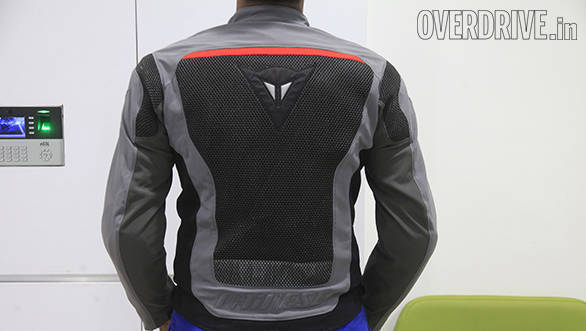 The back of the jacket is essentially a giant mesh panel (dark grey) with the chassis of the jacket (light grey) surrounding it. Notice the 'eyes' in the Dainese logo. They're retroreflective but easily get hidden if you're wearing a backpack of any sort
What I would have liked is more loop (soft) velcro on the cuffs - the tightest cuff setting is still a bit loose for my liking. I would also have liked more retroreflective elements. My regular luggage - a water bag and a tail pack - covers both of this jackets reflective elements. Up on the mandarin collar or on upper arms would perhaps make it a better jacket in the dark to be seen in.
Verdict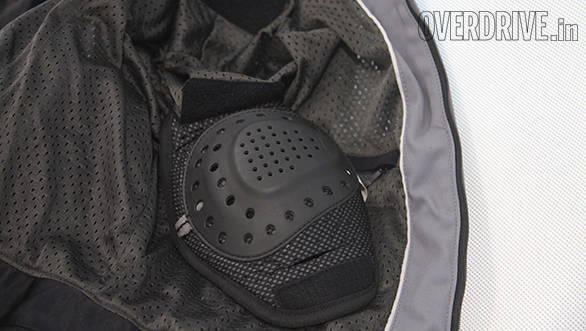 The shoulder armour is extremely well-made and velcros securely into place while the forearm/elbow armour is equall well made and slips easily into a zippered pocket. The quality of this CE-approved armour is amongst the best we have seen to date
I did get a terrific deal on a premium riding jacket but even at Rs 20,000, the Air Tourer S-ST is actually an extremely good buy. Dainese is, of course, a premium brand and you have to pay for that. But the Air Tourer fits extremely, extremely well, feels terrific on the bike and that Dainese mesh makes it the windiest jacket I've owned since I started riding. I tried adding a Quechua rain pullover for waterproofing and I'm happy to report that the stretchy material allows this easily and still looks and feels exactly as snug and comfy as ever. Overall? Expensive but very, very good. Of course, Dainese still only has the one store in Bangalore and their online store hasn't opened yet so getting one isn't going to be easy unless you live in Bangalore.
For more motorcycle riding gear stories, click here