Product review: Chicco Cosmos car seat
If you're wondering what baby gear is doing sharing space with sexy two and four wheelers, take a moment to consider this. Over the last few years, the number of automobiles has grown exponentially. And with it how much we are willing to pay for technology that both enhances the travel experience and makes it safe.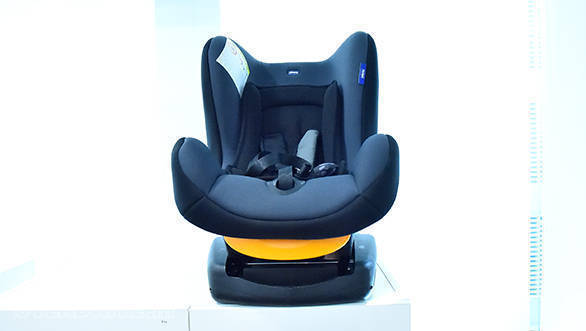 So, the next time you see a child standing through a sunroof in a fit of giggles, feel free to glare back at the adults in the car because safety really is no laughing matter. At the moment, the rule of law makes dictations on seat belt wearing and only recommendations on the use of car seats. But we'd like to think this shouldn't stop anyone from taking safety seriously.
Internationally, the sheer variety of automobile safety gear is staggering, and this extends well into the car seat category. In India, while we're still playing catch up, there's enough for you to pick from without getting overwhelmed.
So, we decided to start with Chicco India's - Chicco Cosmos car seat. For the purpose of this review, we evaluated the Chicco Cosmos over a period of 4 months with a child who went from 7-12 months. Our focus areas - build quality, instructions, installation and labelling, features for securing the child and general ease of use.
What we loved:
The seat is roomy, compact and lightweight enough to move easily from one car to another. The seat and backrest is padded comfortably and reclines to multiple angles, which made long drives easier to handle.
After installing the seat to our satisfaction we were happy to note that it moves less than an inch when given a firm shake - an easy way to check for stability once you've installed it. Even when reclined completely, the seat fits well into the back of our Swift ZXi and didn't touch the back of the left passenger seat in front of it. Being able to do something with one hand while dealing with a small child is always a plus and in this case, the lever to change the recliner position is easily accessible and fuss-free.
The fabric cover feels plush and here's something to make a parent say Hallelujah! – It can be removed and cleaned easily. The five-point harness fits snugly with sufficient padding for the shoulders. The lock has a quick release button that is strong and easy to use as an adult but tight enough to avoid accidental opening by a toddler.
The side impact protection is well padded and has a wide, outward open-angle design and the additional soft toy attachment is a fun frill for any little one.
Room for improvement:
This seat is supposed to accommodate children from 0+, though we 're unsure that it reclines nearly enough to be comfortable enough for a baby in spite of the padded insert. Once the child is about 5 to 7 months, this seat seems like a better fit.
We have no complaints with the cushioning, though we do wish it were better ventilated to cope with humid Mumbai weather.
Any car safety seat is only as safe as the correct installation and we needed a bit more help. The online instructional video provided some help, though we'd recommend calling the manufacturer/seller if you need further instructions to set it up properly.
We used the seat in the backward facing position on the passenger side of the car. But, in this position, the diagonal strap that gives this seat its stability also makes putting the child into it a bit tedious. The easiest way was to get into the back seat and then put the child in. Less than ideal when you're in a hurry!
The seat harness is easy to pull tight for a snug fit, but it's sometimes snagged when trying to loosen it. Though, in four months of use, this only happened a handful of times.
While the seat doesn't mention an expiry date, and we haven't received a response to this query from the company – our research tells us that six to ten years from the date of manufacture is a usually a good rule of thumb to follow.
Buying the car seat that is best fit for you and your child may be one of the most important first decisions you'll make as a parent. Overall we think Chicco Cosmos is sturdy and reasonably priced and should be a strong contender if you're in the market for that first all-important buy.
| | |
| --- | --- |
| Variant: | Chicco Cosmos |
| What's in the box?: | Car seat with 5-point belt system, seat insert, instruction booklet. |
| Car Seat direction: | Forward and backward facing. |
| Car Seat child's weight: | 0-18 kg |
| Safety Standard: | Conforms to European Norm ECE R44/04 |
| Price: | Rs 17,990 |
| Range: | Besides the Cosmos, Chicco India also now offers the Chicco NextFit Convertible Car Seat USA (Rs 31,990) and the Chicco Gro-up 123 (Rs 19,990). |
| Available at: | Exclusive Chicco stores, leading baby shops, and online channels. |