Product review: Baja Design XL80 auxiliary lights
Baja Designs is an American company that came into light making via desert racing in the United States. The most famous of these is the Baja 1000 which our very own Anand Dharmaraj and team had finished last year, a race that runs through the night in the Baja California peninsula's desert landscape. Outside of a handful of significantly larger lights, the XL80 is the most powerful light they make, putting out 19,000 lumens from two lights with four LEDs each set into Baja Designs' trademark clover leaf pattern lens set into a metal bezel. As far as we can tell, this much light cannot be acquired in India without spending money on either a number of auxiliary lights or by spending considerably more money on something like the Clearwater Lights Selvina.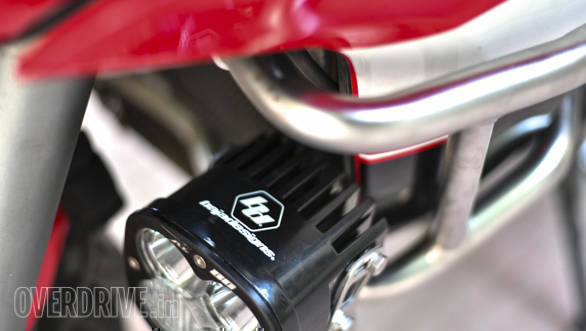 The Baja Designs XL80
The XL80 is the most powerful light Baja Designs makes in the individual pod format. There are significantly larger pods - the LP9 - and light bars that far exceed even the XL80s output. Powered by four 20W LEDs each, a single XL80 unit makes a whopping 9,500 lumens. It isn't a small light unit either, each pod is 4.3" (huge) and weighs just under a kilogram each too. Baja Designs has are all in there. Each light is rated to IP69, which means you can pressure wash them if you need to. All the wiring is waterproof and each LED puts out light at a sun-yellow 5000K rather than the slightly bluer temperatures that other makers seem to prefer.
And of course, each light comes with a lens pattern - mine are a driving combo - and you can buy replacement lenses as well as change lens patterns to further tailor your light requirement. What's a driving combo? The bottom two LEDs on both XL80 units produce a wide spread of light close to the vehicle while the top two are focussed further ahead for distance. Baja Designs says the throw is important for speed in the dark while the spread gives you reference and context and removes the feeling "of driving through a tunnel." The XL80 also has a built-in dimmer that allows you to run the light at 20 per cent - roughly 4,000 lumens, or at full power.
The lights are sold by MotoUsher, a Nagpur-based Powersports distributor who represents Baja Designs, as well as other brands like EBC (brakes), Hepco Becker (luggage systems), Wunderlich (BMW accessories), Rukka (top of the line motorcycle gear) and more. See their full range at shop.motousher.com
What we liked
The light output is phenomenal. At full brightness, you will physically stagger backwards from the impact. And that's not a good thing as far as being polite goes! From that perspective, I like the fact that Baja Designs' built-in dimmer drops output to 20 per cent at the touch of a button.
I've found that a well-aimed 4,000 lumen light, like the first-generation Denali D4 is a good choice for bright city riding. It dazzles almost no one and it's bright enough to show you what is coming at you at city speeds easily. I suspect that even half the output is enough and most manufacturer's OE headlights - within the bounds of the law, naturally - do not produce anywhere close to this output. And 20 per cent of 19,000 lumens, it turns out, is about that number. Astute!
The other thing I like, is how Baja Designs has worked out the beam. The two upper LEDs on both pods throw light into the distance and the bottom two have diffuse lenses that throw a broad swathe. The eight individual beams blend seamlessly to offer what looks like a runway made of light and it makes riding for hours in the pre-dawn darkness very easy indeed. It helps that the highway traffic is at an ebb at this time so despite running at full power, I don't blind anyone.
I also like the idea that Baja Designs selects a light temperature that mimics the sun's pale yellow light. I didn't think this would be a big deal but I realised that the slighterly blue-er tones of most other LEDs produce a harsher glare and the XL80s are just easier to ride with. It's a small difference but it adds up.
In essence, this is a stunning light package. In function and in sheer output, it's hard to fault. LEDs are efficient by nature and despite a considerable 160W draw at full power, the lights do not seem to affect the Ducati's battery in the least either.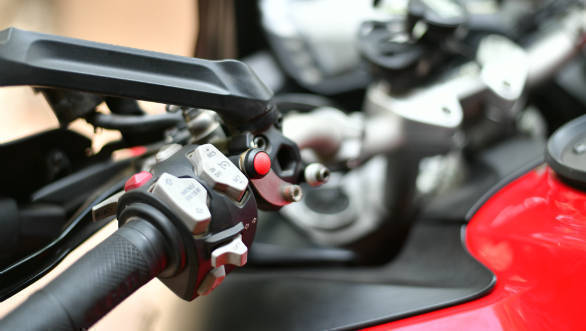 And a word of mention for the Baja Designs dimmer switch. It doesn't look like much, to be honest. But the feel and ease of use is perfect. I do wish the steel plate on which it mounts was black rather than stainless steel. My only complaint is that the wire connects to the dimmer in the open on a bike and once we finalised the mounting, we took a wad of hot glue to waterproof this.
What we didn't like
The Baja Designs XL80 is a car and ATV light more than a motorcycle light by design. That causes mounting issues. First, it's nearly 1.1kg for each light and that's not a joke. You have to pay attention to your mounting hardware - which you will have to buy separately as usual.
Second, because the light switch is secure in a car, there isn't a relay included. The relay, essentially, allows the light to be turned on only if the motorcycle's ignition is on - for our install, Zubinn Design and MotoUsher sourced a relay for the installation.
Third, paying nearly Rs 70,000 for a set of auxiliary lights is rather expensive no matter how you slice it. I do wish the XL80s were cheaper. These are super-premium prices, although you cannot argue with how good they are or how much light they produce.
Verdict
Baja Designs' legend in the auxiliary light business is not hard to fathom. From the pressure-washer safe XL80's construction to the materials they've used and the beam power and design, the XL80s are stunning. I've got them covered in muck, heard stones hitting the lenses over the Ducati's rumble and ridden through some extremely hard terrain without managing to damage them in the least. There are cheaper lights on the market to be sure. Baja Designs is an expensive brand overall and no one, let's be honest, needs this much light output - the XL80s were designed to go on ATVs for desert racing and other off-highway high-speed applications.
But with three months of use, I can honestly say that having done a series full of lights on the Ducati, the XL80s are worth it. If I knew what I know now about how well they work, I'd have bought them instead of the Denali D4, Denali D4 V2.0 and Rigid D2 Hyperspot combo setups that I had explored earlier.
Baja Designs XL80
motousher.com, Rs 64,499
Baja Designs Aux LED push-button switch
Rs 2,199
Relay
Rs 2,000 approximately (sourced separately)