Product review: Akropovic exhaust for Honda CBR250R
The Honda CBR250R has been around for a year, the motorcycle started a new affordable quarter-litre segment in India. However there have been no performance parts on offer for the Honda until now. Akrapovic, supplier of performance exhausts, are offering a bolt-on exhaust specially developed for this CBR.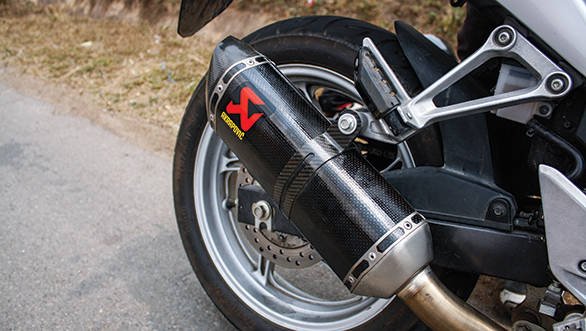 The Slovenian company has been producing exhausts since 1990 when motorcycle tuner, Igor Akrapovic decided he would try his hand at bending tubes of metal. Now 22 years later the company is one of the leading exhaust system brands in the world. The exhaust claims to increase the power and torque by 0.8PS and 0.7Nm respectively. We decided to test it. The stock CBR250R hits hundred in 9.2 seconds. With the Akrapovic exhaust it needs only 8.1 seconds, making it as quick as the Kawasaki Ninja 250R. Very impressive considering it's only a bolt-on and not a full system exhaust.
Increase in power is noticeable all the way up to the rev range and one needs to time the upshifts since the rev limiter kicks in quicker than expected. Throttle response is much better while low-end torque has also improved and is noticeable in all gears. Top speed is marginally higher but the time taken to get there has come down. The exhaust note is too loud for town use, mind. However there is a muffler insert provided that cuts down noise considerably. The hexagonal shaped trademark of Akrapovic exhausts also gives it a unique look. Quality comes at a price though, the exhaust is priced at Rs 28,000 for the regular model and Rs 33,000 for the lighter carbon fiber model.
Price (Ex-Delhi)
Starts Rs 1,64,143