Plan is to attack not defend says Pietro Fittipaldi ahead of MRF Challenge Finale
Pietro Fittipaldi is one one of the more determined young racers we've encountered. As he heads into the final round of the MRF Challenge at Chennai, he's not willing to coast through the weekend, resting on his slim points lead. His aim, he tells us is to attack for every race win and thus win the title. Defending, isn't really his style. It's just one of the many things he's very clear about as he charts his path to Formula 1. A World Series by Renault or a GP3 seat is up next. But before that, there's the title to be tackled in Chennai. He talks about all of this and more, in his interview with OVERDRIVE.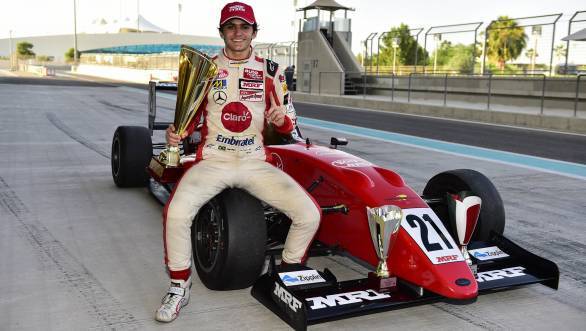 OVERDRIVE: How did you zero in on the MRF Challenge?
Pietro Fittipaldi: The races are on some important tracks in the Middle East, like Abu Dhabi and Bahrain, so we thought that it was an important championship to do just to learn the tracks mostly and also because it brings a competitive field all the time. They usually run 18-19 cars so that was pretty good.
OD: And what do you think about the car?
PF: Yeah, the car is good. It's a Dallara chassis, so that's why it's good, Dallara is very reliable. But it's a difficult car to drive, it doesn't have a lot of downforce on it so it's very different from Formula 3. It has a sequential gearbox and it's very easy to make a mistake when you are driving so you have to drive it as perfect as you can. It's a difficult car to drive - so I like it.
OD: What about the tyres?
PF: The tyres are good tyres. They've been developing it for three or four years now. They are just like any other tyre. They'll be having a good peak (performance) in qualifying so you gain a lot of grip and then through the races, they start degrading but that's normal. That's how racing tyres are.
OD: And you get five sets of tyres, which is not bad, over the course of the weekend?
PF: Yes, they provide us with a lot of tyres which every driver likes . It's a lot of tyres per weekend, five sets. You usually just use one set in qualifying because there's only enough time to use one and then you use one set of tyre every race.
OD: What do you think of the competition in the series?
PF: Yeah, there's some good competition, some good F4 drivers, I think a couple of F3 drivers as well and there'll be some drivers racing in F3 next year. So, it's good competition and it's always good to do a championship like this so I can keep everything up to speed. Because usually you stay two to three months without doing anything and during the winter if you can do something like this, it helps a lot.
Fittipaldi, flanked by title rival Tatiana Calderon and Indian driver Tarun Reddy
OD: You're leading the championship as you head to the season finale in Chennai. Are you feeling confident?
PF: Yeah. I'm confident going into Chennai. I've heard that it was one of the first tracks in India? They say that it's one of the classics, something that I've heard from some of the Indian drivers like Tarun Reddy and I spoke to Narain Karthikeyan. They say that there are a lot of bumps on the track. It is very long so it's like an old classic track. I'm excited to go there. It's going to be a lot of fun.
OD: What sort of preparation will you be doing, heading into Chennai because you haven't seen the track before?
PF: We've got some video on-boards from previous years with the MRF car going around there. Also, looking at the telemetry, so just taking notes, checking out the reference points and just memorising the track so that when you get there for the first practice, you can get up to speed as fast as possible.
OD: Who do you think your biggest title rivals are? Because Tatiana is following you by not too many points, so other that her, who do you think your biggest challengers are?
PF: I think Alessio Picariello will be the biggest challenger. Tatiana is also doing a really good job so she is quite close there as well, there's a Russian kid, I forgot his name (Nikola Troitskii). So there's three other guys that can win the championship that weekend and it's not like it's a short weekend. It's four races, which is a lot of points, about 100 points on the table. So we'll have to go there and finish all the races and I think go for the win in every race. Going for the win is the best defence. I can't think about defending the championship, no. I've got to think about attacking.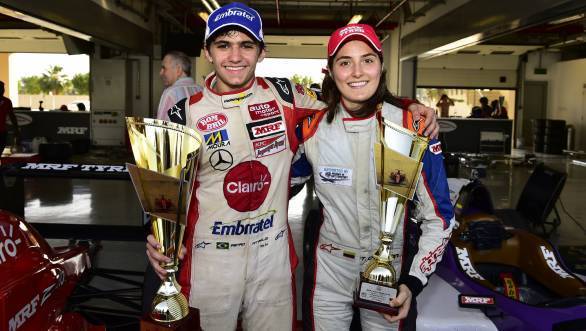 The battle in Chennai boils down to Fittipaldi and Calderon, with Alessio Picariello posing a real threat to both drivers
OD: Have you already finalised your plans for 2016?
PF: No, we still haven't finalised them. We should be finalising them in the next two weeks.I'm pretty excited for next year. We'll see what happens.
OD: Can you give tell us what championships you are looking at?
PF: Either World Series of Formula 3.
OD: Which one is Plan A and which one is Plan B?
PF: Umm... well the both are Plan A. It's like we have both options on the table. It's like a 50:50 chance, so to be honest I don't know which is Plan A and which is Plan B.
OD: Can you tell us your timeline of where you want to be and when?
PF: I wan't to be in Formula 1 in two to three years so that's the goal. Obviously, I'll have to do well this year and then after that if I go to World Series, either do one more year in World Series to win the championship or just move to GP2. Or if I do F3 and do well in F3 then move on to GP2. So it'll be the best season, then another season and if I can't get a drive in F1 then another season to do well in the championship again and then see if an opportunity opens.
OD: You had a challenging season last year with European Formula 3, though?
PF: It was difficult. We had a lot of ups and downs in the season. We had some good races where we were battling in the top five. A couple of races where we qualified in the top five as well. But it was just a little bit up and down. Inconsistencies, really. But I learned a lot. The F3 Championship is really competitive. There were quite a lot of tracks where I went to in the weekend, not having done a lot on the track, because I just didn't know the track. So that was difficult as well. But, the amount of experience I gained and the amount I improved was a lot so that's the important part.
OD: Was it difficult for you mentally in 2015, especially since you came off a really good season in 2014, where you won the Protyre Formula Renault Championship?
PF: Yes, it was pretty difficult at some points because I'm always used to winning races, not to sound arrogant or anything, but then to come to a championship and not be upfront every weekend was difficult. But I think it's important for me to learn from these situations and learn how to deal with difficult situations and I'm sure I did that last year.
OD: What would you say is your toughest year since the time you took up motorsport?
PF: I think it's 2015. It was the toughest year.
OD: How do prepare yourself for a better 2016 and psychologically, is here something you need to do to push yourself?
PF: In any sport after a tough year, the main thing is to be confident, just keep your eyes on the goal really. You just have to keep going even through tough situations. Just keep looking forward and working on what you have to do. There are things that you can't really control, so just work on things that you can control, which is my driving, my physical training, my mental training and do my best job possible. Everything else, if it's supposed to come through it will. If not you did your best, you know.
OD: Can you tell us about your training routine?
PF: Yeah, so in Formula 3 the car is pretty heavy, but it's not that difficult, like you won't get that tired during the races. But like let's say, if I do something like the World Series then something like physical training does make a difference because the races are longer and the cars are heavier. So. I go to the gym, when I'm not racing, five to six times a week. Mostly strength training. A bit of cardio as well but I find that strength training helps me more. Just that I'd have more strength and endurance for the longer races. I find that I don't need much cardio. It's all about just strength and muscle endurance. So that's the type of training that I do. I do a bit of Crossfit as well. I enjoy it. I do it as well.
OD: In terms of mental preparation, do you do something specific?
PF: Not anything specific but I kind of just work on myself. There's different types of techniques that I practise on myself and also like while I'm at the gym. Let's say Monday to Friday, every day I have a different track in my head. So let's say Silverstone. So when I go to the gym for an hour's session, while I'm doing my exercises, I'm visualising a perfect lap, a perfect corner around that track. And during that whole gym session I'm just visualising mental laps of Silverstone. On Tuesday I move to Spa or something like that. It's something that I also do before qualifying or something when I hop in the car. Just take 5-10 mins of visualising the perfect lap in your head and I find that helps me a lot.
OD: Can you tell us what are the biggest life lessons that you've learned in your racing career?
PF: Biggest life lesson I think is just dealing with success when you have it, at the same time dealing with the struggles when they come. It's like it happened in 2015. I came from winning Championships and then in 2015 it was extremely difficult. So, I'm going to keep looking forward and not putting myself down and just making me mentally stronger. So I think in anything you do you have to keep your head up and you have to keep pushing towards your goal. If you really want to do it , I think you can do it.