Pick-ups that should come to India after the Isuzu D-Max V-Cross
Pick-up trucks in India are a rare sight. Yes, you could argue that the Mahindra Bolero Pik-Up, only available for commercial purposes, has been around for quite a while and let's not forget the Mahindra Genios, Imperios and Scorpio Getaways that dot our roadscape. Tata has had the Xenon on sale for quite a while too but there's something missing in all the vehicles that are listed here. While they are quite capable for commercial use, they just don't make sense as a privately owned vehicle. They lack features, build and creature comforts that are the basic requirements these days. However, the Isuzu Dmax VCross has turned the pickup truck game in India on its head, and we can't help but take notice.
On the road test, we discovered what a practical, no-nonsense pick-up, the D-max V-Cross is. Its big, burly dimensions give it the stance of an SUV and the large loading bay gives it unmatched load carrying capacity. Just the right vehicle for adventure junkies to load their equipment or wanderers to load supplies. We've also contemplated carrying a motorcycle to the race track, but that's a story for another day, and once we confirm that it's legal to do so.
For now, the Isuzu D-Max V-Cross is an unprecedented vehicle in our market. The cabin is spacious and well appointed and fit and finish levels are far better than the other pick-ups on sale in the country. It also gets a shift-on-the-fly 4WD, and you have to watch our video (that'll be out soon on CNBC-TV18 and our Youtube channel) to see how capable it is off-road. At a price of 12.9 lakh ex-Mumbai, the D-Max V-Cross makes absolute sense as a practical, lifestyle pick-up truck. And corroborating this thought is the superb response that the Isuzu D-Max V-Cross has received since its launch in India.
Despite a scarce dealership network (that Isuzu is steadily ramping up) the company has already registered 300 bookings across the country. That clearly indicates an untapped market for lifestyle pick ups in the country and Isuzu seems to have found the key to it.
This got us thinking of other pick-ups, sold internationally, that would be apt for the Indian market.
The Hilux, is essentially a Fortuner, with a loading bay. It's the same platform that also underpins the  the new Innova Crysta, so Toyota India will not have too much trouble manufacturing the Hilux here. Internationally, the Hilux is a popular pick up truck that's proven its capabilities for generations. 16 million Hiluxs have been sold since its introduction in 1968 and with each generation the Hilux has grown from strength to strength.
The Fortuner is a big success in India and there's huge anticipation for the new generation vehicle that's on sale internationally. If Toyota can get the 2016 Hilux based on the new Fortuner to India, there'll be a strong contender for the lifestyle pickup truck crown in India.
2. Ford F-150 Raptor
If big, brute and fast is your thing, the Ford F 150 Raptor presents a strong case for itself. American muscle in every sense of the word, the Raptor is arguably one of the fastest pick-ups in the world. The 2017 avatar gets an all new 3.5-litre V6 Ecoboost, intercooled, 24-valve DOHC engine that produces 450PS and 610 Nm. That's sports car territory. The Ford Mustang's V8 motor, for instance, makes 401PS and 515Nm. The Raptor's engine is mated to a 10-speed automatic transmission (with a manual mode). Those specs give it some serious pace. There are six-preset off-road modes - part of the new Terrain Management system that gives it some serious off-road credibility.
The 2017 Ford F-150 Raptor has a military grade aluminium body that gives it a 226kg weight advantage over its predecessor. Ford has also kitted it with 3-inch Fox Racing Shox with custom internal bypass technology. What this does, basically, is offers variable damping rates, based on wheel travel. Highly effective both off and on road.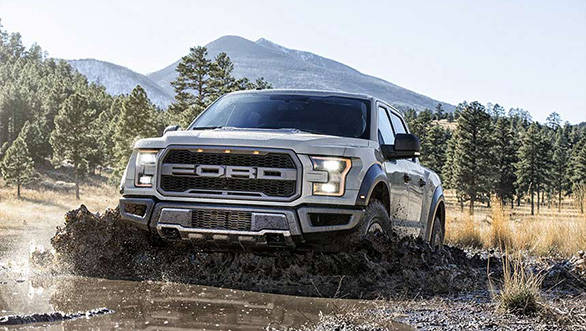 It looks mean even at standstill and intimidation is its middle name. Since Ford just launched the Mustang in India at a fetching price of Rs 65 lakh (ex-Delhi), the Raptor should make it to India at an interesting price point. We certainly hope so, because the very thought of a super quick pick-up truck is quite exciting. Are you listening Ford?
3. Ford Ranger
The new Endeavour seems to be getting a lot of love in India and it's not hard to see why. It's checks all the right boxes for SUV lovers – big, good looking, powerful and capable. Considering this, the Ford Ranger, which is similar to the Ford Endeavour in almost every way, should attract the same amount of attention.
However, what will be a big downside to this truck is the price. The top-spec 2.2-litre 4X4 Ford Endeavour costs Rs 27.92 lakh, ex-Mumbai. Expect the Ranger, if launched in India to feature a sticker price in a similar ball park. It may sound expensive, but keep in mind that the new Endeavour is a terrific SUV with excellent on and off road capabilities and one can expect the same kind of performance from the Ranger. Think about this, the Ranger, with the large stowage space at the back brings immense practicality to the table too. Drooling?
4. Chevrolet Colorado
Another American to feature in this list, the Colarado, is the pick-up cousin of the Trailblazer that's on sale in India. What that means is that the Colorado has the similar gargantuan proportions as the SUV. The pick up was showcased at the 2016 Auto Expo in Noida and its imposing stance drew visitors in droves. In India, since the Trailblazer is already on sale, it won't be too difficult for the company to launch the Colorado here. It'll use the same engine and drive train while oozing with street presence.
Price and positioning are key elements that will dictate sales of pick-up trucks in India. Isuzu has gone to great lengths to localise the D-Max V-Cross in India and that's what allows it to price it so competitively. If other manufacturers follow suit and explore the possibilities of this untapped segment, it'll be good news for the Indian market.
Price (Ex-Delhi)
Starts Rs 16.98 Lakhs
Price (Ex-Delhi)
Starts Rs 32.75 Lakhs
Price (Ex-Delhi)
Starts Rs 74.62 Lakhs
Price (Ex-Delhi)
Starts Rs 7.98 Lakhs
Price (Ex-Delhi)
Starts Rs 33.99 Lakhs