OVERDRIVE's choice of top ten driving games
This list what all of us at OVERDRIVE think are the best games. All of us have different opinions about what position each of these games need to be at. But most of these games feature on all of our top ten lists. If you think different, we'd love to hear about your choices and why you love them. Why? Because we love our readers. *wink wink*
1.  Colin McRae Rally 2.0
Here's one game that we all grew up playing. Till date we haven't played a game that has such realistic physics and groundbreaking graphics (for that time). The damage system was spot on. You could crack lights, windscreens, tear off bumpers, break your radiator, screw up your gearbox. Anything that could go wrong in a rally car, you could get it to go wrong here. And to top it all, it also featured some of the most iconic rally cars and even more iconic rally stages. Lancia Stratos in Italy? Check. Ford Focus RS in Australia? Check. Peugeot 205 in Sweden? Check. Mitsubishi Evo VI in Greece? Check. And that's not all, all this action happens with a background score that is Nicky Grist and his co-driver calls. Epic!
2. Need for Speed: Porsche Unleashed
If you're a Porsche fan and you haven't played this game, well, then you're not a Porsche fan. It features all of the most iconic Porsches right from the first 356 models. Our favourite parts (there are two) are the factory driver and evolution modes. Factory driver lets you get behind the wheels of various Porsches and try your luck as a Porsche test driver. Evolution is a career mode where you buy Porsches, modify them and race them to make more money and, well, buy more Porsches.
3.  Gran Turismo 5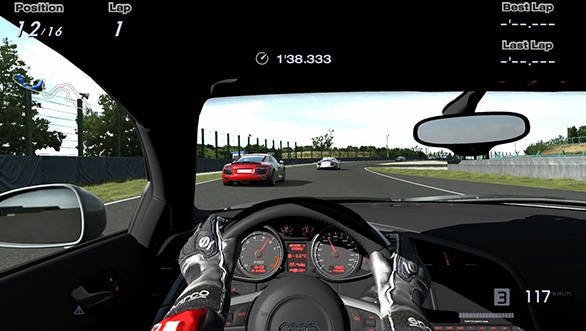 GT5 takes over from GT4, not in terms of gameplay, but in the options you have like cars, tracks and customization. You even had an option of different kinds of races such as 24-hr endurance races and rallies. But this is not one for the faint hearted. GT5 is as close to driving a real car that you can get without actually getting in a real car. For us, this is where we unleash ourselves in those test cars that we normally have to be super careful with. Even we have itchy fingers sometimes you see.
4. Forza 4
If GT5 was for the PS3 obsessed, Forza is for the Xbox nuts. It does almost everything that GT does but adds some more. What exactly? Well other than the cut-throat graphics and the tear jerking car collection, you can add Jeremy Clarkson's snarky comments about each of the cars to the list. We like GT better, but we just can't deny that Forza comes ridiculously close to it.
5.  GRID
We like Grid because you don't have to be Michael Schumacher to have fun. It is the right mix of both arcade and simulation. What we especially like is the flashback feature which lets you go back in time and correct any mistakes that you might have made while racing.
6.  DIRT 3
We like this one because there are lots of rally cars on rally stages and even some trucks and buggies thrown in for good measure. After Colin McRae Rally 2.0 this is the one that put Codemasters back in our good books. Oh and we also like that fact that we can mess about in Ken Block's Fiesta.
7.  Real Racing 3
This is the game that we are all hooked on to right now. Real cars, real race tracks and the chance of playing with your friends in a Time Shifted Multiplayer mode make this one of the best iOS/Android games according to us. Afterall, who would say no to driving a Nissan GT-R on Brands Hatch?
8.  Need for Speed: Underground
Underground is the game that introduced illegal street racing to the gaming world. Until then all we could do was watch the Fast and the Furious over and over again. With the arrival of NFS Underground, car nuts had a way to buy, modify and customize how their car looks, handles and drives without having to get arrested or putting other road users in danger. We also particularly like Underground for the nearly limitless possibilities of customization, be it spinners, paint, nitro boost or vinyls.
9. Burnout: Revenge
Sometimes it isn't enough to just race and win trophies. Sometimes you want to reduce your car into a mangled mass of metal, plastic and rubber. And sometimes you want to make an even bigger pile of mangled metal using all the other cars on the road. This is what Burnout: Revenge was all about. Play it in multiplayer mode and the fact that you can, quite literally, blow up all your opponents by clipping them on the tail or by pushing them into the path of oncoming traffic makes for hours and hours of endless fun.
10. F1 2013
We haven't gotten our hands on this one yet. But what we have heard so far makes us want to beg, borrow or steal this one. Why? An outstanding physics engine, some killer graphics and the fact that this time around you can not only sit in Kimi Raikkonen's car, but can also jump behind the wheels of some of the most iconic, classic F1 cars from the past. Now that's an offer you just can't refuse.
Price (Ex-Delhi)
Starts Rs 2.12 Crore