OVERDRIVE's best columns of 2018, a retrospective
We're reviewing 2018 already? But but the year only just started? What? They say time flies when you're having fun. We at OVERDRIVE say that's one hundred per cent true. My personal favourite section of all the work we put out is the Opinions section of OVERDRIVE. This is where Vaishali, Bob ji and I can put down our thoughts. The magazine also has the stellar Michael Scott as well as the insightful Dan Knutson and the extremely experienced Martin Holmes who cover MotoGP, Formula One and the World Rally Championship, respectively. Unfortunately, we cannot reference the motorsport columns here, but we certainly can reference ours. Since it would facetious for me to pick my own columns as the top columns, I took the help of the OVERDRIVE web analytics guys to figure out what were our top columns of 2018 by web traffic. Take a look! The columns are listed in order of appearance from the beginning of 2018, till the end.
In retrospect, I might have spent the year trying to fix how people react to, and think about motorcycles! This column from February discusses the fickle nature of opinion on social media and how that shouldn't distract you from getting the bike you really want.
This column from Vaishali reminds us that as human beings, in every situation we are placed in, there are things that are right and things that aren't. The line between them isn't blurred unless you choose to ignore it.
Bob wonders why is it that our cars are modern as anything, but our forces' continue to use old equipment? Six months later, Bob also got to drive the new Tata Kestrel, an armoured 8x8 amphibious carrier!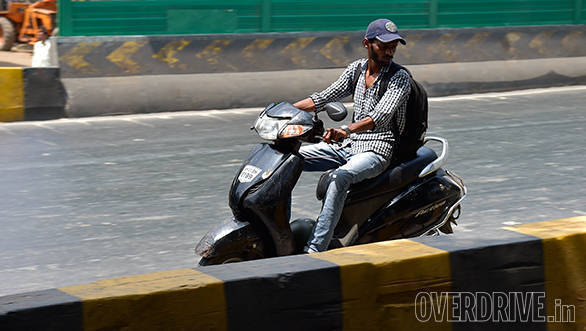 Photograph for representation only. This chap isn't the guy from this column - you can surmise this because he isn't looking where he's going
I spotted another journalist on a test bike riding to work with just a helmet. This set off all the alarm bells I have. Can't say he's wearing it all, all the time now, but hey, I tried.
The new Formula E machine that will be used in Season 5 of the championship
Why has motorsport chosen to go to a country where a cruel regime has systematically suppressed one half of the population? Vaishali points out that Formula E going to Saudi Arabia - back in June - hides a layer of women's issues that plague that country. She also wrote later about issues related to women in motorsport as well as in general in another excellent column in October.
Vaishali wrote this brilliant column remembering her childhood heroes. To remind you to celebrate what you have when you have it.
Bob's column on abandoned cars is a great one. Written just after the World Environment Day in June, it explains how and why owners end up discarding rather than selling or scrapping their cars. And how a small group of citizens in Mumbai are doing something about it.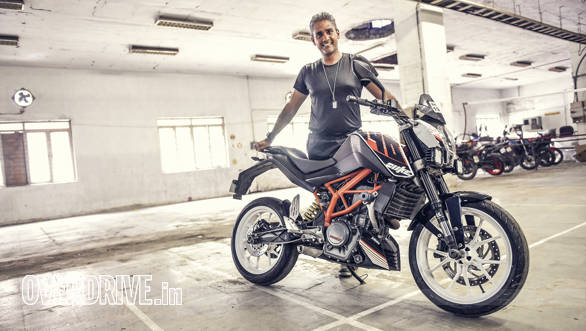 Shumi with his freshly restored 2014 KTM, "Ferocitas"
This column was inspired by the return of my KTM 390 Duke, Ferocitas to me after a full restore/refresh. It reminded me of how powerful the emotions that connect you to your motorcycles can be.
HJC RPHA 11 Lorenzo
The news that led to this came as a shock to me. The Indian Government has a good law in the making - it prevents the manufacture and sale of non-ISI compliant helmets. But some vested interest - no prizes for guessing who - went and added a clause that first, prevents top-quality international helmets from being ISI-compliant and second, there seems to be a move to dilute the Indian ISI standard. This is insane! We also followed up this story. But as it stands today, it looks like the diluted Indian standard - with performance requirements 25 to 40 per cent less than before - will become the new rule for helmet testing. This is lamentable. The logic is that people will be willing to wear lighter helmets. Bullshit. It's a failure to enforce that is being exploited by vested interests.
There's a near constant accusation that journalists are paid for positive stories. Maybe they are. But this emotional column explains how I approach new motorcycles. I loved how it turned out.
Price (Ex-Delhi)
Starts Rs 2,52,928