OVERDRIVE Independence Quattro Drive 2017: High Notes
What is a nation if not the sum of its people. And India is a nation made up of many different people, belonging to different ethnicities, possessing varied languages, cultures and ambitions. Binding them is a nation that is one of the oldest in the history of mankind. And every year this nation celebrates its independence in a loud voice, heard across the corners of the globe. At OVERDRIVE, we have cultivated a tradition of sorts! Every year on our Independence Day, we take a bunch of automotive and travel enthusiasts to the remotest corners of the nation, where our borders meet those of our neighbours. Out there where the landscape is extremely desolate, cold, hostile yet still magnificent and grandiose, we hoist our nation's flag, higher than on any other place on earth that day! We hoist it with a sense of pride and accomplishment, knowing that the journey to that point has been marked with trials that most city dwellers have never been familiar with. We sing the national anthem in awe, loud enough for our voices to carry on the winds to our brothers and sisters standing vigil on our borders!
Five years ago, OVERDRIVE struck a chord with Audi India to bring together a motley crew to travel to the furthest regions of Ladakh to celebrate this nation's Independence Day. A convoy of Audi SUVs march across some of the toughest roads in the country, tough not because they are bad roads, but because of the geography these roads traverse. High mountain passes, stark valleys, frozen plains and wind beaten rocks lie strewn across Ladakh and in the path of all travellers to this region. It wears down both man and machine making the region one of the ultimate adventures in a lifetime. And yet people undertake this journey, some knowing the perils and some completely ignorant. In the end though, the rewards though are immense, striking a chord deep within every soul who travels this road.
The mornings start off with a quick briefing about the route and terrain
This year we had 13 participants, people who have an immense love for the outdoors. Each of them love travelling; they travel extensively but had never embarked on a journey of this order. Ladakh, to most of them, was as elusive as ever, but when the opportunity arose to share this trip with like-minded souls, each jumped to snatch the opportunity. Take for instance Samrat Mehta and Saunak Parikh, two friends who were waiting for IQD for a whole year. Last year some others from their friends' circle joined us for a road trip and their experience inspired Samrat, who was one of the first to sign up. Samrat was also one of the few who got an earful from his wife for not having signed her on too. And that's how Samrat got Namrita along as well. Then there was Anand Agarwalla and Siddharth Podar, an uncle and nephew duo. Anand has done several road trips in his own Audi, some pretty adventurous too but for Siddharth, IQD would be the most epic one he'd ever undertaken. Yogesh Mankani and Ashutosh Munshi, two young professionals, won a contest run by Michelin. Ashutosh works with a PR agency and is also well travelled but never indulged in something this extreme. Yogesh, on the other hand, an avid motorcycle traveller, had many a motorcycle road trip under his belt, very few in a car!
We also had two participants representing Red FM, Ahmedabad's No 1 RJ Dhrumil and Sumit Tiwari who was busy mixing business with pleasure! Then there was Alok Rathi, a hotelier from Rajasthan who has a keen eye for organisation, and was never short of criticism or praise for what we did throughout the journey. Vijay Ambati, who hails from Mumbai, is a businessman and long-distance runner. He even participated in the Leh Marathon last year. Talk about running at these heights when most fail to even brisk walk without collapsing! For Vijay, the opportunity to travel to Ladakh was a no-brainer, as it was for Rahul Ray, an advocate from Delhi who loves to talk, not knowing when to stop! Taking his profession too seriously, methinks. Geemon Korah and Manoj Joseph were friends from Kerala, who love cars, know cars and own several interesting cars; they also like the work we do. They couldn't resist the allure of travelling with Team OD on this journey as well. Gurbax Singh Gill owns a travel business, and having heard of the event from close friend and chief liaison for the IQD, Col Sukhwant Sekhon, Gurbax jumped on to the bandwagon as well. And finally we had Col Malwinder Singh, a retired Army officer who had already served in the region, but was always ready to travel back to Ladakh, especially if it meant driving an Audi!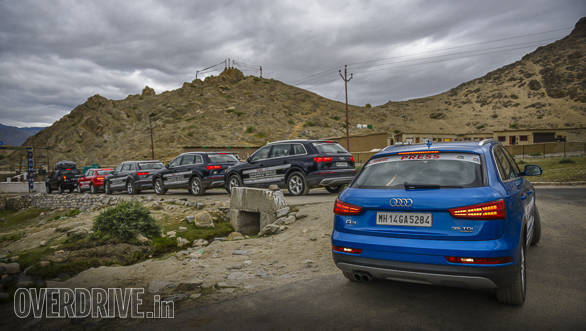 RED FM: What can we say about the guys from RED FM. Their team is well known for taking on big challenges, especially when they turn the spotlight on the authorities! But few knew that they also have a strong adventurous streak in them. It's what has inspired them to keep alive their association with the Live Life in OVERDRIVE Independence chapter. So while you may assume they spend all their time behind a desk and a microphone, let us assure you all that chatter comes from some very real experiences, even if those come at 16,000 feet above sea level!
These participants, coming from all walks of life, had but one ambition in their hearts, to share a road trip with like-minded adventurers. And it's not easy sharing a car with others, giving them the responsibility of steering it with you in it over high mountain passes with narrow roads and sheer drops! And yet, in a few days the bonds of friendship were cemented forever, each trusting the other to carry them through this journey to its completion. Despite the altitude, and many did feel its effects, comforting words and gestures carried almost everyone through to the finish. One of the participants did fall more ill than the others, but quick medical intervention on behalf of the Army and a quicker evacuation from the high-altitude region ensured he was back to good health in no time!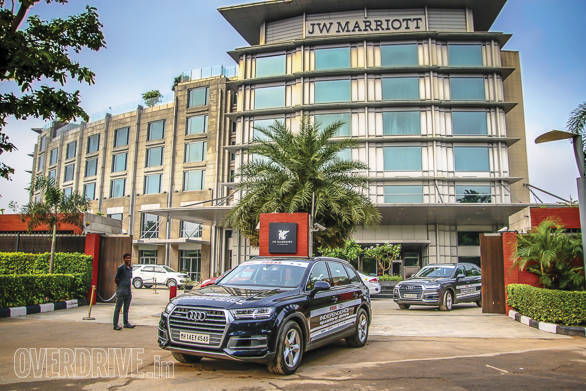 JW Marriott, Chandigarh: What's better than starting and ending an epic expedition like the IQD with some good food, rest and opulent five-star hospitality? Nothing, of course! Our hospitality partner, JW Marriott Chandigarh, had all of that taken care of. The event started on a high note, with participants leaving from Chandigarh in style after a night at the beautiful hotel, and the end of the trip was no different, with everyone finding respite in the luxurious rooms and delicious food.
Like every year, this year's Independence Quattro Drive began from Chandigarh covering nearly 2,000km on a journey that went through Leh, Chushul and Pangong before coming back to Chandigarh. The roads in most places are now brilliant, nearly 80 per cent of the road between Chandigarh and Leh is magnificent. The rest of the 20 per cent, however, tests your patience and your vehicle's resilience. They are also some of the worst sections you would have ever seen anywhere in India. The state of the roads along the border are once again a matter of contention, now that the Chinese forces have stood along the border, pelting our troops with stones. The government has finally decided to wake up and fast track all the roads along the border that need speedier troop movement. That means in a couple of years the roads will get better and faster, which I'm not entirely certain if that's a good thing for the adventure traveller. The reason, being you want to slow the pace of your journey down to look at the magnificence of the Himalayas, not fly through it! Thankfully, none of our participants were looking to rush through it!
The IQD convoy was a spectacular sight in a spectacular location
And then there were the cars, the Audi Q7 and the Q3. The only reason you won't be seeing the Q5 in these images is because this year, the Q5 will be replaced with the next-generation car. With the new one coming in, Audi will soon be phasing out the existing vehicle, so no Q5. Instead we had three Q7s and two Q3s, making it a convoy of five vehicles.
Water crossings were abundant during our drive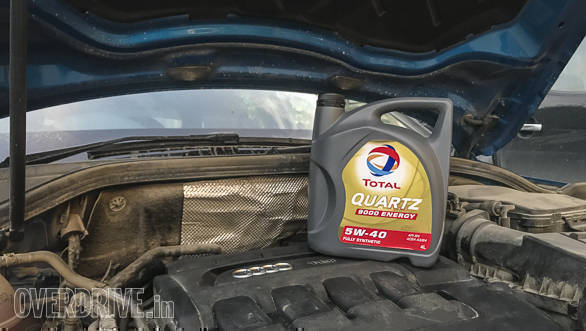 TOTAL QUARTZ Engine Oil: The regions we visited undoubtedly have some of the toughest conditions in the world. And to get there, you need some really good cars. With these Audis, check! But even good cars need good protection, which for us, came from TOTAL QUARTZ 9000 ENERGY 5W-40 car engine oil. Whatever we threw at these cars – the cold, the dust, the high altitudes – the engines seemed to run silky smooth. Checkmate, we win!
The Q7, the flagship of the Audi range in India is powered by a 3.0-litre V6 turbocharged diesel engine. Like most contemporary cars of this order, there are a host of electronics on-board. In Ladakh the Q7 offers a level of comfort that is unparalleled, with superb ride quality, adjustable suspension, space and refinement making the journey easy. However, like any vehicle heavily dependent on electronics, the dust and constant battering leads to unwarranted disruptions. And the Q7s did get under the weather. Blame it on altitude sickness if you must, but the Q7s did get affected. Yet, with some care and the services of Nagender, an Audi service engineer from Chandigarh, the Q7's made the round trip to Leh.
The road to Chushul is often desolate in places. Windswept mountains and plains are constantly cold and arid. It's good to have someone looking over your shoulder in these areas
We had a diesel and petrol version of the Q3. Both are one of the finer SUVs in the Audi fleet, and despite the lesser ground clearance they are immense fun to drive in this region. Nimble, agile and dynamic, the Q3s proved to be a hit. Still, the altitude and the lack of oxygen that take a toll on both man and machine did not spare the Q3s either. Yet despite the odds stacked up against them, the Q3s too made it back to Chandigarh with their passengers without much of a hiccup. Just more spice to the whole "Living Life in OVERDRIVE" experience!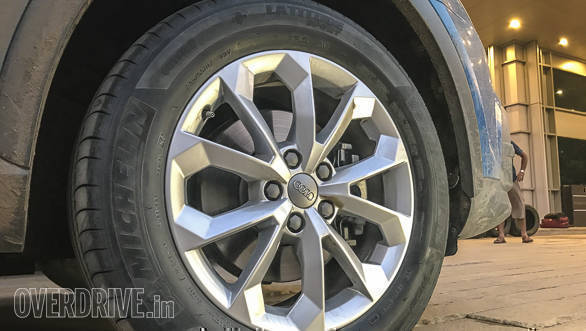 Michelin Tyres: The roads we encountered during the IQD were a mixed bag. They went from the rough, broken, almost non-existent sections past Baralacha La to the smooth, winding tarmac from More Plains to Leh. And to get these cars through all of them without any hassles, good tyres are of utmost importance. Our tyre partner, Michelin, set us up with the most versatile set of tyres that tackled every terrain – road, rocks and even no road – with absolutely no issues. They were tough enough to handle the rough sections, and offered more than enough grip on the smooth twisties, giving participants the confidence to drive through the event without a worry in the world.
This year the IQD went back to Chushul, to the border with China. From Leh you come back on the Leh-Manali highway and turn left from Karu towards Pangong Lake. The roads are in terrible condition immediately after Karu since the BRO is widening that stretch. It's all dirt with several diversions and with the dust flying thick, it slows any convoy down. Further ahead as you begin climbing Chang La, the roads get better, but towards the top of the pass it deteriorates yet again all the way down to Durbuk. From there, however, the road gets brilliant all over again till you hit the check post at Tangtse. The road bifurcates into two here - one leads on to Pangong while the right goes towards Chushul. Two years ago, this particular road was in great shape; this year, however, it's being widened and upgraded, so the 88-kilometre section to Chushul is just loose dirt. It still is great fun to drive on as every once in a while; you can switch off traction control and let the tail slide. The offside is that the loose pebbles and small rocks jutting out of the surface can decimate your tyres if you get unlucky, and we did. Just to clarify matters the participants in the Q7 weren't fooling around, that was us in the support vehicles, but unfortunately some sharp stones gouged out a chunk of rubber from the Q7's front left tyre sidewall. Thankfully, we had come prepared for this kind of situation. We had carried a whole army of spare tyres with us, so after a quick replacement, the Q7 was good to go. This is, however, a word of advice to all those planning a trip to Ladakh. It's always smart to carry a spare tyre mounted onto a wheel as a backup to your backup since there are no options available anywhere outside of Leh. Several hours later we finally made it to our first campsite at Chushul!
There are few thing better than the warmth of a fire on a cold windy night
This campsite was located in a field near a marsh, with mosquitoes the size of flies. But we'd come prepared, the camp hosts had sprayed the area immediately outside the campsite with a mosquito repellent, and we had an ample supply of Odomos to go around. The mosquito issue sorted, everybody relaxed before the campfire and a little later that night we had a spectacular show in the skies thanks to the Perseid meteor.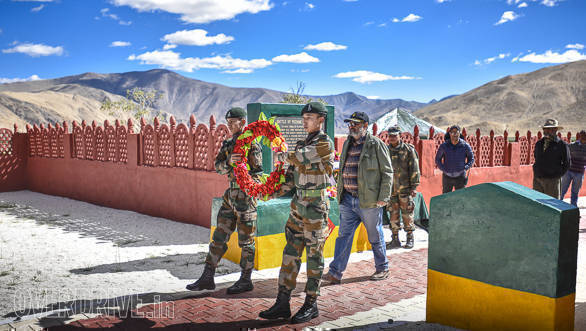 The next morning it was on to the Rezang La War Memorial, located just a stone's throw away from the border with China. These were troubled times with our ties with China straining to the maximum. And yet we'd somehow managed to get our permits in place, and the permission to visit the Rezang La War Memorial and place wreaths at the martyrs' plinth. This year the honour of placing a wreath at the memorial went to the women, the youngest and the oldest members of our team.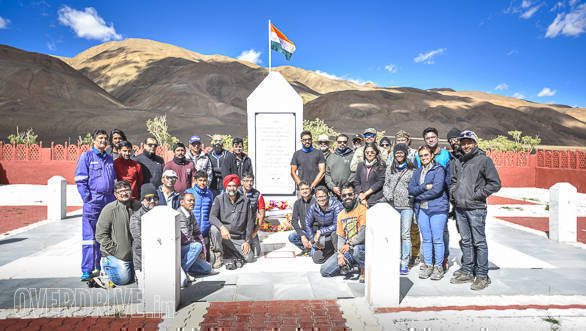 The participants of IQD 2017 gather around the memorial erected in honour of Major Shaitan Singh and the 114 gallant 'Ahirs' of the 13th Kumaon Battalion who made the ultimate sacrifice defending our border at Rezang La
Even in times of distress, the armed forces left no stone unturned making sure that we who had travelled from various corners of the country paid homage to those warriors who made the ultimate sacrifice defending this country. Bear in mind we were in line of sight of the border with China and the very same day, the stone pelting incident took place at Pangong, just a few kilometres away from where we were! And still we hoisted our flag, sang the national anthem and cheered our independence without any incident. The Army even hosted us, feeding us a quick and delicious brunch in the jawans' mess at a base camp nearby. I cannot emote just how grateful we were for their services, through that day and even the next when we headed back towards Leh. One of the participants who fell severely ill was given emergency medical attention in the Army's infirmary; he was even kept there to recuperate for a couple of hours before being dispatched to Leh.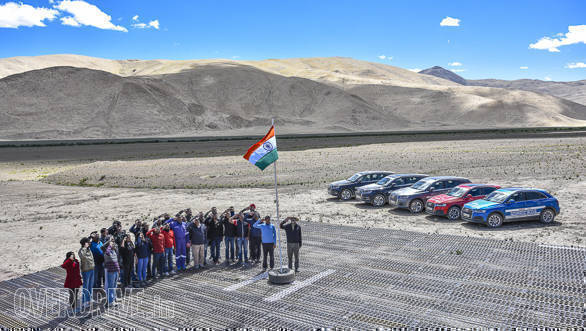 We hoisted another flag just outside the memorial and sang the national anthem loud enough for the Chinese to hear us!
The Army can seem quite aloof and unrelenting to most civilians who travel to these regions, but the Army is here to perform a completely different task. Yet, once they open their arms to travellers in this region, their warmth and compassion is limitless, far beyond the means of any civilian. The Independence Quattro Drive honours these brave heroes. Us coming all the way to the border to meet some of them, exchange warm greetings and acknowledge the sacrifice they make is our way of respecting their efforts in these inhospitable conditions. And the Independence Quattro Drive will continue to recognise these efforts, and honour them. Next year perhaps IQD will take us back to the Siachen base camp or who knows where else? But wherever we go, IQD will always be guided by the light of these brave selfless souls! Jai Ho!
Price (Ex-Delhi)
Starts Rs 79.99 Lakhs