OVERDRIVE Independence Quattro Drive 2016
The road's a thin sliver, there's barely room for two cars to pass each other without putting a wheel onto the shoulder. But then there isn't much of a shoulder here either. Sometimes you get soft mud, more often you get hard stones and even more often you get boulders. At least we are in a huge basin, inside the Nubra valley. We aren't climbing another mountain pass, having to worry if that one side of ours is finding purchase on the shoulder or clawing air over the edge!
These are the Himalayas and it does not matter whether you're in the mountains making your way up a pass, or down in some valley. It is majestic  everywhere! It is also quite intimidating, when you are just a small speck in the landscape. Even if you are seated inside the full size Q7, its own expanse is no match for the mighty Himalayas. So instead you choose to take things easy, you don't make an attempt at taming these mountains, instead you tread delicately everywhere you go. Don't be a gama in the land of the lama!
In the fourth edition of the Independence Quattro Drive, we drove to Siachen base camp and hoisted the national flag
And the place we are driving to on this, the fourth edition of the Independence Quattro Drive, is larger than life. We are headed to the highest and one of the most famous battlefields on planet Earth. We are off to Siachen, where the famed glacier and the armed forces base camp reside. And we continue this chapter of the Live Life In OVERDRIVE experience in a slew of SUVs from Audi, including their newest addition, the all-new Q7.
Our plans to hoist the tricolour at Siachen began in 2013. I clearly remember the month, it was June, we were still in the throes of planning the anniversary issue. We had several epic drives in hand, but one that sort of defined us at OVERDRIVE was still missing. The challenge four years ago was of time and budgets. We had little time to execute something epic and even lesser budgets to cover the expenses. But my mind was buzzing, what if we did this and what if we did that and what if it took place this way...what if we brought our readers to Live Life in OVERDRIVE! In no more than a day, a plan was staged and we went and approached Audi for support. After all we would need cars! Luckily for us Audi also has an adventurous streak and a never say die attitude in them. Despite the lack of time they jumped at the idea and have steadfastly held our hands since then.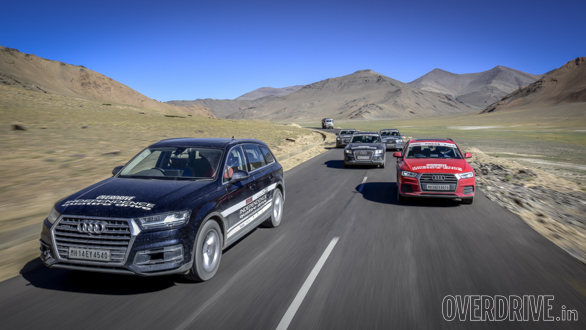 Like the previous editions, the 2016 Independence Quattro Drive was challenging for the participants as well as for the Audi SUVs
We soon roped in another partner, Red FM and a third stepped in, Nautica and then a fourth, Oakley! In under a month we were getting things in place and yet one thing remained. Letters went out to the Northern command, favours were sought, calls made in the middle of the night to our well wishers who were also connected to the armed forces. We tried our level best, but nothing worked. Siachen was still a very sensitive issue, the region hadn't been demilitarized and we would not be permitted to venture there. Our initial call to entries was receiving an insane number of enquiries. We could not believe the enthusiasm but we had just ten seats. They filled up and now the question rose, if not Siachen, where?
Oh fine, we'd then go to Marsimik La, what we knew was unofficially a road higher than Khardung La, except there was no road there, just a goat path to the pass. Marsimik La also happened to be four kilometres west from the ridgeline that forms the line of actual control with China. In a way it gave us a sense of the sovereignty we covet and protect. We were so close to the borders of our nation, a border that's heavily contested and defended. It was a challenging trip to say the least, and it wasn't without its pitfalls and hardships. Altitude sickness and the weather wreaked havoc but we were successful in our venture. We hoisted the national flag and sang the national anthem with élan. At 18,314 feet above sea level there wasn't a crazier bunch of patriots in India that day!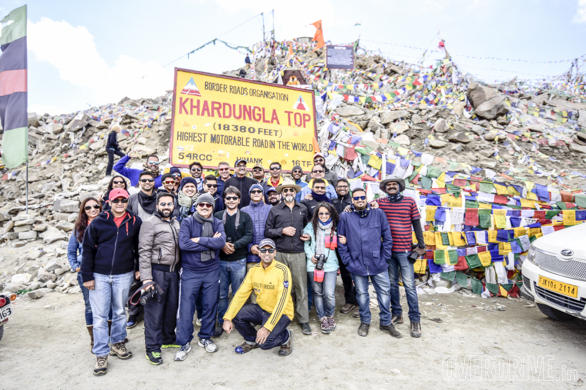 On that particular day, at 18,380 feet above sea level, there wasn't a happier bunch of Indians and automobile enthusiasts in India
Then we replayed the entire series of events in 2014. Back and forth went the letters to Northern command. Our requests and pleas seemed to fall on deaf ears, but we soldiered on. With heavy packs and weary boots we pestered the ministry and the armed forces to allow us to hoist the national flag at Siachen base camp. Unfortunately we failed to make the cut. But we made it to Pangong Tso, again a few kilometres away from the border with China. We unfurled the Indian national flag on the shores of this gorgeous lake and sang the national anthem with as much gusto as we could muster.
Audi continued its unwavering support and continued supplying us with their SUVs. The Q3, Q5 and the Q7 staunchly braved the inhospitable conditions, even where the roads ceased to exist they trooped. Life in OVERDRIVE could not have been more challenging or rewarding.
In 2015, we continued banging on the doors of the Northern command. You have to understand, they aren't insensitive to these requests. I know of several officers who are huge car enthusiasts and fans of OVERDRIVE and what we do. They have done nothing but encourage us all the way. And yet protocols and the sensitivity of the region had other priorities to look after. Yet all of our efforts were not in vain, someone somewhere heard our pleas and granted us permission to head to Chushul and the Rezang La war memorial. The Independence Quattro Drive would even get the opportunity to participate in the martyrs day celebration, for which the army would put on a bigger show than usual. And what made it even more special was the presence of Brigardier Virk, who also came and participated in the ceremonies. He then went on to attend the flag meet, an annual event between the Indian and Chinese forces that was visibly just 6 kilometres away from where we stood.
Now its 2016, our convoy since the previous year has grown. Six Audi SUVs and close to 40 people, including participants, support staff, military liaisons, photographers, videographers, our producer and for the first time we even have Joe King with us. Joe heads Audi India and truth be told, there aren't many automotive enthusiasts like him heading an automobile company in the country today. He is Australian, and his fondness for the great outdoors  is well known in media circles. He is also quick, disciplined and a smooth driver once he is behind the wheel. And even knowing he is not supposed to officially, the Independence Quattro Drive and Ladakh had him behind the wheel in no time.
The Audi SUVs performed flawlessly over 3,000km across varied terrains and never gave us a chance to complain about
As for the rest of our participants, I must tell you about Siju who comes all the way from Trivandrum. That's the furthest anyone has ever travelled for the IQD. He is 32 years old, and he manages a chain of hotels and a medical institute back home. From Trivandrum to Siachen base camp, Siju was on a mission. It was the first time he had travelled this far away from home on his own and without anyone in his family knowing it. But for him that is how strong the lure of coming on an IQD to Siachen base camp was. He had signed up for the last two years and could not find the courage to make the final cut. When he did, it would be the most epic road trip he had undertaken yet. There was another interesting couple from Mumbai, Vikram and Nicole who left their kids with their grandparents to come on this trip. Vikram's father had helped set up the first petrol station in Leh, so he's close to the region even though he's been here only twice. This was the first time he was bringing along his wife and even though his career as a pilot and flying instructor takes him higher, his fascination with Ladakh was limitless.
Then there were Hemant and Sumit, best pals for years and still as inseparable as the day they probably hit it off. Bipin with his unbelieving eyes, constantly wandering around with his mouth agape at the wonders of Ladakh. And Yuvraj with his zany wit and camera with its shutter stuck open! There were several more and I'll try and include each and every one in this story. But here is the thing. The Live Life In OVERDRIVE experience intends to bring together exotic vehicles to exotic destinations to showcase just how we create content. So there were enough occasions when our participants howled 'enough'! Content creation is a mixture of breathtaking photography, clever editing and masterful writing. But that is all post production. The actual production, we have constantly felt, is far more thrilling and that is exactly what we shared with each of these participants. An extraordinary road trip in search of an extraordinary story.
Despite the treacherous terrain and sub-zero temperatures, the Audi SUVs kept everyone cocooned in luxury
And that story begins with that thin sliver of tarmac. Its the road that leads from our campsite in Sumur to the village of Warshi which is as far as any civilian can drive to, before being turned back at the army post. Its a lovely road that keeps meandering through villages and then breaking out into the open offering eye watering views of the Nubra valley.
From our camp its a roughly 80 kilometre drive to Siachen base camp. The road is metalled almost throughout, but constant weathering breaks it down every year in several places. That makes the travel time slow. We average a speed of just about 35kmph, so about two and half hours after having left Sumur we hit base camp. We have driven over avalanche debris, glacial melt and sections of road that are completely washed away. It is a tough section but with spectacular views that are simply gorgeous in the mellow morning haze.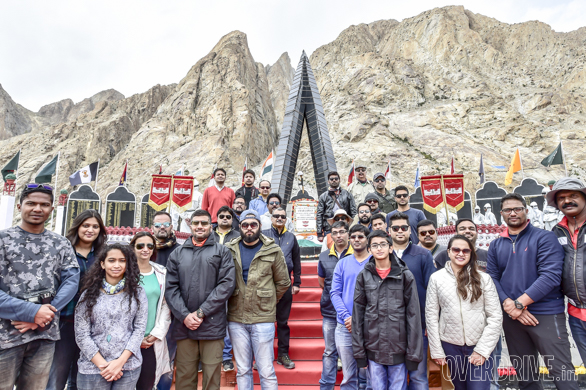 We hit a direction marker in the middle of the road and are politely asked by the army personnel stationed there to sign an entry register. I walk up, proudly, and put pen to paper. OVERDRIVE is finally here, the first automotive media to have driven to Siachen base camp. As I walk out of that tiny sentry post, I look over my shoulder and get my first glimpse of Siachen glacier and its a breathtaking sight. I'm first in awe of the glacier itself, its the highest battlefield on Earth and I'm standing less than a kilometre away from its snout. Its history and importance in India's current political environment provide another blow to my disbelieving senses. And finally there's that sense of accomplishment of having driven over a 1,000 kilometres to get here. Driven through varied terrain and temperature, with a bunch of strangers who are by now good friends, in vehicles that no one believes will make it this far especially in these unforgiving conditions.
Every step of our journey inside Siachen base camp is accompanied by a sense of pride tinged with awe. You can't help but feel humble in the presence of such heroes. Captain Abhishek tells me of how we should actually be visiting Siachen base camp in winter when the temperature plummets to nearly 50 below zero. I laugh as my mouth bravely enounces a loud yes, definitely! But my head's nodding from side to side. I don't know if I am scared or is it just a gust of cool wind that finds its way inside my jacket and down my spine that makes me shiver!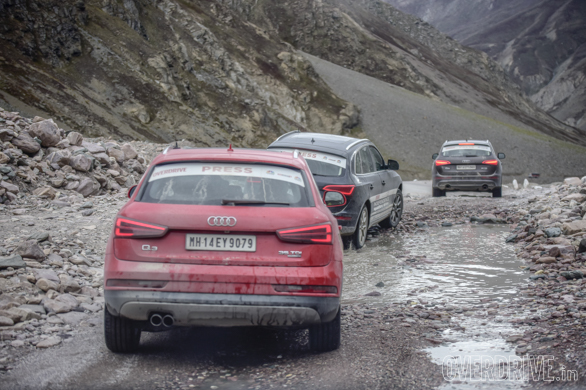 Some sections can be described as broken roads at best while some comprised entirely of rocks and stones of various shapes and sizes
I look up and there in the distance is the glacier again, its not as inviting anymore. It now appears to be this slow ponderous animal that has no sympathy for the weak. Soldiers who have been trained to survive on that sheet of ice have died because of those very elements they serve on.  But I know I'm going to come back, in the winter.
The next few hours proceed in a blur of activity, we're first celebrating Independence day with the army. A contingent of soldiers has gathered together, positioned a flag pole and soon we are all singing the national anthem with swollen chests as the tricolour flutters against the backdrop of the Himalayas.
Even at that altitude, we came across many dhabas serving delicious food
We are then immediately whisked away to attend the martyrs day celebrations. Its a sombre ceremony, intense and very respectful. The army requests us to maintain certain protocols, no photographs, no talking, all in all its largely just us being asked to pay attention to what's happening respectfully. And we comply, I doubt we even needed to be asked. I can see every body's eyes shine bright as the wreaths are brought in and laid to rest on the stone edifice that celebrates these martyrs sacrifices. We are humbled by some of the stories, these are challenges we may not be capable of surmounting. And yet, some of these men, whose names decorate a large wall behind the memorial, overcame them and made the supreme sacrifice.
And then finally it was our turn, our chance to hoist the flag in our tradition. Ever since 2013 we've brought along our own flag, flag pole and hands to erect that pole and raise the flag. Everything was ready and to our surprise, the Army gave us the option of hoisting our tricolour right next to O P Baba's shrine (see box). That honour is unfathomable. Not only is OP Baba the first and last place any soldier on his way to or from Siachen glacier sees, the shrine is just a couple of hundred metres short of where the Siachen glacier begins. The snout of the glacier made of moraine (the debris that a glacier carries on its journey) is clearly visible from the OP Baba shrine.
The Pangong Lake in Ladakh has become a household name, thanks to the movie 3 Idiots
With several hands on deck, the flagpole and along with it the flag went up in no time. The national anthem was sung and then the whole exercise repeated, twice more. You see this is a Live Life In OVERDRIVE experience which is all about content creation. Sometimes getting the right shot for the magazine, or the many angles for television needs takes and retakes, and then some more. Thankfully this was one of those times when no one had anything to complain about, and each performance was repeated with as much as energy as the last! This then was definitely, the life everyone wanted to lead!
---
IQD Partners
Park Plaza
93.5 Red FM
IQD is what the folks at 93.5 Red FM use as an excuse to break away from their Bajaate Raho lives. They happily partner with Live Life In OVERDRIVE to get some peace and quiet. This year we had RJ Purab with us. Secretly, we just wanted an RJ to power Radio IQD. And who better than Red FM?  www.redfm.in/
MICHELIN
93.5 Red FM
IQD is what the folks at 93.5 Red FM use as an excuse to break away from their Bajaate Raho lives. They happily partner with Live Life In OVERDRIVE to get some peace and quiet. This year we had RJ Purab with us. Secretly, we just wanted an RJ to power Radio IQD. And who better than Red FM?  www.redfm.in/
NAUTICA
93.5 Red FM
IQD is what the folks at 93.5 Red FM use as an excuse to break away from their Bajaate Raho lives. They happily partner with Live Life In OVERDRIVE to get some peace and quiet. This year we had RJ Purab with us. Secretly, we just wanted an RJ to power Radio IQD. And who better than Red FM?  www.redfm.in/
GRAND DRAGON
93.5 Red FM
IQD is what the folks at 93.5 Red FM use as an excuse to break away from their Bajaate Raho lives. They happily partner with Live Life In OVERDRIVE to get some peace and quiet. This year we had RJ Purab with us. Secretly, we just wanted an RJ to power Radio IQD. And who better than Red FM?  www.redfm.in/
REDFM
93.5 Red FM
IQD is what the folks at 93.5 Red FM use as an excuse to break away from their Bajaate Raho lives. They happily partner with Live Life In OVERDRIVE to get some peace and quiet. This year we had RJ Purab with us. Secretly, we just wanted an RJ to power Radio IQD. And who better than Red FM?  www.redfm.in/
Images by Anis Shaikh and Suresh Narayanan