On test at OVERDRIVE: Daytona TransOpen GTX Boots
Ever since I started reading motorcycle magazines about two decades ago, two brands of motorcycle gear seems to be written about in hushed, awed tones. One is the Japanese leather brand Kushitani. The other is German boot specialist Daytona. It turns out that Daytona still makes their boots by hand in Germany and now, they're represented in India by MotoPoto Store, which also carries other brands including Helston jackets and pants, Remus and Arrow exhausts, K-Tech suspension and others. When they asked us which Daytona boot product we would like to test, I was tempted naturally, to say, all. But we selected the TransOpen GTX because of two reasons - read on.
Who is Daytona?
Daytona is a German maker of premium motorcycle boots. They pride themselves on the quality of their hand-made products and even today, their boots are all made in Germany. Each boot goes through over 80 steps and this small company - just over 100 employees - makes just about 60,000 boots a year. Daytona is known to prefer putting all the protection inside and making simple, classy looking boots that last a long time.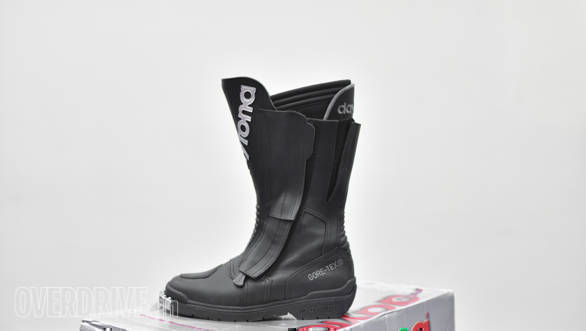 The Daytona TransOpen GTX boot
The TransOpen GTX is Daytona's hard-use adventure touring boot. In typical Daytona style, it looks simple and clean on the exterior which hiding all the protective elements inside. This is more or less opposite to everyone else who use bright colours and exposed plastics to show how much protection is built in.
Construction
The Daytona TransOpen GTX exterior is all cow leather with Kangaroo leather stretch panels front and rear. At the rear is a complex calf-width adjustment that uses velcro to allow big calves to find a secure home.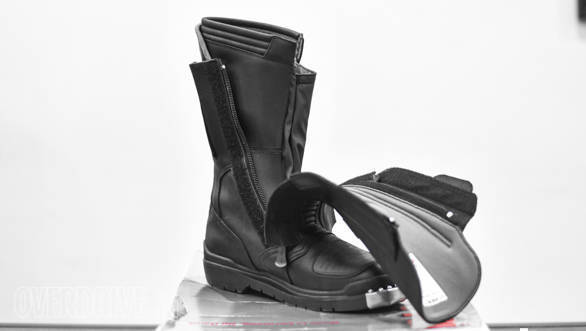 At the front, the tall front flap includes plastic and open-cell foam shin protection. The flap is secured by twin velcro flaps each over signature curved zippers on each side. The curved zippers are a Daytona staple - the curve prevents a burst zipper from unravelling all the way. Undo the zippers and the flap fold forward and down, making it easy to get the Daytona TransOpen GTX on and off.
Under this flap lies what looks like the upper half of an inner bootie with a soft, generously cut tongue that's sown in to the sides to produce a completely waterproof boot with GoreTex right up to the top of the boot. Lycra panels on top of the bootie ensure a tight fit.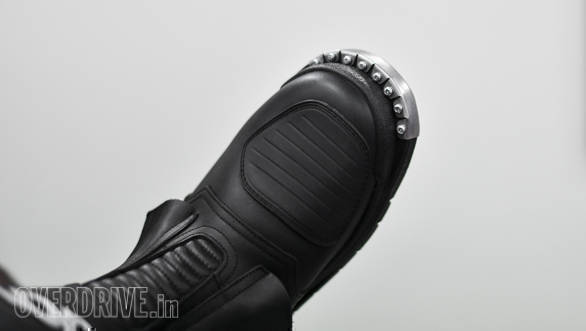 When you close the boot up, the inner liner feels rich and comfortable and the foot bed is super nice too. The bed, again, hides a steel insert to prevent twisting. The plastic toe protection etc all are present but hidden by the thick cow leather that encases this black boot. The sole is thick and made in enduro style with a steel toe tip to prevent forward damage. A PU patch prevent wear from gearshifts as usual.
The entire boot is done in a very understated style except for the steel toe tip. The lack of external buckles also means that wearing jeans or motorcycle trousers over the boot is easy and Daytonas are known to be all-day comfortable.
The GTX designation, of course, means GoreTex which means this is a breathable but waterproof boot - guaranteed for two years. We did find a couple of review that suggest that many parts of the boot, including the sole are replaceable but not on the Daytona or MotoPoto website.
A word of warning, Daytona makes their boots large so you will need to go down a size. I usually wear a 44 but the size 43 test boot is a great fit.
First impressions
I cannot believe how light the boot feels despite the thick cow leather et al. It felt plush from the word go and despite a considerable amount of waking in them, neither do I find myself sweating in them, nor have they caused any trouble of any sort, considered par for the course on boots with exceptional protection. You do need a moment to get used to the twin flaps over each of the curved zippers, and to the zippers themselves. But after a point, they feel like second nature. I also do wish Daytona would offer more colours on the Trans Open GTX, but they only offer black. Maybe a tan or brown would be a nice addition to the range.
Now to the elephant in the room, price. At Rs 33,900 for a pair, these are seriously expensive boots although MotoPoto is matching European pricing in India. But all the reviews we have read seem to find that the Trans Open GTX is the best adv-style boot money can buy and that they seem to last a long, long time. A good investment then? Sounds like it - we'll find out soon!
Price
Rs 33,900
From
motopoto.com