On test at OVERDRIVE: Chicco Cosmos car seat
We review gear all the time, but it's not often that baby gear makes it into the mix. Given that as a country, we've only now warmed up to the idea that 'heads will roll' isn't a great road safety strategy, the importance of gear that protects you is only now gaining traction.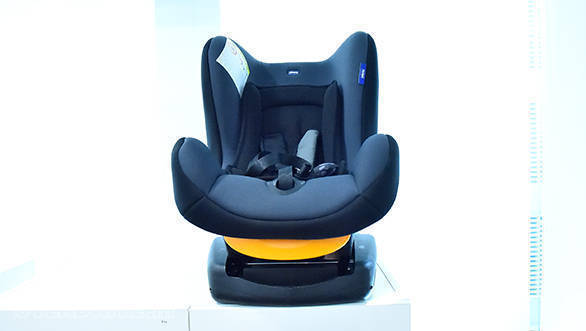 The ever-increasing number of vehicles on the road means there is a huge potential market for car seats in India. But the number of models and features offered will only improve once, we (India) realise how serious and basic the need really is. Indeed, car seats for children are a legal requirement in many countries - parents aren't given a choice about having them.
In India, brands like Mothercare, Graco, LuvLap, MeeMee, R for Rabbit and Chicco offer a selection of car seats that cover, between them, everything from basic car seats to hybrids that can be carried around basket-style attached to a stroller or even folded. Depending on what you pick, prices start anywhere from Rs 2,000 – 3,000 for 'infant only' seats and go right up to Rs 35,000 for convertible car seats that accommodate children up to four years.
Chicco, part of the Italian Artsana Group isn't new to the children's products business and has an extensive line of quality childcare products. While the company's product line extends into cosmetics, strollers, highchairs and fashion, we, of course, were interested in the car seats for our road test.
Helping us test out the Chicco Cosmos is my nine-month-old, Alexandra, who's under the 9kg mark, necessary for a front-facing seat position. This means that the seat will be mounted rear facing and without the booster cushion. The cushion is only meant to improve fit and comfort children under 6kg anyway.
The EU and American laws have long since made a rear facing car seat mandatory right from the time you leave the hospital with a new-born. This means vehicle manufacturers make it easy to install these systems. While the center of the backseat is said to be the safest spot to install a child car seat, my Swift ZXi, only has a lap belt making it impossible to mount this one here. The Cosmos requires a three-point seat belt to mount securely. Chicco recommends the spot behind the passenger seat as the next best option and so that's where we installed it.
What is it?
Chicco Cosmos Car seat meant for kids between 0 to 18 kg (what they call Group 0+/1), or from 0 to 3 years old. Since we don't have an Indian regulatory body that lays down stipulations for car seats, Chicco seats are designed according to ECE R44/04 (the European safety standard).
What's in the box?
One car seat, instruction booklet, booster cushion insert, travel toy fixed onto the harness.
First Impressions
Unlike many other car seats in the market, the Chicco Cosmos seems lighter but very sturdy, making removal and transfer to another vehicle (if necessary) that much easier. However you might need a couple of tries before you get the installation just right. The instructional video on the Chicco site is a great idea.
The seat cushioning and upholstery has a premium look and feel with sturdy clasps and buckles, a sufficiently padded five-point harness and shoulder straps that make for a snug but comfortable fit.
How much does it cost and where can I buy it?
Priced at INR 15,990, the Chicco Cosmos is available at Chicco stores across Mumbai, Kolkata, Bangalore, Delhi, Noida, Gurgaon, Chandigarh and Jalandhar.
Stay tuned for in-depth review coming soon. We're planning plenty of road tripping for the next four months and you'll get a first hand account of how well this seat holds up to spec and more importantly how it handled any baby-sized curve balls that came its way.